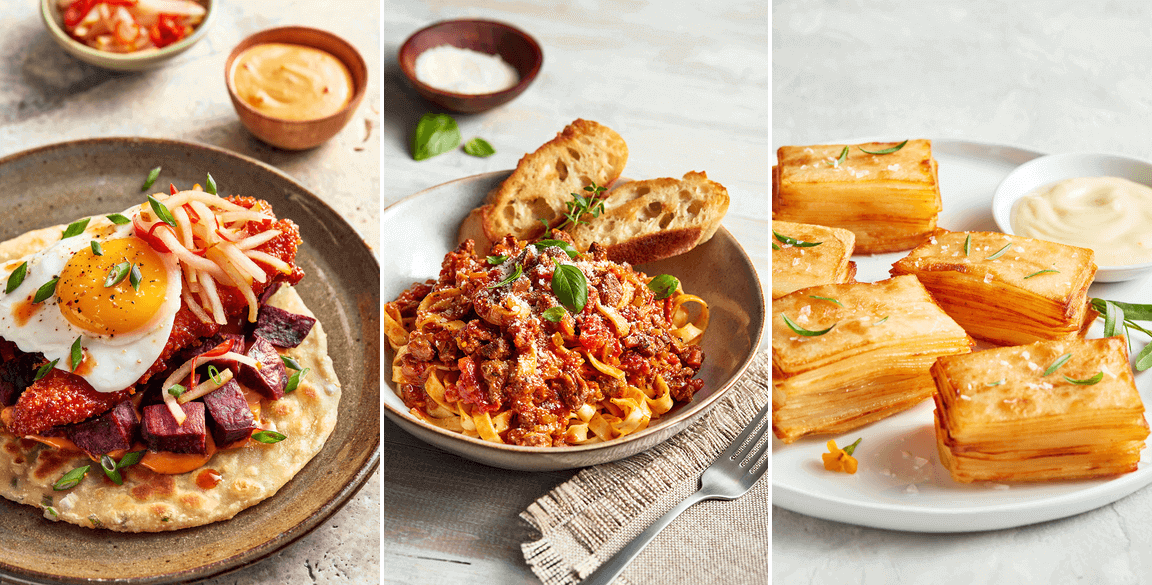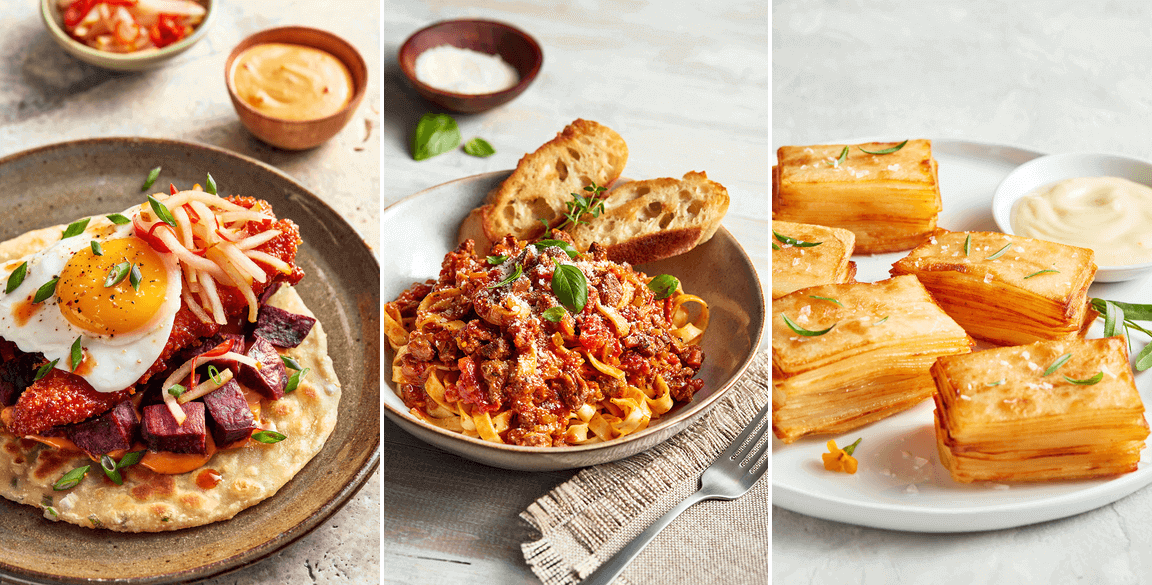 By Flavor & The Menu
June 29, 2022
Kitchen Collaborative is a recipe-development initiative formed by Summit F&B and Flavor & The Menu. To fuel flavor innovation, a group of talented chefs partnered with sponsor brands and commodity boards to create recipes that showcase the passion and potential of our industry.
CHEF SPOTLIGHT: VENECIA WILLIS
The motto of Velvet Taco, a niche fast casual with more than 30 locations across Georgia, Illinois and Texas, is "to be a temple to the liberated taco." As the chain's director of culinary, Venecia Willis isn't bound by the conventions of any singular cuisine, and regularly pairs an array of ingredients to present a multicultural flavor experience. This expertise clearly informed the Thai Chili Sticky Chicken Scallion Pancake Taco recipe she developed for Kitchen Collaborative. But her understanding of customer need states and back-of-house practicalities—when to leverage familiarity and when to push boundaries—is also evident in her recipes for Goat Bolognese and Crispy Fried Idaho® Potato Stacks.
Thai Chili Sticky Chicken Scallion Pancake Taco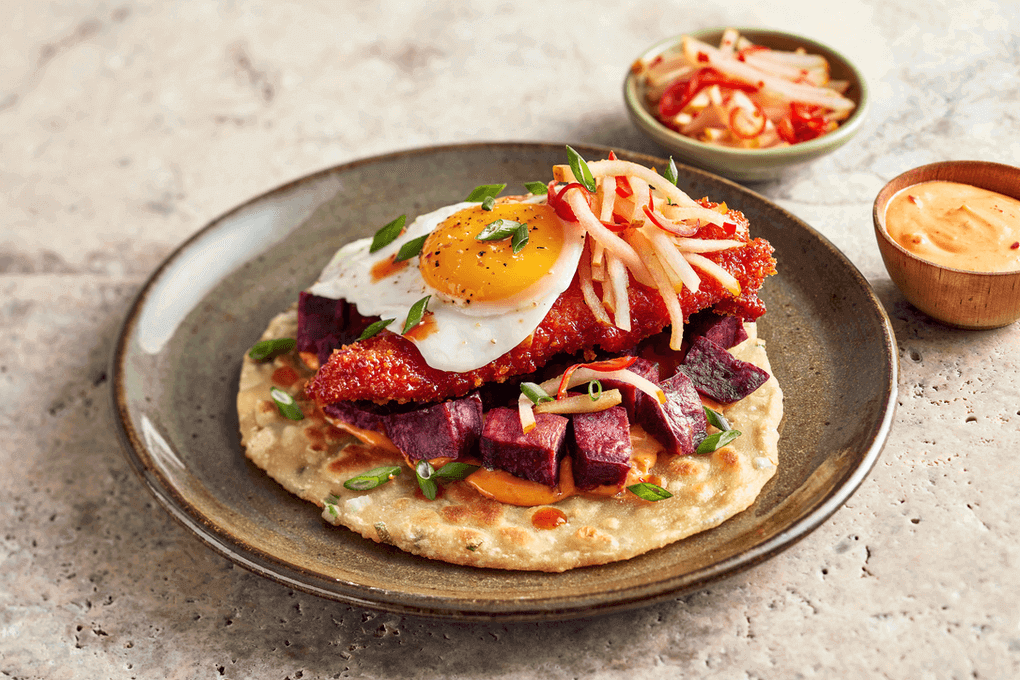 Photo: Carlos Garcia // Food Styling: Peg Blackley & Bree Williams
"Tacos are my thing," says Willis. "There is no limit to what can be made into a taco. I wanted to show its diversity, that it doesn't have to be traditional." She certainly proves the point with her genre-busting Thai Chili Sticky Chicken Scallion Pancake Taco.
Working with five Kikkoman products, Willis was committed to an Asian flavor profile, but one "that resembles a more traditional American breakfast for approachability," she notes. There's a lot going on in this build, including the scallion pancake base (featuring Kikkoman® Non-GMO Sesame Oil), a Thai Chili Aioli (made with Kikkoman® Thai Style Chili Sauce), roasted spiced Japanese purple sweet potatoes, panko sticky chicken (using Kikkoman® Panko Breadcrumbs and a sticky sauce made with several Kikkoman products, including Soy Sauce), pickled Fresno chiles-and-pear slaw (spiked with Kikkoman® Rice Vinegar) and an optional fried egg.
It's a dish rich with flavor, texture and vibrant color. One contributor to all three elements is the roasted purple sweet potatoes, critical for the Asian theme, says Willis, noting that they offer a natural sweetness (highlighted by cinnamon and ginger), a crispy exterior enveloping a creamy center and, of course, the pop of eye-catching color. "I also wanted the sauce to be a big player in the dish," she says. "To achieve this, I increased the surface area of the chicken tenders by adding panko to the crust. It gives the chicken a beautiful crunch and color."
Goat Bolognese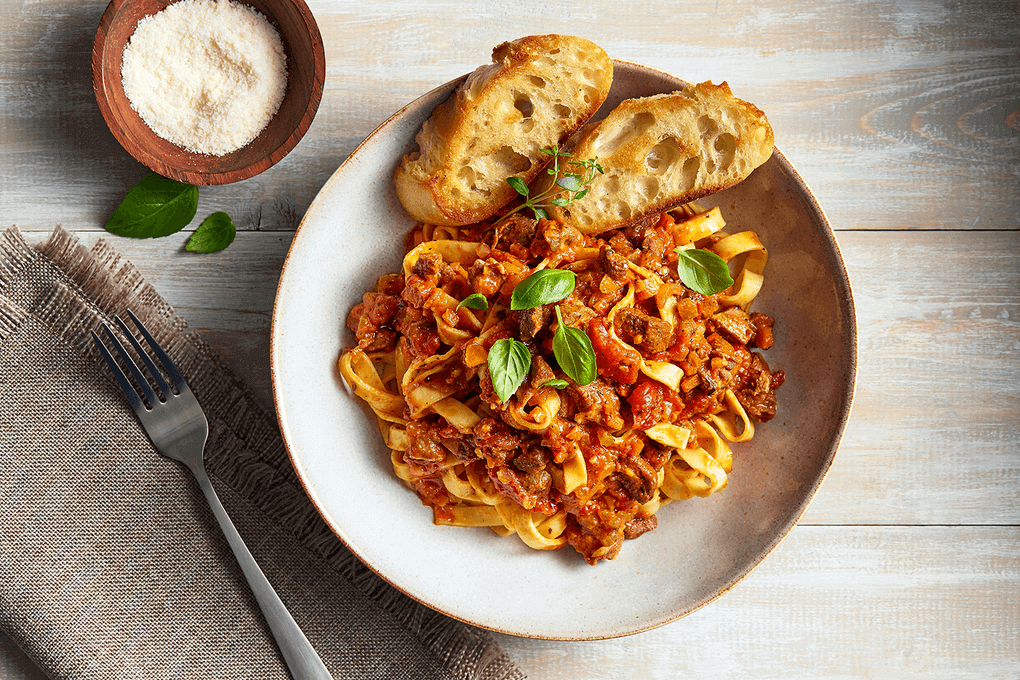 Photo: Carlos Garcia // Food Styling: Peg Blackley & Bree Williams
Beef. Poultry. Seafood. Most professional chefs have extensive experience with these animal proteins, along with at least a passing familiarity with veal, lamb and duck. But Willis jumped at the intriguing challenge of using Australian goat as a central feature for her next Kitchen Collaborative recipe. "I was excited to work with a richer protein," she says of using it in her Goat Bolognese.
"Goat has a richer, more pronounced mineral flavor than that of beef, but a similar texture to a venison or a lean, grass-fed beef," says Willis. These characteristics pointed her in the direction of the Bolognese. "I wanted to make it approachable and reduce some of the gaminess that goat meat can take on," she explains. "Also, cooking the finely minced meat over a low temperature for a long period helps to break down the muscle fibers in the meat, making it tender and delicious."
The familiarity of the Bolognese also provides an approachable entry point for customers who might be unacquainted with goat meat and a little wary about giving it a try. "Diners want to be adventurous, but not too adventurous," says Willis. "So, including elements that they know and love is an easy way to introduce them to a new flavor, protein or dish."
Crispy Fried Idaho® Potato Stacks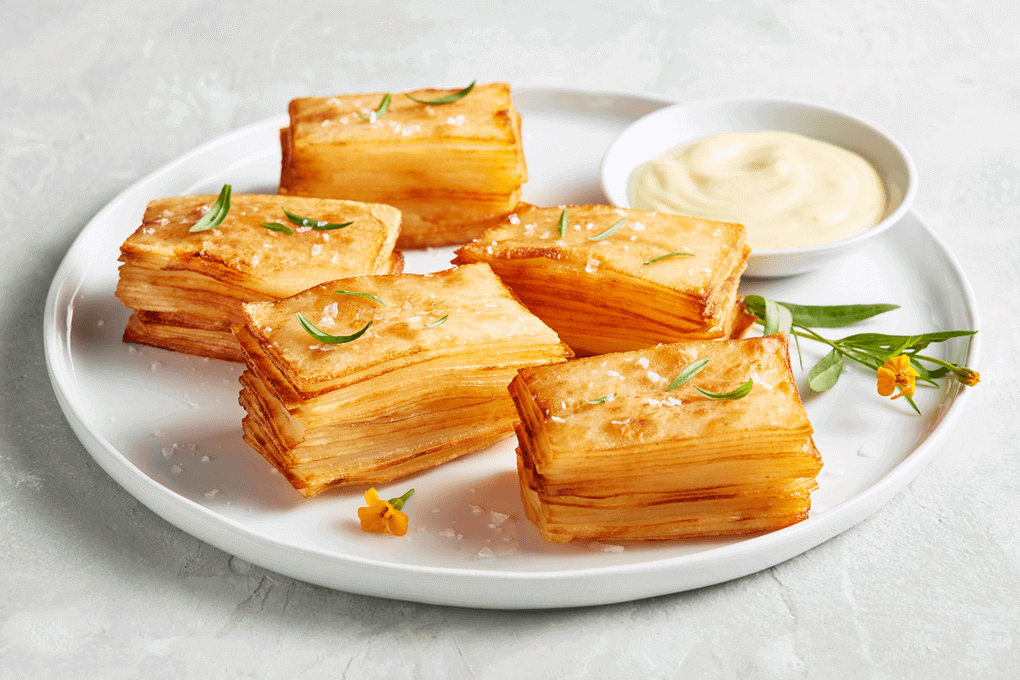 With a timeless, cross-cultural appeal, crispy fried potatoes are a guaranteed crowd-pleaser on virtually any menu. Chefs seeking a culinary challenge to elevate this craveable classic, especially to meet a fine-dining aesthetic, might find inspiration in these elegant Crispy Fried Idaho® Potato Stacks.
Willis uses a Chinese mandoline to produce paper-thin slices of Idaho russets. These are stacked and trimmed to create perfect rectangles, which are then deep-fried as a complete unit. "If you were to fry each slice separately, the shape would change and you would not be able to create even layers to stack after frying," explains Willis. She also points to the importance of using the russet for this construction: "If a lower-starch potato is used, the layers could separate while frying." Equating this upscale presentation to tater tots, she recommends serving the stacks with a trio of dipping sauces that are trending favorites on many appetizer menus today: a spicy ketchup, a Dijon aïoli and an herby ranch.
The prep demands for this dish are minimal, especially when compared to the complex Thai Chili Sticky Chicken Scallion Pancake Taco that Willis also developed for this project. This kind of range is important, both to manage back-of-house staffing challenges and to appeal to guests. "A menu needs to be diverse in prep and complexity," says Willis.
Project Management: Summit F&B
Photography: Carlos Garcia // Food Styling: Peg Blackley & Bree Williams