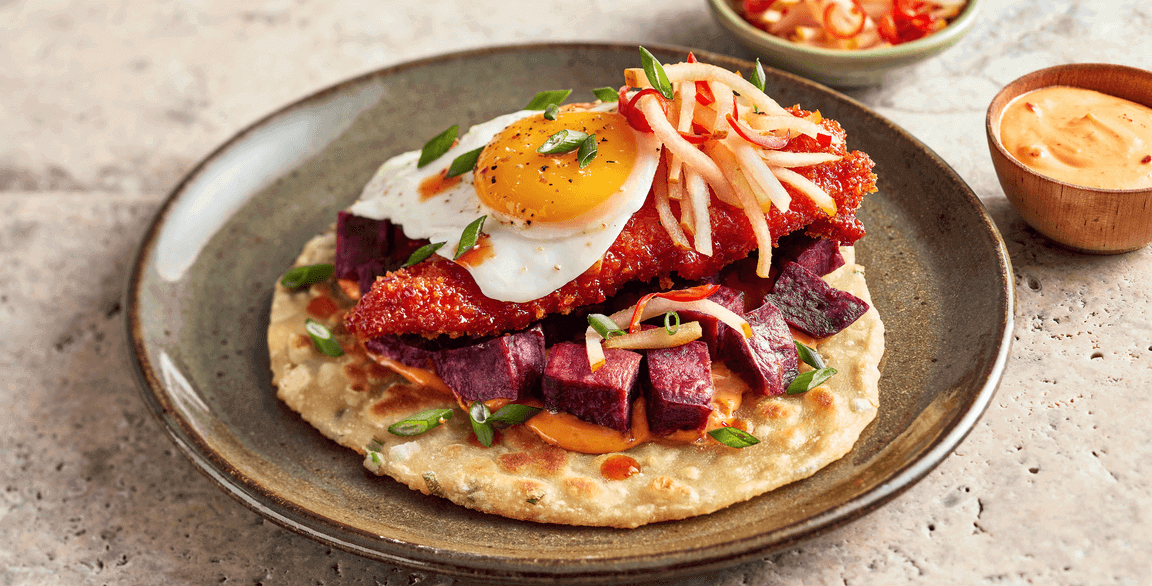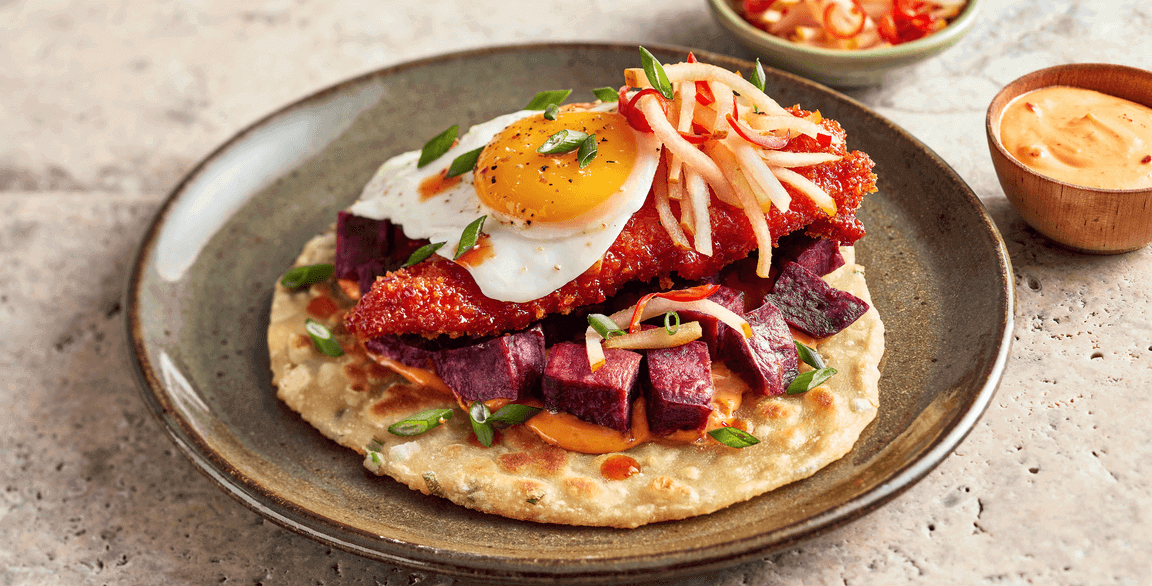 Thai Chili Sticky Chicken Scallion Pancake Taco
Recipe courtesy of Chef Venecia Willis
Sponsor: Kikkoman
Servings: 6
Ingredients
Scallion Pancakes
2 c all-purpose flour
1 c hot water
¼ c Kikkoman® Non-GMO Sesame Oil
1 ½ c scallions, sliced thin
1 tsp salt
Thai Chili Aioli
½ c mayo
¼ c Kikkoman® Thai Style Chili Sauce
1 Tbsp Siracha
Roasted Purple Sweet Potatoes
2 purple sweet potatoes (washed and diced into ½ inch cubes)
2 Tbsp olive oil
¼ tsp ground ginger
¼ tsp ground cinnamon
½ tsp salt
Panko Sticky Chicken
6 chicken tenders
2 c all-purpose flour
2 c Kikkoman® Panko Breadcrumbs
1 c whole milk
2 eggs
1/4 c Kikkoman® Thai Style Chili Sauce
1 tsp onion powder
1 tsp salt
½ tsp black pepper
½ tsp paprika
3 c canola oil (for frying)
Sticky Sauce
½ c Kikkoman® Thai Style Chili Sauce
1 Tbsp Kikkoman® Soy Sauce
1 Tbsp Kikkoman® Non-GMO Sesame Oil
1 Tbsp wild honey
Pickled Fresno Chile and Pear Slaw
2 Fresno chiles (julienne)
1 pear (peeled and julienne)
¼ c Kikkoman® Rice Vinegar
2 Tbsp Kikkoman® Thai Style Chili Sauce
2 Tbsp water
Optional Garnish
6 fried eggs
¼ c sliced scallions
Directions
For the Scallion Pancakes:
In a mixing bowl combine flour, hot water and 2 Tbsp of Kikkoman sesame oil.
Mix until completely incorporated. Place onto a clean work surface and knead for 5 minutes.
Place into an oiled mixing bowl, cover with a damp towel and allow to rest for 1 hour.
Sprinkle flour onto the work surface and place 2 oz of dough onto the surface.
Using a rolling pin, roll the dough out to a 6-inch round.
Brush on some of the reserved sesame oil and sprinkle 2 Tbsp of scallions onto the dough.
Roll up.
Shape the rolled dough into a spiral.
Using a rolling pin, roll out the dough again into a 6-inch round.
In a non-stick skillet, place a small amount of oil and cook the pancake until it is golden brown on one side, over medium heat.
Flip the pancake and repeat.
Repeat this process until all the dough is used.
For the Thai Chili Aïoli:
Place all ingredients into a small bowl and mix. Set aside in cold storage until ready to use.
For the Roasted Purple Sweet Potatoes:
Preheat the oven to 350 degree F.
Place all ingredients onto a sheet pan and mix.
Cook in the over until golden and tender, 20 minutes.
For the Panko Sticky Chicken:
In a mixing bowl combine flour and spices and mix.
In a second bowl combine milk, eggs and Thai Style Chili Sauce and mix.
Place the panko into a third mixing bowl.
Make sure the chicken tenders are dry.
Dust the chicken in the seasoned flour.
Dip into the egg wash.
Coat in the panko.
Place into the frying oil set to 350 degrees F.
Cook for 3 minutes.
Place the cooked chicken onto a paper towel lined tray and reserve.
For the Sticky Sauce:
In a mixing bowl combine Thai Style Chili Sauce, soy sauce, sesame oil and honey.
Toss the breaded and fully cooked chicken tenders.
Reserve for service.
For the Pickled Fresno Chile and Pear Slaw
Place rice vinegar, Thai Style Chili Sauce and water into a jar and mix.
Add the remaining ingredients.
Place in the refrigerator for 30 minutes prior to serving.
To build each taco:
Scallion Pancake
1 Tbsp Thai Chili Aïoli
¼ cup Roasted Purple Sweet Potatoes
1 Sticky Chicken Tender
¼ cup Pickled Fresno Chile and Pear Slaw
Top with a sunny side up egg (optional)
Garnish with a sprinkle of sliced scallions (optional)
Enjoy!
Project Management: Summit F&B
Photography: Carlos Garcia // Food Styling: Peg Blackley & Bree Williams