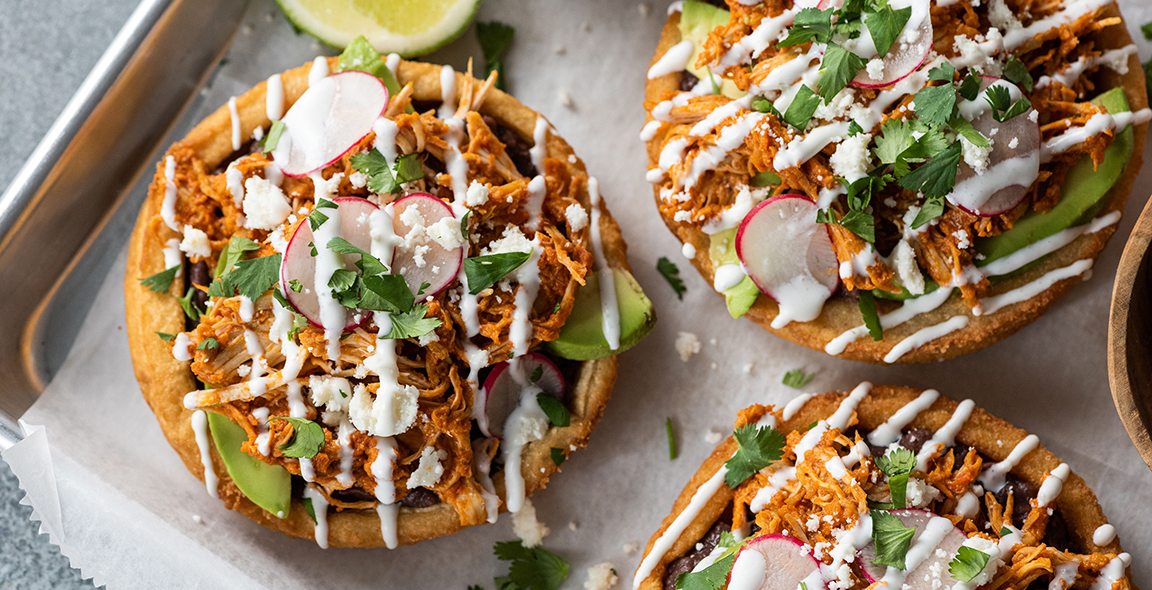 Global fusions fairly epitomize the inventiveness prized by operators and consumers alike as a characteristic of modern menus. But while mash-ups centered on Mexican cuisine, such as a Mediterranean-Mexican creation or a Mexi-Asian dish, are sure to intrigue by marrying ingredients or prep styles in unexpected combinations, menu developers shouldn't overlook the trend-forward opportunities that can be tapped by hewing more closely to classics from the Mexican flavor pantry.
"In the past, what we considered 'Mexican food' in the U.S. was really Americanized Mexican food," says Tony Finnestad, Executive Chef, Hormel Foods. "Modern Mexican, more authentic to Mexican traditions, is getting its time to shine, with an increase in more high-end restaurant concepts centered around this specific cuisine." Operators looking to leverage the rich, culinary heritage found south of the border might consider the fertile ground provided by three classic preparations: barbacoa, tinga and carnitas, where signature flavor is carried primarily by the protein and can be translated in a multitude of ways.
Distinction is found in the unique seasonings. Although there are many different ways to complete the Latin flavor profiles, says Finnestad, in general, the beef or pork in barbacoa is heightened by cumin and coriander, while the chicken tinga features paprika and smoked chipotle peppers, which lend it vibrant color in addition to a slight smoky flavor. Carnitas (pork and chicken) tend to be seasoned more lightly, he says, lending them greater versatility for interpretation. All three dishes share slow-cooked preparation methods that deliver dimension and depth of flavor.
A trio of products in the CAFÉ H® brand portfolio of fully cooked proteins from Hormel Foodservice have been developed to convey the traditional spices, marinades and preparation methods of barbacoa, tinga and carnitas, removing the burdens of research and development and skilled labor from operators seeking to apply that inspiration in both classic dishes and those with contemporary twists.
"We've conducted the research to identify traditional ingredients and cook methods, so the CAFÉ H® products are as close to being 'authentic' as possible," says Assistant Brand Manager Isabel Arreola, describing the inspirations behind the CAFÉ H® products.
Barbacoa: "It's slow-cooked for hours until juicy and tender, like a Mexican pot roast. The flavor profile is a combination of what's done in different regions of Mexico. We use guajillo peppers, cumin, coriander and lime to provide Mexican-Latin-Caribbean cues."
Tinga: "Made with a combination of chicken thigh and breast meat, this dish is tomato-based, with garlic, onions and chipotle peppers. You can see the seasoning on the product!"
Carnitas: "Available in both pork and chicken, these are also slow-cooked for hours. Traditionally, carnitas are marinated with citrus and garlic and fried; this blends well with other flavors, making them really versatile in dishes."
Indeed, the versatility of these CAFÉ H® products allow chefs to lean into the comfort factor inherent in the Mexican signature while spinning up fresh takes, say Finnestad and Arreola, citing multiple examples:
Tlayuda: "This is a dish that's essentially a big Mexican "pizza" and where Taco Bell got its inspiration for a similar item on its menu. This is a dish where the CAFÉ H® Barbacoa would do really well," says Finnestad. "Elevated pizzas and sandwiches, including more tortas, are a good fit for barbacoa," notes Arreola.
Bowls: "Barbacoa is great here, because it uses a good cut of meat where the price point is approachable," explains Arreola.
Birria: "A dish that's been trending for a while now, this is another great opportunity for the CAFÉ H® Barbacoa," notes Finnestad. "Birria-style tacos are super Instagram-worthy," adds Arreola.
Sopes: "This is a drastically under-utilized menu idea, where barbacoa, tinga and carnitas all could be leveraged," says Finnestad. Arreola agrees, suggesting they be served with rice, beans and lettuce.
Chochoyotes: "Similar to gnocchi, this dish is made with masa instead of flour and can be used in a soup or a pasta dish. The CAFÉ H® Chicken Tinga over these would be a great idea."
CAFÉ H® Chicken or Pork Carnitas are especially well positioned for evocative flavor storytelling, says Finnestad. "They are seasoned more lightly than the other proteins, so they can be used in a lot of different ways." In his imaginings, chefs could soak the carnitas in a marinade of orange juice and fresh jalapeños, then sear them on a flat top. "The result is they're spicy with a ton of flavor and depth, cooked to a perfect crispiness that brings out the citrus. You could put these on anything, from tacos to queso to chochoyotes," he says. An all-natural version offers the added benefits of promoting tradition while eliminating a veto vote.
Beyond the array of creative menu opportunities, the labor-saving advantage of the CAFÉ H® products can't be overstated. "Labor has never been more of a challenge than right now," says Finnestad, also noting the value of their consistency. "With these products, you simply cut them open and heat them up to order. No matter what equipment, they will perform the same every single time."
With CAFÉ H® Globally Inspired Proteins, you can celebrate tradition, expand your menu and best of all? "You can keep your peace of mind," says Arreola.
To learn more creative ways to expand your menu with globally inspired, universally desired dishes, visit Hormel Foodservice's website