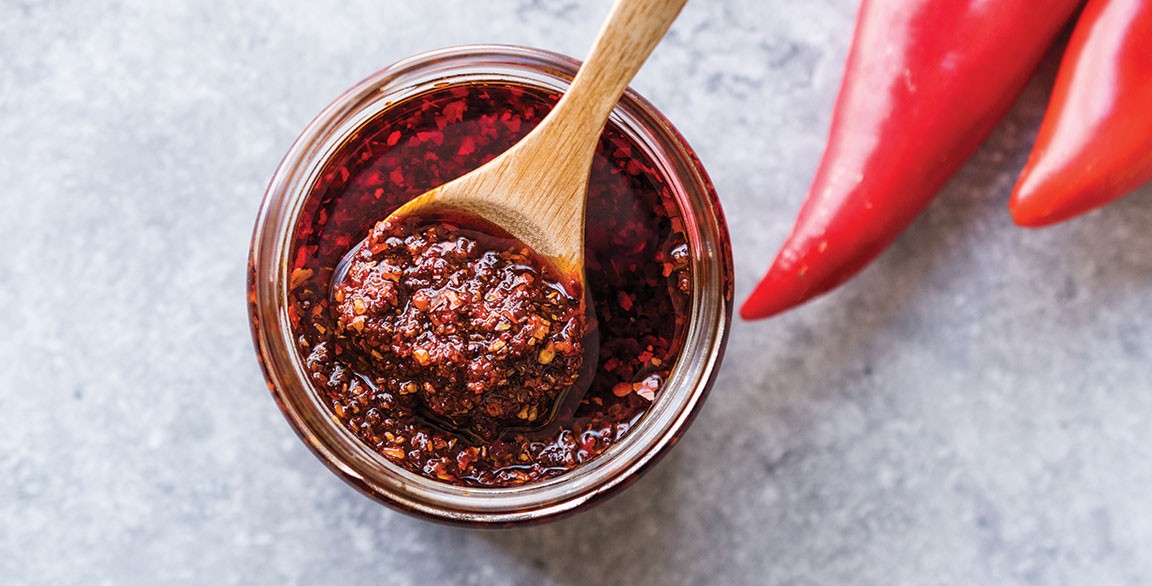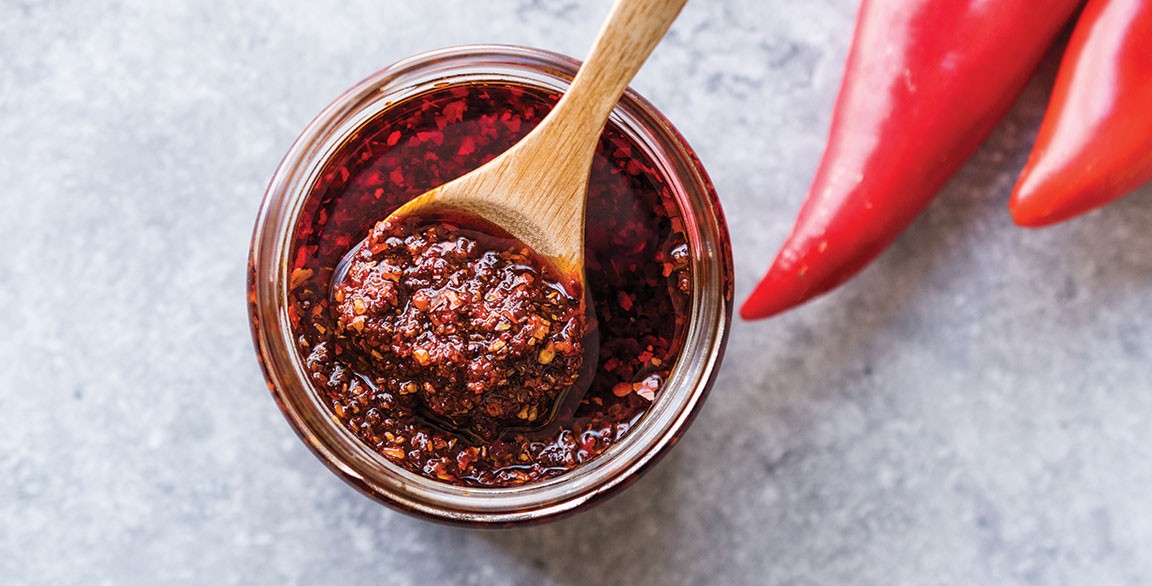 By Flavor & The Menu
July 8, 2020
It's time to fall in love with salsa macha. Landing somewhere between salsa and peanut sauce, this coarse condiment offers a savory, garlicky, spicy, nutty flavor and a world of possibility. The condiment hails from Mexico, where it is particularly popular in Veracruz. Salsa macha typically sees a blend of dried chiles, nuts, garlic and olive oil. But variations are aplenty: Chefs can add in sesame seeds, change out the guajillo or pasilla for ancho or chile de árbol and highlight peanuts or almonds, for instance.
Salsa macha is new to most American consumers, but it features tastes from Mexico that they know and love. Its rich, developed flavor introduces a fresh option to the condiment category without straying too far into the unknown. Chefs in this country are playing up its alluring profile, pairing it with tacos, grilled vegetables, egg dishes and more.
Carlos Gaytán, chef/owner of Tzuco, a French-Mexican concept in Chicago, features it in a few places on his modern menu, such as the Avocado Flatbread with salsa macha, preserved lemon and ricotta cheese, as well as the Pulpo appetizer of guajillo-roasted octopus with salsa macha, served with fingerling potato, roasted red pepper and tonatto aïoli.
At Palmetto, a tropical cocktail bar and steakhouse in Oakland, Calif., chef Manuel Bonilla uses salsa macha to amp up the flavor of his Grilled Half Chicken, also featuring blistered green beans, sungold tomatoes, chile butter and black beans.
Rick Bayless highlights various nuts in his versions of macha at Leña Brava, his Baja-style seafood restaurant in Chicago. The ceviche sees a spicy hazelnut salsa macha and his Baja Maki Roll stars pistachio salsa macha.
Buena Vida Clarendon, a modern Mexican restaurant in Arlington, Va., pairs its Shishito Peppers appetizer with salsa macha, demonstrating its reach as a straightforward condiment beyond traditional Mexican combinations.