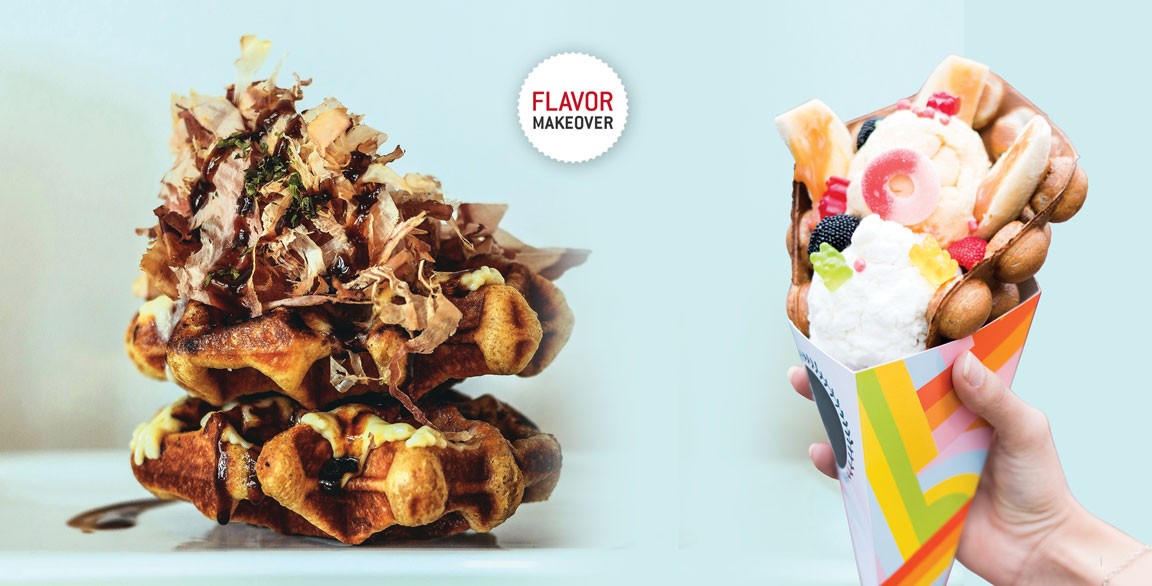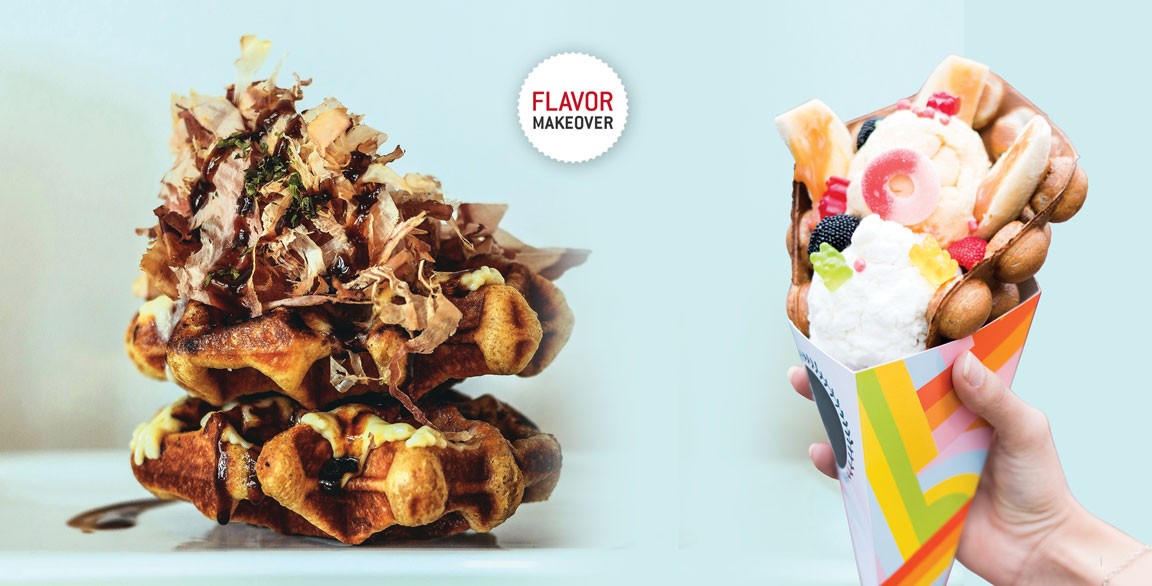 By Rob Corliss
July 8, 2020
Waffles have pushed well beyond the confines of breakfast to serve as adaptable, premium comfort-food carriers, moving into appetizers, handhelds, full meals and treats. They're propelled even further by consumer enthusiasm for reinvented classics. As fillings and toppings have evolved, so have the actual waffle batters. Whether guests prefer the tradition of crispy, airy Belgian waffles, the chewy caramelized crevices of Liège waffles or the enticing bubbles of Hong Kong-style waffles, the desired experience is all about texture. Here are six areas of exploration where operators can leverage the everlasting appeal of waffles.
1

Savory

Savory waffles provide boundless opportunities for menu innovation, especially when incorporating spices, grains, legumes, vegetables and/or meats into the batter. They make an unexpected, yet delicious, base for meals or can shine as a stand-alone snack.
Veggie Waffle Flight: Waffle wedge, beets with berry compote, cauliflower ricotta with hot honey and roasted carrot with spiced peaches
Greek Waffle Salad: Warm chickpea waffle topped with whipped feta and chopped Greek salad
2

Sweet

Menu sweet offerings with waffle components that elevate the experience with fun forms and trending combinations at breakfast, brunch and dessert.
Black Velvet Waffle: Black cocoa powder and black sesame Liège waffle topped with matcha ice cream and a drizzle of miso-caramel sauce
Churro Waffle Dunkers: Thin and crispy chile-cinnamon-sugar-dusted churro waffle "chips" paired with warm dark chocolate sauce and luscious dulce de leche for double dunking
3

Bubble

Often serving as a cone-shaped carrier for ice cream, these Hong Kong-style waffles are as stunning as they are flavorful. Guests will feel like they have received an Instagram-worthy upgrade with one of these signature creations.
Breakfast Bubble: Maple-pepper bacon bubble waffle layered with shredded crispy hash browns, soft-scrambled eggs and melted cheese
Bubble Waffle Dessert Taco: Mini three-grain bubble waffle slathered with cookie-butter spread, filled with banana jam and whipped cream
4

Stuffed/Stacked

The comfort of waffles makes for a versatile base, well aligned to morph with nostalgic fillings. Sandwiches in particular are an area ripe for perpetual development.
Stuffed Liège Monte Cristo: Two fresh raspberry Liège waffles, lightly spread with mustard aïoli, sandwiched with hot honey ham and melted Gruyère, finished with a dusting of powdered sugar
Backyard Waffle Sliders: Brown butter Belgian waffle wedges stacked with cabbage/apple slaw and barbecue short ribs
5

Thin/Folded/Rolled

Thin is in when crafting new waffle features. Amplify flavorful, textural dimension by rolling and folding. The extra crispiness beautifully accents softer ingredients.
Enchilada Waffles: Three carnitas-filled, skinny, rolled cornmeal waffles loaded with pepper Jack cheese doused with warm green chile sauce, a crema drizzle and avocado-corn relish
Waffles & Ice Cream Rollers: Crispy, thinly-rolled chocolate waffles plunged into a portable cup with chilled dragon fruit and Thai ice cream rolls
6

Hybrid

Waffles are being reformatted into playful or functional hybrids, such as "wonuts" (waffle donuts), "vaffles" (vegan waffles) and "wafalafels" (falafel waffles). These styles can spark interest with guests seeking innovative and/or quirky menu features.
Wafalafel: A savory, classically spiced chickpea falafel-waffle served with a drizzle of tahini honey and dollop of s'chug
Cinnamon Roll Waffle Bites: Cinnamon roll Liège waffle topped with bourbon-maple icing glaze