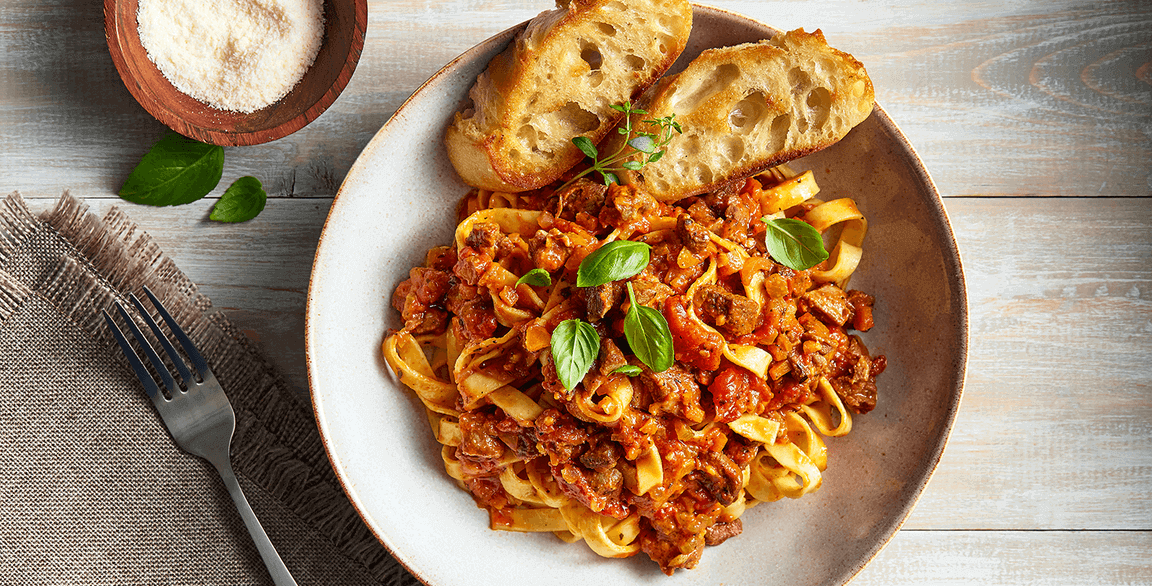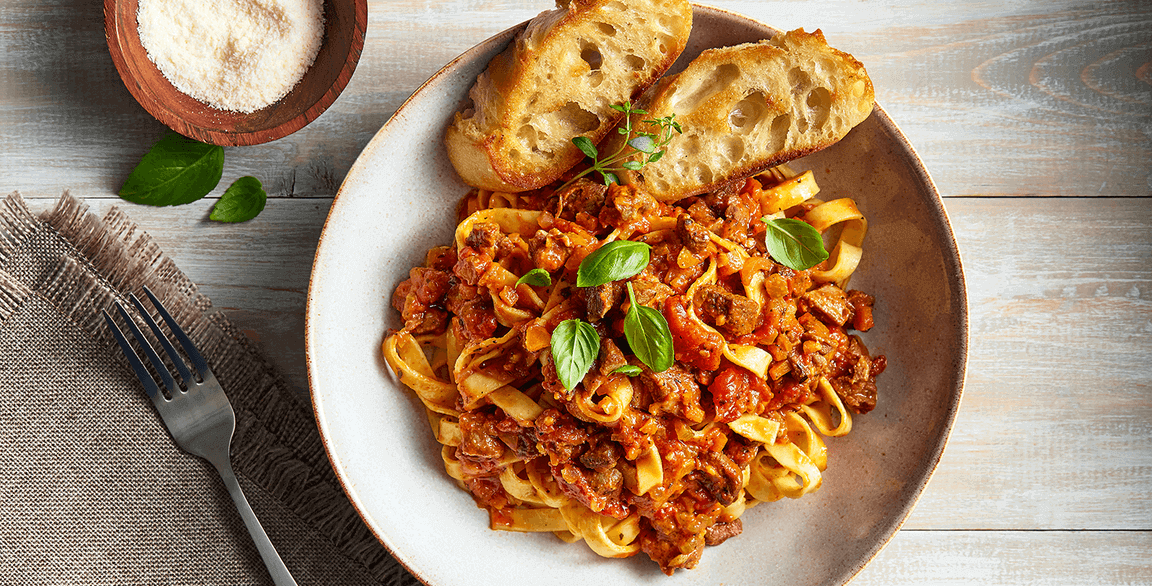 Goat Bolognese
Recipe courtesy of Chef Venecia Willis
Sponsor: True Aussie Beef & Lamb
Servings: 6
INGREDIENTS
2 Tbsp olive oil
2 Tbsp butter
1 ½ lbs goat meat, minced
1 c finely diced celery
1 c finely diced carrot
1 c finely diced yellow onion
3 cloves garlic, minced
¼ tsp ground nutmeg
1 tsp dried thyme
1 tsp dried basil
2 Tbsp tomato paste
½ c dry white wine
1 (28-ounce) can whole tomatoes, crushed by hand, with juice
2 c beef stock
1 c whole milk
½ tsp salt
¼ tsp ground black pepper
1 ½ lbs fresh pasta
4 oz grated Parmigiano-Reggiano
DIRECTIONS
In a large enamel-coated cast-iron pot, heat the olive oil and butter over medium-high heat.
Add the minced goat and brown. Once browned, remove from the pot; do not drain.
In the same pot, add carrots, celery and onion. Cook for 10 minutes, until the vegetables become soft and start to brown.
Add back the cooked goat, garlic, nutmeg, thyme and basil. Cook until they become aromatic.
Add the tomato paste and stir until it is coating all the vegetables and starts to brown.
Deglaze the pot using the white wine, scraping the bottom of the pot to remove all the fond from the bottom of the pot.
Add the crushed tomatoes with juice and stir to bring it all together.
Add beef stock. Bring to a simmer and allow the mixture to reduce by half, about 1 hour.
Once reduced, stir in the whole milk. Bring back to a simmer and allow to reduce again until the sauce is a good consistency. Salt to taste.
Cook pasta according to the directions. Drain and stir into the Bolognese to coat evenly. Portion the pasta and top with Parmesan.
Project Management: Summit F&B
Photography: Carlos Garcia // Food Styling: Peg Blackley & Bree Williams