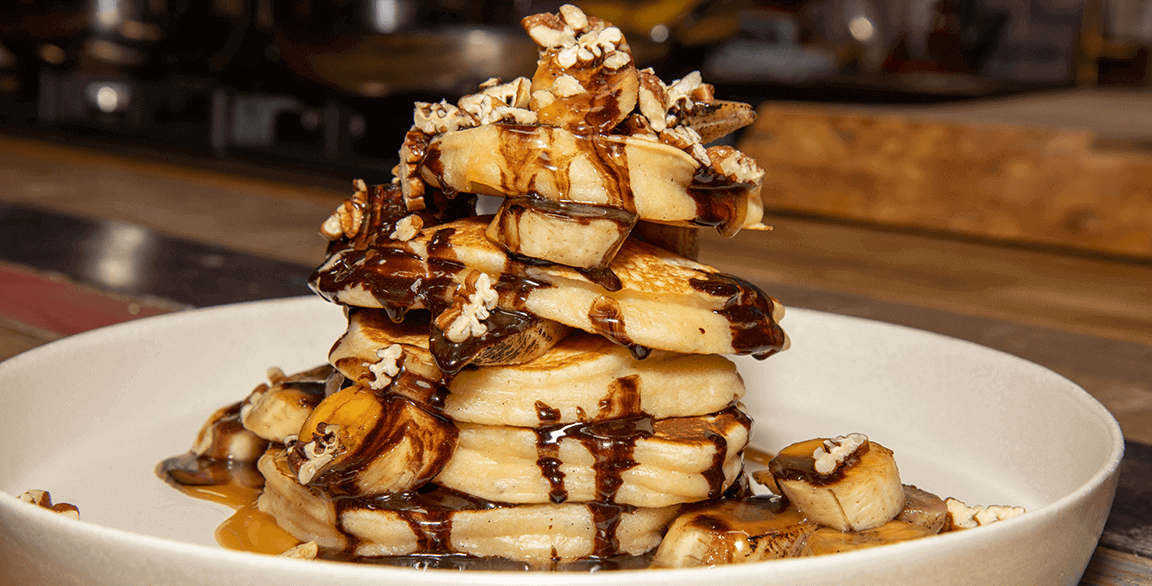 By Rob Corliss
June 26, 2022
Banana plays into the decadence of popular dessert-style pancakes, and their year-round availability make it a reliable go-to ingredient. Nuances within banana varieties provide menu developers with a bevy of pancake enhancing options, leveraging playful characteristics of shapes, textures and flavors to create differentiating looks and subtle flavor changes.
Banana Varieties
The mainstream Cavendish Banana, with its long cylindrical curved shape, creamy texture and classic banana flavor, works well griddled in the batter, as a fresh-sliced topping, or turned into sauce, pudding or custard.
The similar yet shorter, thicker and blockier Saba Banana, with its starchy texture and sweet potato-like taste and rich flavor, works well roasted or caramelized.
The short, cigar-shaped Lady Finger Banana, with its creamy texture and sweeter taste, adds visual impact when sliced lengthwise and glazed.
The Red Banana, with its smaller plump size, intriguing cream color with pinkish tinge, sweetness and slight berry taste, works nicely as a fresh-sliced or caramelized topping.
Each variety crafts a delightful pancake flavor story.
Here are six fun ways to flavor and enhance pancakes with fresh banana.
TRY THIS:
Southern Puddin' Stacker: Buttermilk pancakes (studded with crushed Nilla Wafers and smashed Cavendish banana) + banana pudding/custard (filling between two pancakes) + whipped cream
Amore Pancakes: Banana "milk" ricotta pancakes + powdered sugar + hot honey-glazed lady finger bananas (split lengthwise) + whipped butter
Sweety Pancakes: Spiced sweet potato pancakes + cinnamon brown sugar-roasted saba banana slices + maple syrup
Cereal Pancakes: Whole-grain pancakes (with green banana flour) + cereal milk anglaise + brûléed red banana halves + housemade granola topper
Peanut Butter Banana Muffin Pancakes: Peanut butter (peanut butter powder, peanut butter chips) buttermilk pancakes + chunky bananas Foster sauce + streusel topper
King Kong Pancakes: Chocolate pancakes (dark cocoa powder, mini chocolate chips) + whipped banana cream cheese + sliced fresh red banana + coconut shavings + dark chocolate shavings
FEATURED RECIPE
GET THE RECIPE FOR
Banana Bacon French Toast