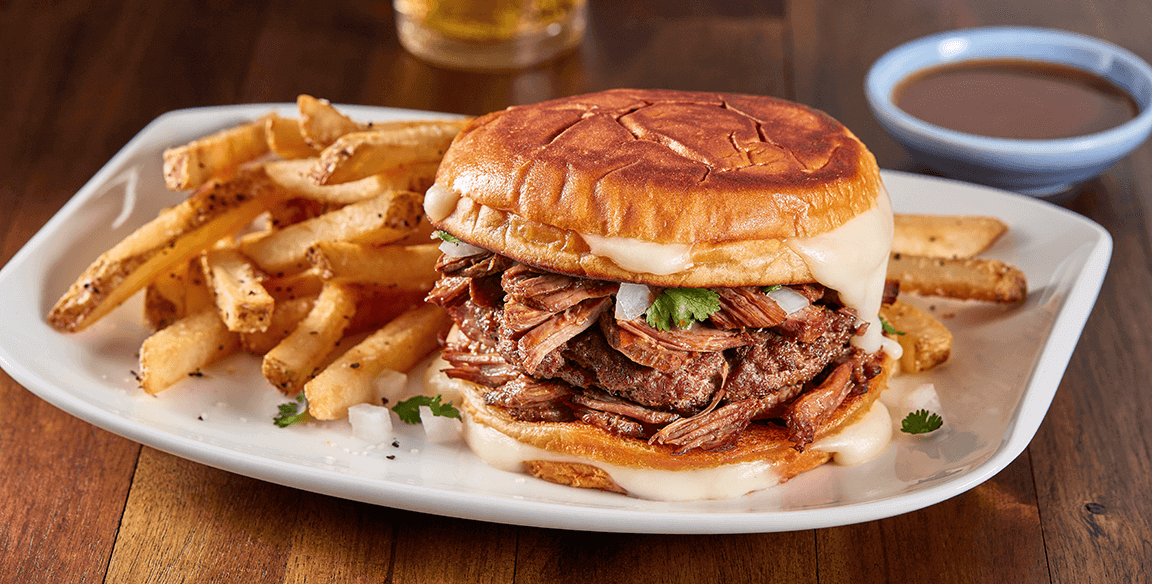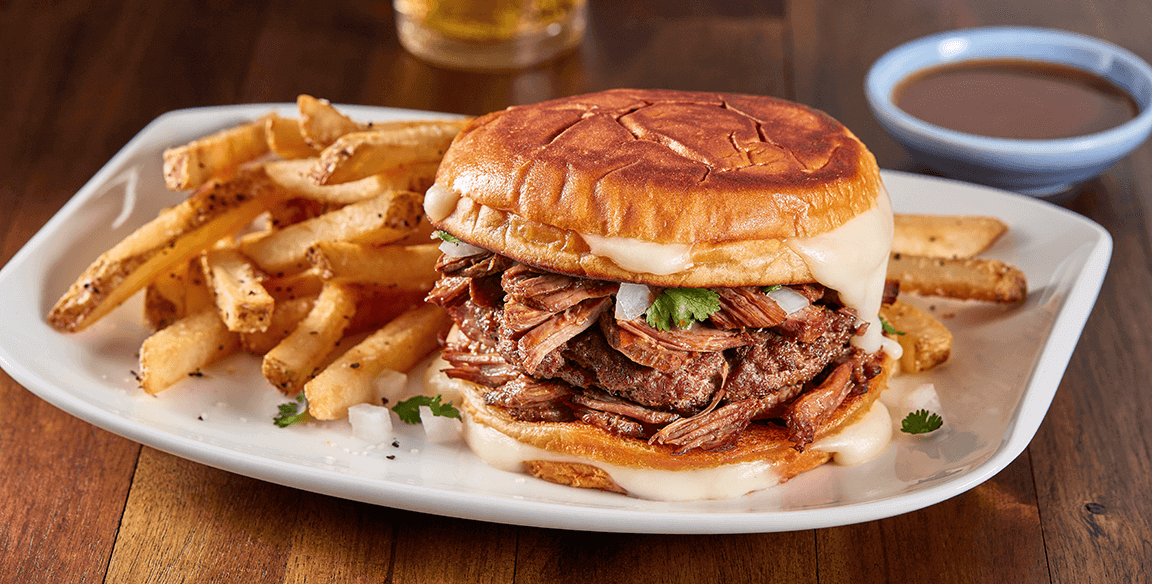 The King Birria-Style Cheeseburger
Recipe courtesy of Dustin Hilinski
Sponsor: King's Hawaiian
Servings: 8
Ingredients
Birria
½ c olive oil
3 lb beef chuck, cubed
1 ½ lb beef short ribs, bone in
2 c large dice yellow onion
2 c large dice carrots

1/3

c minced garlic
½ c tomato paste
2 qt chicken stock
1 c guajillo chile paste
1 Tbsp chili powder
5 bay leaves
2 tsp cumin seeds
1 cinnamon stick
2 tsp ground cloves
1 Tbsp dried oregano
Salt and pepper, as needed
Burger
8 King's Hawaiian® Original Hawaiian Sweet Hamburger Buns
16 slices Oaxaca cheese or a good melting cheese
8 ¼-pound smashed beef patties
2 c diced yellow onion
2 c rough-chopped cilantro
Directions
For the birria:
In a large pot, heat the oil over medium-high heat. Add the beef chuck and short ribs. Work in batches if needed, browning on all sides. Remove and reserve.
In same pot, add onions, carrots, garlic and tomato paste and cook until brown, stirring occasionally. Stir in the chicken stock, chile paste, chili powder, bay leaves, cumin, cinnamon, cloves and oregano. Add reserved beef chuck and short ribs and simmer over medium-low heat for 3 to 4 hours, or until the meat is fork tender. Skim the top of the broth to remove fat and reserve. Remove meat from broth, discard bones, shred meat and reserve.
Strain broth and discard vegetables, cinnamon stick and bay leaves. Season broth with salt and pepper to taste, add reserved shredded meat back to broth and keep warm.
For each serving, to order:
With a serrated knife, slice top and bottom buns three-fourths of the way through horizontally (hinge cut).
Add 1 slice of cheese to each bun inside the cut.
Lightly brush the buns all over with reserved fat and toast top and bottom on all sides on a flat-top, ensuring cheese melts (like a grilled cheese).
While toasting buns, cook 1 smash patty until desired doneness and edges are crispy.
With a slotted spoon to allow beef to drain, place equal amounts of shredded beef under and on top of beef patty on the toasted bottom bun and top with chopped onion and cilantro. Finish with the toasted top bun. Serve each sandwich with a small cup of the reserved broth.