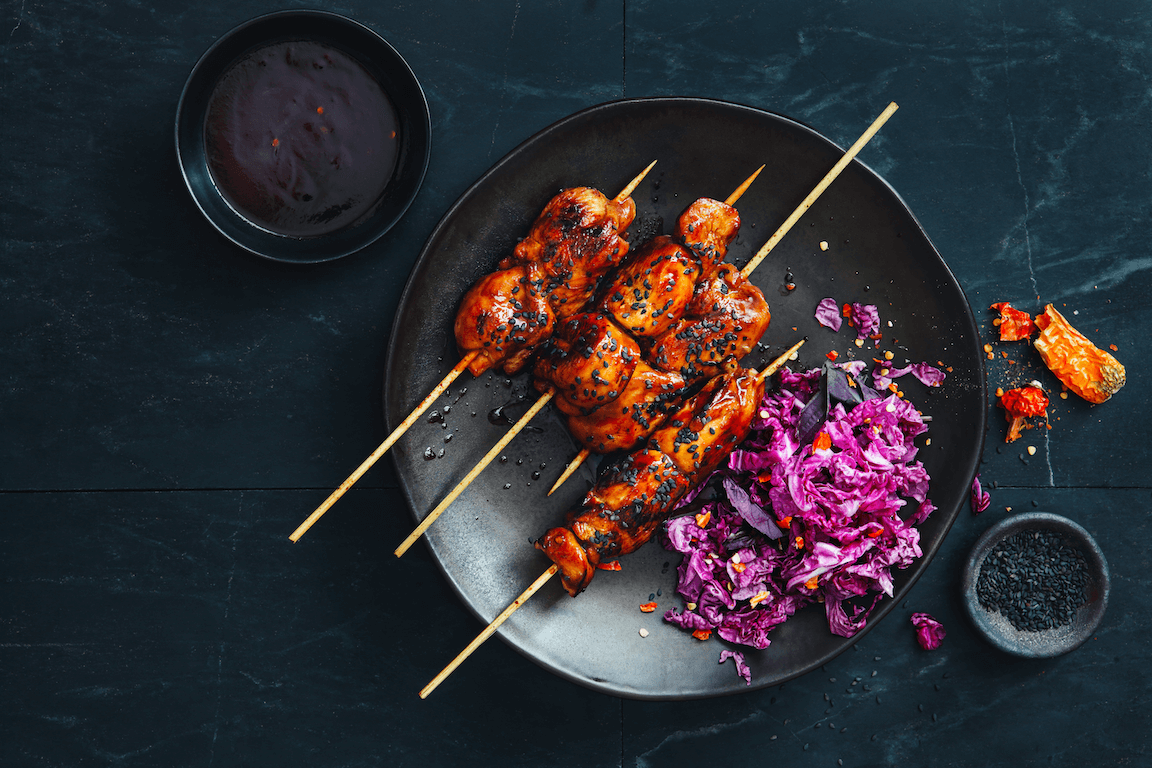 Mustard is touted for its versatility, but at its core this familiar condiment is a straight up flavor play. With mustard's natural flavor affinity with meat rubs and marinades, using this trending ingredient gives chefs opportunity for menu differentiation.
Here, we offer strategic approaches on using mustard as a flavor builder, adding dimension to meats for a fuller taste experience.
MUSTARD PRE-RUBS
Meat first rubbed with a layer of mustard, then liberally patted with seasoning and slow-cooked, produces deep flavored results. The mustard element holds the dry seasoning, creating a crusty crackling layer spiked with sharply flavored pungency, elevating meats to craveworthy status.
TRY THIS
Kentucky Pork: Whole pork loin + bourbon brown mustard + hot maple spice rub (roasted and thick sliced)
Carolina Masala Pork: Pork shoulder + grain mustard + garam masala rub (smoked, pulled and tossed in Carolina barbecue sauce)
Jamaican Smokehouse Brisket: Beef brisket + yellow mustard + dry jerk spice rub (smoked and sliced)
Yucatán Hot Bird: Bone-in chicken thighs + Serrano chile purée-mild yellow mustard + achiote-cumin-orange peel rub
MUSTARD POST-RUBS
Bring textured flavor to the forefront. Smoking, roasting, searing or grilling meat then slathering it with a flavored mustard, followed by topping or rolling it in fresh-chopped herbs, spices, seasoned breadcrumbs or creative textures produces brightly layered flavors.
TRY THIS
Marrow Mustard Steak: Seared beef ribeye steak + bone marrow mustard + crispy onion strings
Devilish Filet & Egg: Roasted filet mignon + Pommeray mustard + grated salt-cured egg yolk
Green Herb Honey Pork: Grilled whole pork tenderloin + honey mustard + green herb panko breadcrumbs
Tortilla Crunch Tequila Chicken: Seared and roasted airline chicken breast + tequila mustard + crushed tortilla chips
HOT MUSTARD MARINADES
Enthrall heat-loving guests. Trending hot mustard powders (like English Colman's, Chinese or Japanese karashi) can be used in quick marinades for an engaging punch, offering menu developers easy flavor mix-ins with global provenance.
TRY THIS
Hot Sesame Ribs: Baby back pork ribs + karashi hot mustard powder + soy sauce + mirin + lime juice + brown sugar + sesame seeds + vegetable oil
Hot and Smoky Maple Pork: Pork chop + Colman's hot mustard powder + orange juice + smoked paprika + maple syrup + vegetable oil + sea salt
Onoliscious Beef: Beef skirt steak + Chinese mustard powder + Hawaiian plum powder + pineapple juice + vegetable oil
Hot Black Lemon Chicken: Boneless/skinless chicken breast + Colman's hot mustard powder + turmeric + lemon juice + coconut sugar + garlic flakes + vegetable oil + black sea salt