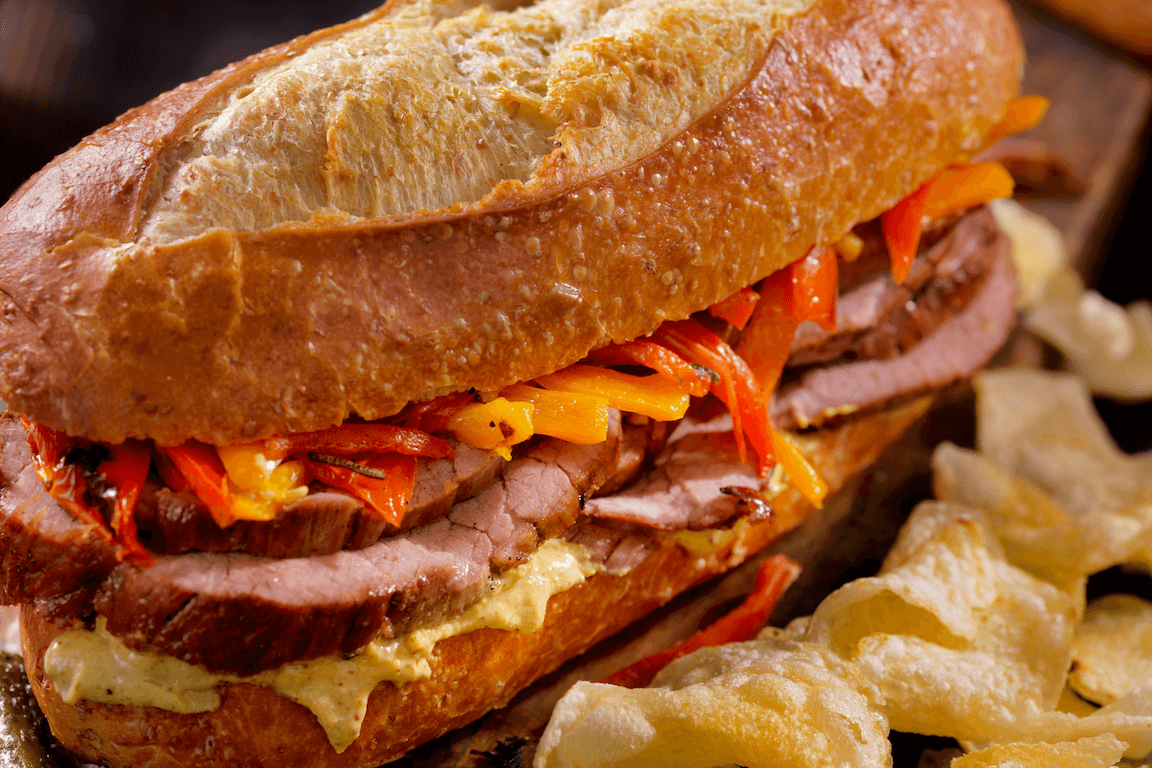 Modern culinary innovation has resulted in an upgrade of standard condiments, and mustard is seeing interesting menu plays as a result. Its familiarity makes mustard a safe base for menu development, with its varying flavor profiles, textures and lively notes.
Housemade or speed-scratch condiments are a culinary tool for creating distinctive flavor across the menu. Here, we delve into how chefs can leverage mostarda, mustard aïoli and mustard crema. Each presents opportunity to entice guests with inventive crowd pleasers.
MOSTARDA
Mostarda delivers a fruit-forward mustard with the texture of a relish or chutney. It's an ideal complement to meats, adding pungency, fruitiness and acidity.
TRY THIS
Lucky Duck: Jerk-roasted duck legs + peach mostarda + yellow rice
Mostarda Shorty Slider: Beer braised beef short rib + pickle + truffled cherry mostarda + potato roll
ON THE MENU:
Capicola, Egg & Cheese: Spicy capicola, egg, Muenster cheese, fig mostarda, housemade croissant — Loaf Lounge, Chicago
Pork Schnitzel Sandwich: Green cabbage slaw, green apple mostarda, caraway aïoli — The Ole Store Restaurant, Northfield, Minn.
MUSTARD AÏOLI
Aïoli is a well-established condiment/sauce on menus. Incorporating specific mustard varieties elevates the indulgence and attraction, creating new taste sensations for guests.
TRY THIS
B-Fast Carnitas Taco: White corn tortillas + fried egg + carnitas + chorizo-Dijon mustard aïoli
OMG! Pork: Coconut braised pork shoulder + mojo-mild yellow mustard aïoli + black beans-white rice
ON THE MENU:
Frank Zappa Sandwich: Bourbon flank steak, caramelized onions, provolone, pickled chiles, dressed arugula, Head Hunter (India pale ale) mustard aïoli — Fat Heads, Pittsburgh
Steak Bites: Marinated sirloin, Dijon-horseradish aïoli — Moxies, Plano, Texas
MUSTARD CREMA
A mustard infusion takes Mexican crema beyond the obvious into different realms. This embellished light, rich and creamy tang will provide a dramatic finishing oomph to numerous dishes.
TRY THIS
Mega Meatloaf: Griddled meatloaf + maitake mushroom gravy + Pommeray mustard-celeriac crema + crispy onion straws
Holla Back: Whipped mascarpone + Gruyère + crispy prosciutto + honey mustard crema + Calabrian chile flakes
ON THE MENU:
Pork Belly: Ginger congee, pickled mustard crema, bitter greens (add onsen egg) — Second Generation, Chicago
Pork Milanesa: Grilled lemon, arugula salad, mustard crema, chipotle beurre blanc — Livery, Indianapolis
FEATURED RECIPE
Photo Credit: Smithfield Culinary
A signature take on a Southern classic, this Roasted Pork Po'Boy sees roasted and seared pork shoulder tossed in a whole-grain mustard aïoli and parsley, then tucked into a split bun with pickled vegetables.
GET THE RECIPE FOR Roasted Pork Po'Boy With Whole-Grain Mustard Aïoli