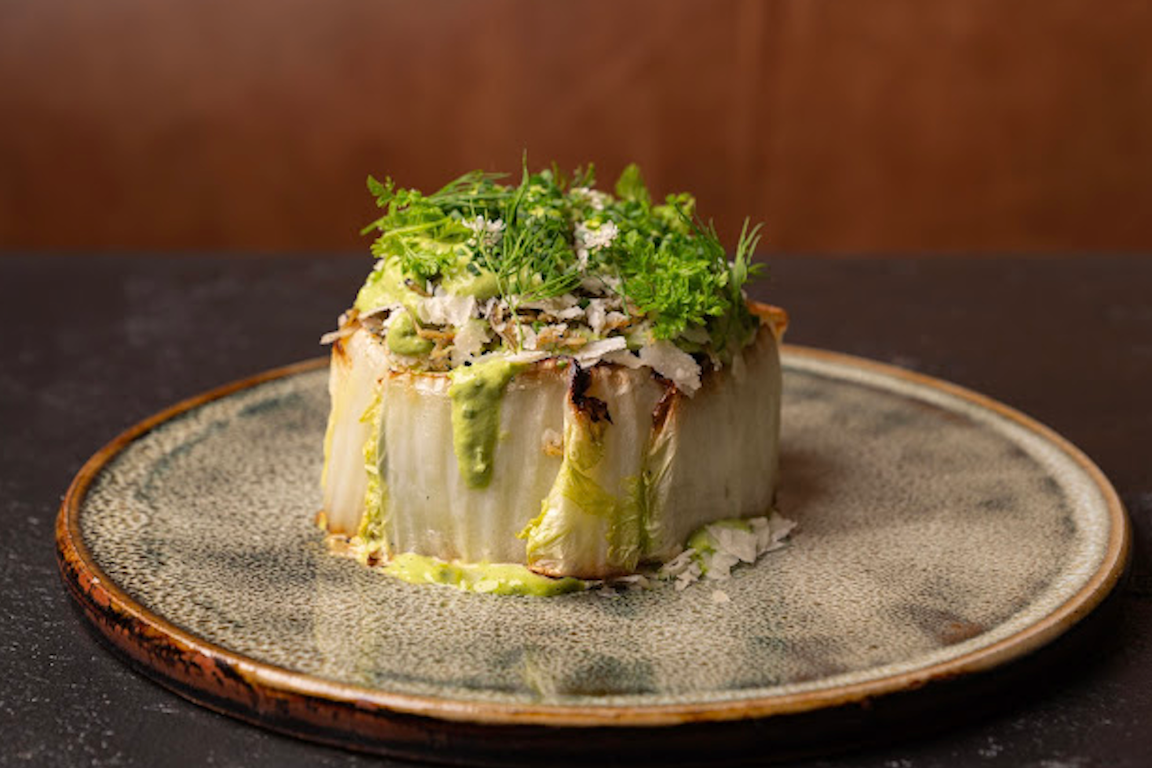 By Mike Kostyo
March 15, 2023
Salads are seeing renewed interest as consumers continue to seek out inventive plant-forward options. But on today's menus, a few leaves of iceberg and a couple of cherry tomatoes won't cut it. Chefs are playing with texture, incorporating unique produce varieties, and amping up the flavor in every way possible.
When opening the Japanese-American concept Gunsmoke in Los Angeles, Executive Chef Brandon Kida and his team developed the Warm Cabbage Salad, taking inspiration from two of their favorites—kimchee and Caesar salad. "We deliberately cut the napa cabbage into large shards, which resemble pieces of kimchee," says Kida. The shards form a foundation for classic Parmigiano-Reggiano, while "crispy anchovies are added for texture and an umami burst."
Kida isn't the only one leveraging seafood to introduce texture to salads. Ricky Dolinsky, chef/co-owner of Yo+Shoku, a Japanese-Eastern European pop-up on New York's Lower East Side, uses salmon skin to bring crunch to his Salmon Skin Salad. "We char the skin under a broiler until it blackens, giving it a smoky, almost acrid taste," he says. That's added to a salad build featuring a housemade vinaigrette (olive oil, balsamic, soy sauce, mirin, ginger and garlic), which is whisked into silken tofu, then combined with bright orange masago. It's all tossed together with Bibb lettuce and chopped avocado. When mixed into the salad, the charred salmon skin's bitterness is softened, Dolinsky says, "adding depth to the dish without overwhelming it. It's a fun, fish-forward salad that is a lesson in balance."
Charring also comes into play at Regards, a California-meets-the-Northeast-meets-the-world restaurant in Portland, Maine. For the Charred Caraflex Cabbage Salad, mild, pointed heads of Caraflex cabbage are charred over oak, showcasing rich black edges that contrast with the tender white interiors when overlapped on the plate. The leaves are dressed with an ever-changing array of flavor profiles (everything from Meyer lemon juice to white kimchi salt has been used, depending on the season) and arranged over a Caesar emulsion made with Opus 42 cheese from Maine's Lakin's Gorges Cheese.
Consumers have gotten a lot savvier about their greens, resulting in chefs seeking out particular varietals (like Caraflex) and zeroing in on their flavor profiles. At New York's trendy coastal Italian concept Casino, the Treviso Salad goes all-in on the green's bitter, bold flavors, amping them up with bright blood-orange segments and thick slices of Delicata squash. For texture: pine nuts and "crunchy" olives.
Adding textural variety and crunch is key for a dynamic salad. At The Beast, Todd English's restaurant at Las Vegas' experimental Area 15 complex, the Greek Salad gets crunch from chickpeas that are tossed with fruity Espelette pepper and slowly dried in the oven until crispy. They're mixed with romaine and baby gem lettuce, oven-roasted cherry tomatoes, and fresh vegetables like cucumbers and red onions, all finished with olives, pepperoncini, and housemade wood barrel-aged red wine oregano vinaigrette.