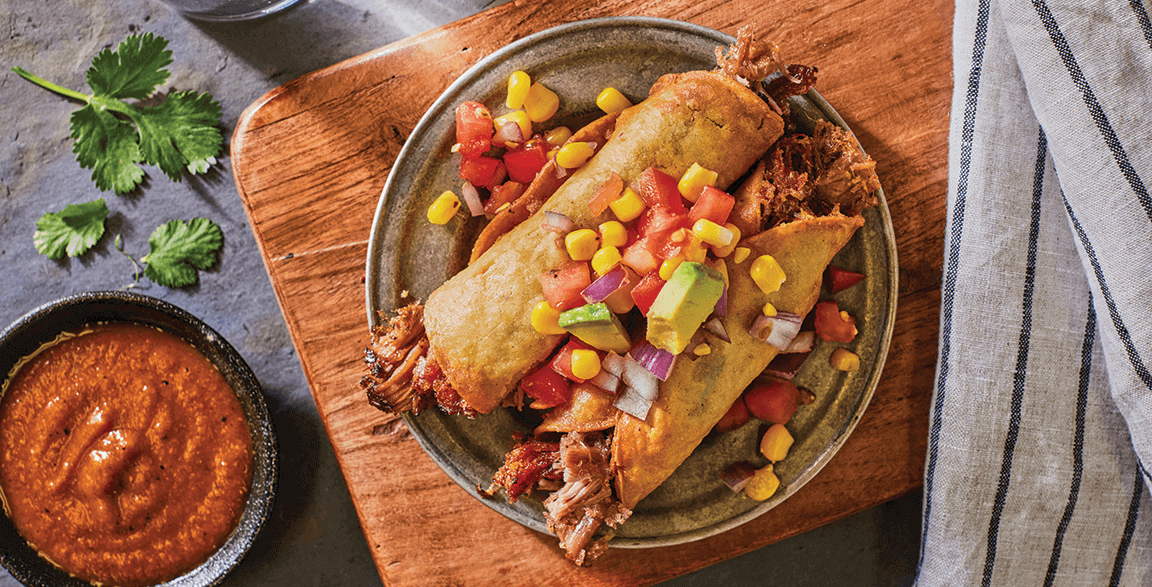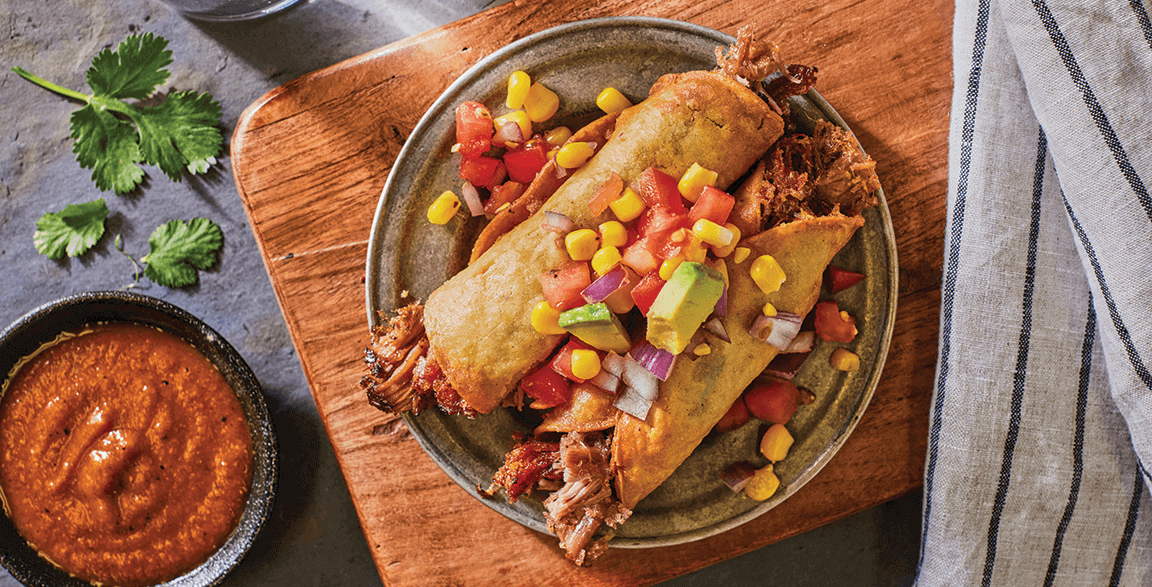 By Flavor & The Menu
June 15, 2022
The barbecue category is rich with opportunity, embracing backyard homestyle traditions, American culinary heritage and global flavor profiles. Celebrating the roots of barbecue—using smoke as an ingredient and imparting the flavor of slow cooking—marks the trend. Creative chefs today are using that foundation then building their distinct flavor narratives into their barbecue menu items.
James Canter, Executive Chef of Guerrilla Gourmet in San Antonio, Texas, highlights barbacoa, one of Mexico's barbecue traditions, in a sandwich. His Barbacoa Grilled Cheese stars brisket, caramelized onion, pico de gallo, Mexican cheese blend and pickles, served on buttered and grilled Texas toast. Matthew Livers, Director of Culinary at Compass Group in Kansas City, Mo., takes advantage of the bao trend, tucking glazed spare ribs into these doughy buns for an on-trend handheld snack. His Glazed Rib Lotus Buns star Smoke'NFast St. Louis Style Pork Spareribs brushed with Asian barbecue sauce and are topped with pickled vegetables.
Today's very real labor and supply issues present challenges for these chefs who look to menu authentic barbecue. Sourcing fully cooked or smoked proteins, like those offered by Smithfield in its Smithfield Smoke'NFast line, makes good sense.
Global Heat
Diners today love heat—and delivering it through sauces is a smart pathway to craveability. Here are a few trending flavor preferences to help in sauce development accompanying barbecue and smoked proteins:
Consumers report they like spicy sauces more now than in 2019
Hot sauce usage has increased with one-third of consumers compared to 2019
Jalapeño is the leading hot sauce flavor and is especially popular among consumers ages 55 and older
56% of consumers are very likely to try a new/unique sauce in a Mexican dish
Younger consumers have a higher preference for chipotle and Sriracha hot sauces
Barbecue at Breakfast
While barbecue remains a popular choice at lunch and dinner, according to Technomic, it is actually the fastest-growing breakfast flavor today. Couple that with the fact that ingredients, flavors and dishes from around the world are growing at breakfast—ranging from spicy to sweet to savory—and you have the perfect formula for trend-forward barbecue breakfast dishes.
ON THE MENU: AM BBQ
Rise 'N Shine Benny: Buttermilk biscuit, a sunny-side-up egg on top of our smoked pulled pork, smothered in barbecue-hollandaise sauce, chive garnish — Vicious Biscuit, based in Mount Pleasant, S.C.
Barbacoa Breakfast Tacos: Three tortillas with seasoned braised beef barbacoa, scrambled cage-free eggs, scallions, melted cheddar and Monterey Jack, lime crema, Cotija cheese, pico de gallo and fresh avocado with a side of black beans — First Watch, based in Bradenton, Fla.
BBQ Pulled Pork Waffle: Slow-roasted pulled pork, "pig roast" barbecue sauce and cole slaw — Dan's Waffles, Merchantville, N.J.
Ribs Made Easy
Barbecue ribs provide diners with a beloved, comfort-centric and all-American dining experience—no matter what flavors are in the signature rubs, glazes or sauces. Tender, juicy meat, combined with the unmistakable flavor of smoke and fire, are what give ribs their premium positioning. In fact, the 2021 Technomic Flavor Consumer Trend Report notes that almost half of all consumers view smoky-flavored food as craveable.
Consumers see the value of unique flavors, willing to spend more on a meal featuring them today than two years ago, up from 31% in 2019.
SMOKE'NFAST: The fast track to authentic barbecue
Answering today's labor crunch and giving operators quick, convenient options, Smithfield Smoke'NFast offers a delicious variety of fully cooked and smoked meats. Featuring heat-and-serve simplicity, the product line carries both sauced and sauceless options. The fully cooked barbecue products are authentically smoked with natural hardwoods. Now you can serve authentic barbecue without the need for expensive equipment or extra staff.