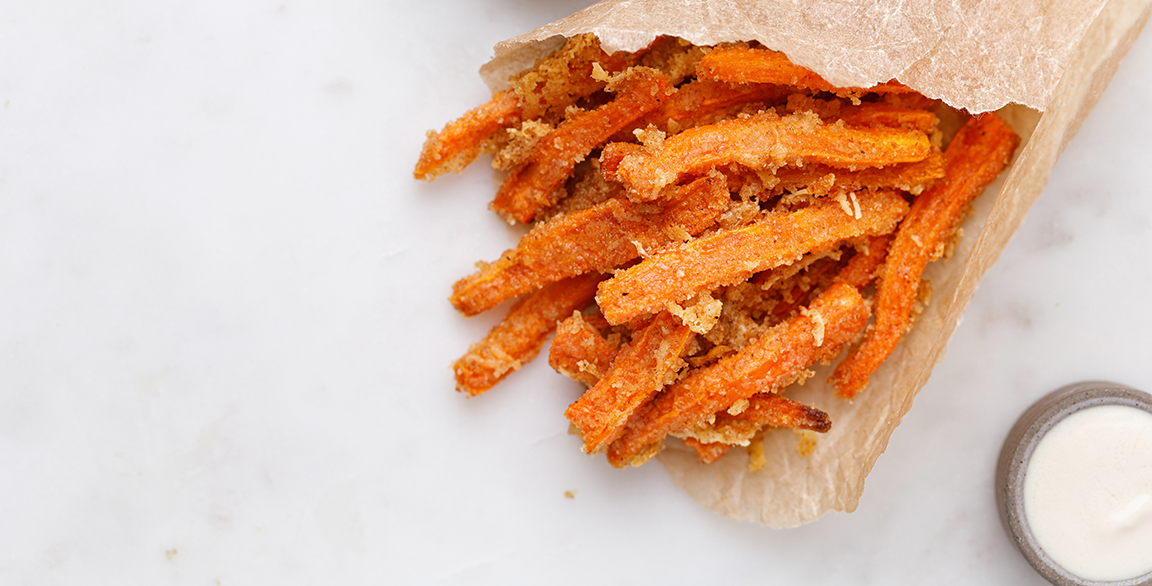 Carrots were one of the first superstars in the veg-centric movement and have held the limelight steadily, thanks to their affordable and familiar profile, along with their ability to transcend into the unexpected with culinary technique and flavor play.
Savvy chefs are taking advantage of carrots' vibrant spectrum of colors, sizes, shapes and textures and maximizing their earthy, natural sweetness. Whether starring in plant-forward menu options or enhancing meat dishes in a supporting role, carrots excel from root to tip. Here, we apply fundamental culinary techniques, along with trending flavors, to explore traditional and surprising ways to give carrots the attention they deserve.
1

FRIED

Push past the expected (carrot chips) and get inventive in frying different carrot forms, using various coatings. Appetizers are an ideal menu area to spotlight this type of carrot innovation and extend plant-forward menu excitement.
Italian Crunchers: Blanched whole baby carrots (lightly Parmesan-breaded and fried) + Calabrian chile aïoli
Japanese Carrot Tanglers: Spiralized carrots (lightly tempura-battered and fried) + miso-butter drizzle + togarashi dusting
2

RAW

A wide array of raw carrot "shaves" impress with global stylings, infusing dishes with varying degrees of textural and visual appeal. Such contemporary carrot offerings are perfect for brunch or small-plates menus.
Curled Bliss: Pickled lengthwise-shaved raw rainbow carrot curls + carrot top-walnut dukkah + Cotija cheese crumbles
Root Veg Tabbouleh: Raw carrot-cauliflower-parsnip shaved "rice" + cucumber + sun-dried tomato + red onions + parsley + scallions + sage + olive oil + lemon juice
3

JUICED

Juiced carrots deliver bold color and an earthy flavor as a mix-in for beverages and savory sauces. Tout the better-for-you benefits derived from carrots as an incentive for customer trial.
Sonora Stinger: Fresh carrot juice + lime juice + reposado tequila + ancho chile simple syrup
Carrot Jus: Fresh carrot juice + demi-glace + grain mustard + turmeric
4

SALAD

Capitalize on the healthful eating habits of flexitarians, using carrots to lift the overall flavor experience. Play with different carrot cuts for textural intrigue and boost flavor with complementary seasonings.
Divine Salad: Spiralized raw rainbow carrots + matchstick green mango + plum-ginger vinaigrette + mint chiffonade
Winter Wonder Salad: Barbecue-spiced baked carrot "bacon" (thin strips cut lengthwise) + mixed greens + roasted golden beets + pears + goat cheese + fresh cider vinaigrette
5

DIPPABLES

Carrots lend sweet, earthy flavor and an interesting textural element when infused into dips and condiments or as a healthy dipping food item. Add colorful carrot varieties, puréed or raw, to popular favorites as a way to provide patrons with an easy exploration of new but comforting flavor.
Roasted Carrot Hummus: Slow-roasted yellow carrots + chickpeas + tahini + olive oil + garlic + sumac + fried orange carrot chips (topper) + candied pine nuts (topper) + naan bread
Carrot Chile Crunch: Grated raw purple carrots + roasted chiles + sesame seeds + garlic/onion + spices + grapeseed oil + coconut sugar
6

GLAZED

Chefs can showcase their culinary acumen by taking a modern approach to glazed carrots. The use of a carrot purée or powdered carrots as an ingredient will deliver a premium glaze. Glazed carrots can create contrast when paired with robust stews and roasts, highly spiced meats and creamy omelettes, while serving as a welcome addition to handhelds and side dishes.
Jerk-Carrot Lettuce Wraps: Passionfruit-glazed red carrots + pulled grilled jerk chicken + Bibb lettuce leaves
Premium 24K Glaze: Roasted purple carrot purée + harissa oil + pomegranate syrup
7

ROASTED

Roasting draws out a deeper flavor dimension in carrots, making them ideal for adventurous and unconventional menu applications. Whole-roasted carrots provide unique character traits to dishes, while roasted purées add richness and a smooth mouthfeel.
Indian Carrot Flan: Bed of curried lentils + savory roasted carrot flan + candied orange peel
Carrot Chili "Dog": Pan roasted-basted whole carrot "dog" + soy "chorizo" and white bean chili + cashew "cheese" sauce + brioche bun