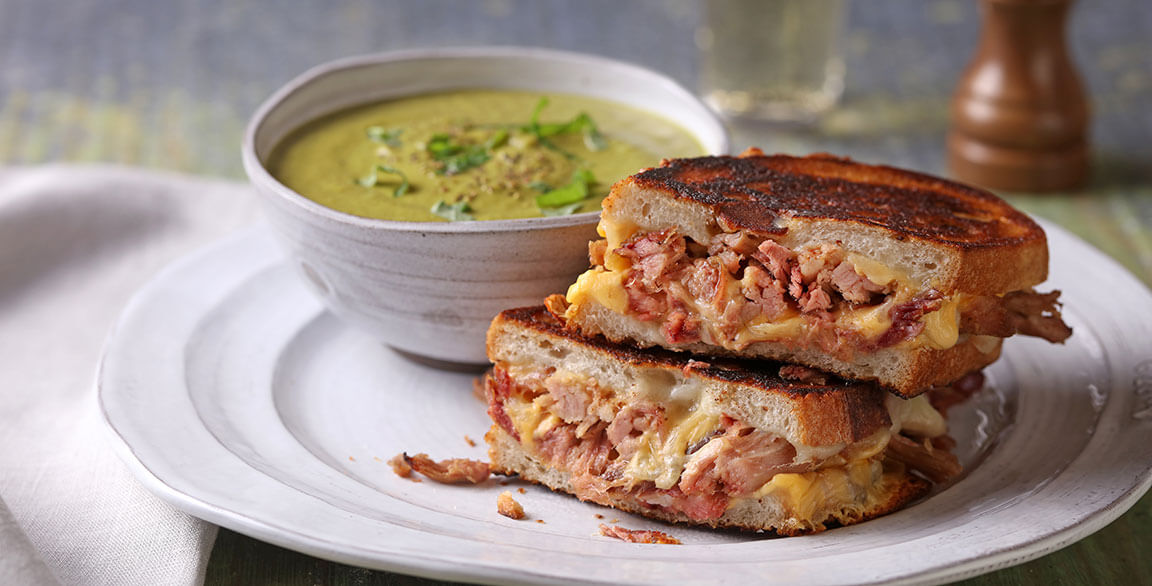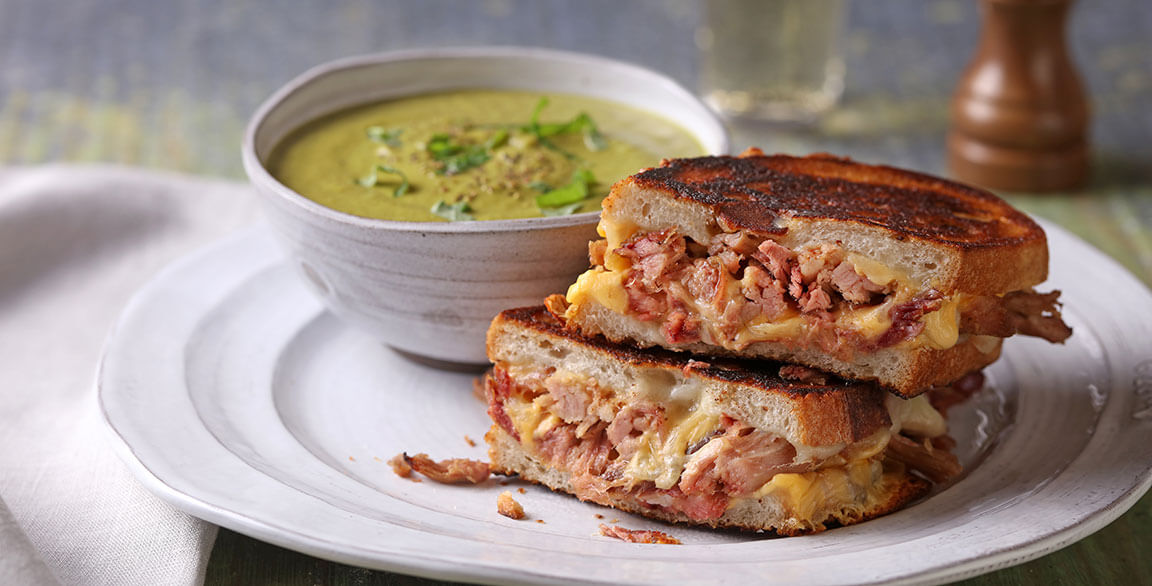 By Flavor & The Menu
June 28, 2021
Almost half of diners look for signature items they can't find elsewhere. That recent data point from Technomic Consumer Trend Reports isn't surprising, but it's a good reminder for menu developers: Creative variety is essential, as is surprise and delight. Comfort-centric, familiar fare still serves as a guidepost for a large amount of R&D right now, yet diners still want that "Wow!" factor. Flavor building is always a go-to strategy, but looking at switching up the protein in menu mainstays offers a direct path to differentiation.
Drilling down on three essential menu categories—soups, salads and sandwiches—chefs are boosting protein and amplifying crave by using pork in unexpected, welcome ways. As example, look to this premium, signature spin on the classic grilled ham and cheese. Myk Banas, Executive Chef of Gaylord Opryland in Nashville, Tenn., showcases the power of protein in his Grilled Cheese Sandwich with Pulled Pork.
"I use Smithfield Smoke'NFast Pulled Pork product, which has a nice neutral flavor profile—it's not seasoned; it just has a good smoky taste to it," he says. That gives him freedom to make it his own without building in the labor of preparing the meat.
To flavor the pork, he sautés garlic, deglazes the pan with apple cider vinegar, adds brown sugar and mustard, then folds in the pulled pork. When building the sandwich, he tops buttered bread with slices of American and mozzarella cheeses and the pulled pork, then grills it.
UPPING THE SANDWICH GAME
The culinary pedigree in play on sandwich menus today is inspiring. Chefs are innovating like never before and consumers are loving it. Many of them are using pork products in truly craveable, inventive builds.
Janet Kirker, Executive Chef/Partner of Lettuce Entertain You Enterprises, offers a clever spin on the BLT with her Fried Green Tomato and Bacon Sandwich. She spreads lemon aïoli onto toast, layers a folded egg "omelette" over top, followed by slices of fried green tomatoes and Smithfield Ready to Eat Bacon. "It's a great combination—the contrast of the aïoli's slight acidity with the summertime tomato, and the savory goodness of the bacon," says Kirker. She uses the cooked product for the convenience factor.
"The number of times a tray of bacon gets burned is heartbreaking, especially when you're in the weeds. With the Ready to Eat, you get a consistent, properly cooked, quality piece of bacon every time."
TREND-FORWARD SANDWICH SIGHTINGS
Croque Madame: Roasted pork shoulder, Dijon, pickles, pimento cheese Mornay sauce, fried egg – Benne on Eagle, Asheville, N.C.
Pierna Enchilada Torta: Pulled pork topped with beans, avocado and jalapeños, then stuffed inside a crisp-soft torta roll – La Torta Gorda, San Francisco
Lucy Torta: Lemongrass braised pork, cucumber, escabeche (pickled carrot and jalapeño), white onion, aji aïoli, ginger chimichurri, and red cabbage salad – Austin Daily Press, Austin, Texas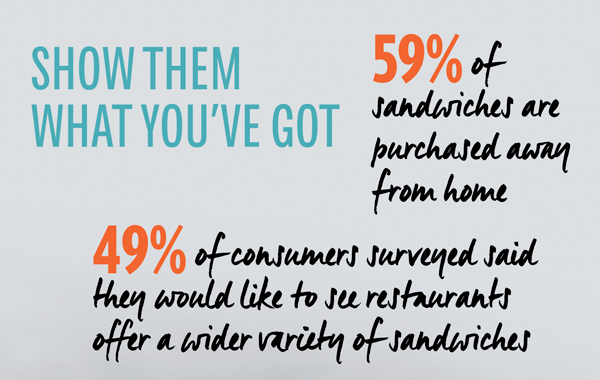 SOUP'S ON
Enriching soup with the savory flavors of ham or bacon is a classic technique with great merit. Yet there are other flavor-building approaches that reinvigorate the soup category while leveraging less-utilized cuts of pork. By doing so, operators not only carve out differentiated menus, they also help cross-utilize ingredients.
Jacqueline Mearman, Chef/Owner of Kitsch in Baltimore, features a number of pork products in a few places on her breakfast-heavy menu. Her White Bean & Kale Soup with Smoked Sausage, she says, makes use of a flavor-rich protein that gives consumers a more intriguing profile. "It packs a lot of flavor," she says. "And using a fully-cooked product is a huge time saver—that's really important when I'm building out recipes that involve other elements that are time consuming."
SALAD DAYS
Protein toppers on salads can be rote for customers, who are often given standard choices of grilled chicken, shrimp or steak. Of course, bacon finds a happy home in salads, but other pork products can really make a difference. At Centro Cocina Mexicana in Sacramento, Calif., a starter salad of Little Gem lettuce, radish, red onions and queso fresco, tossed in an avocado dressing, gets an unexpected protein complement of crispy, moist and memorable carnitas.
Myk Banas makes strategic use of ham in salad, thinking far outside of the traditional chef's salad profile. His Ham & Watercress Salad stars Smithfield Hickory Smoked Ham as the centerpiece. "It's a great ham product, super consistent, and it works in a ton of applications," he says. To create the build, he spreads a herbaceous green goddess dressing on the plate, tops it with fried green tomatoes, then adds peppery watercress tossed with ham, lemon juice and olive oil, then garnishes it with Parmesan cheese and lemon zest. "It's a very simple dish, but it's delicious," he says.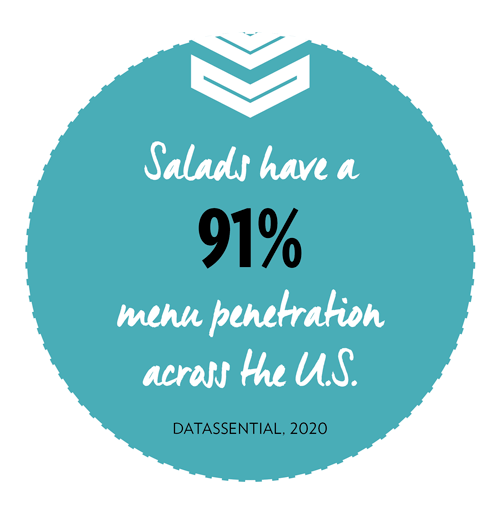 Visit SmithfieldCulinary.com/Smithfield for recipe inspiration, rebates, video demos and more!