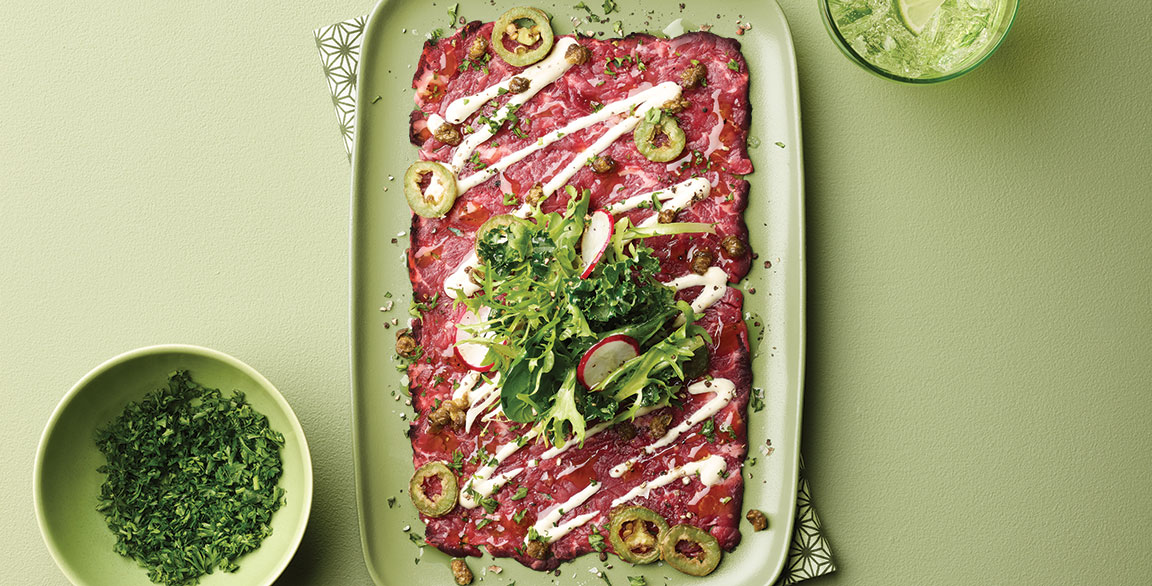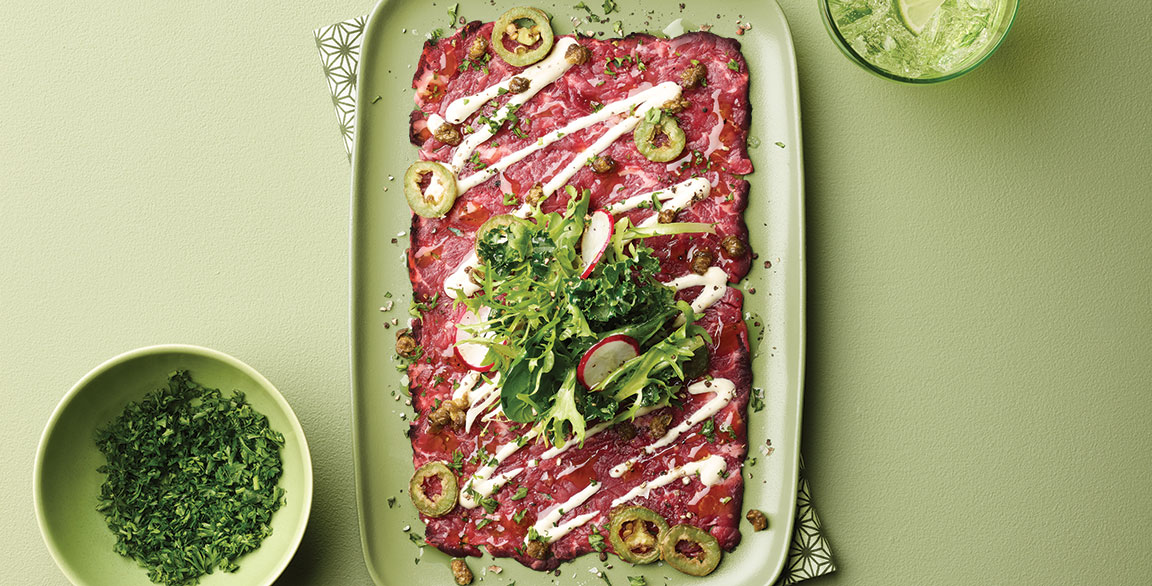 Created by Michael Slavin, VP of Culinary & Menu Innovation, Houlihan's, Inc.
Yield: 14″ Rectangle Plate
INGREDIENTS
1 ea. (4 oz.) Australian grass-fed beef carpaccio prep
1 Tbsp white truffle oil
1 Tsp smoked Maldon sea salt
2 Tbsp Parmesan garlic sauce
½ tsp fresh cracked pepper
1 Tbsp fried capers
8 rings fried jalapeño rings, lightly floured and fried
¼ cup arugula, baby
¼ cup spinach leaves
¼ cup kale, steamed, chiffonade
¼ cup spring mix, rough chop
5 discs radish discs, 1/8″ slice
1 tsp dressing, olive oil lemon mix
½ tsp chopped parsley
INSTRUCTIONS
Remove plastic wrap from prep portion. Zig zag white truffle oil over beef. Evenly sprinkle smoked sea salt over beef. Zig zag Parmesan garlic sauce over meat.
Crack pepper over beef.
Evenly distribute fried capers and jalapeños over beef.
Toss greens with dressing. Mound greens high in the center of the plate.
Evenly garnish dish with parsley.
For the Australian grass-fed beef carpaccio prep:
Pat dry the exterior of the ribeye roll.
Evenly season the exterior with a light coating of char grill seasoning.
Wrap entire ribeye roll with plastic wrap and place in the freezer until the roll is frozen approximately 75% through.
Remove plastic from exterior.
Place a layer of plastic on top of a large rectangular plate.
Set the slicer to approximately 1/16″ and begin slicing the frozen filet into very thin slices. Slice should land in your gloved hand and immediately place it in an overlapping fashion, from the outside edge inwards. Slices should overlap approximately 1/4″. Continue until 4 oz. of slices are plated.
Place a second layer of plastic film directly onto the slices.
Remove both layers of plastic and beef and place onto a flat surface.
Use a bakers' rolling pin to gently level out the layers of sliced meat into one continuous piece.
Remove top layer of plastic.
Invert the rectangle plate over the meat aligning edges.
Flip plate and meat over and push down plastic so it is in direct contact with slices.