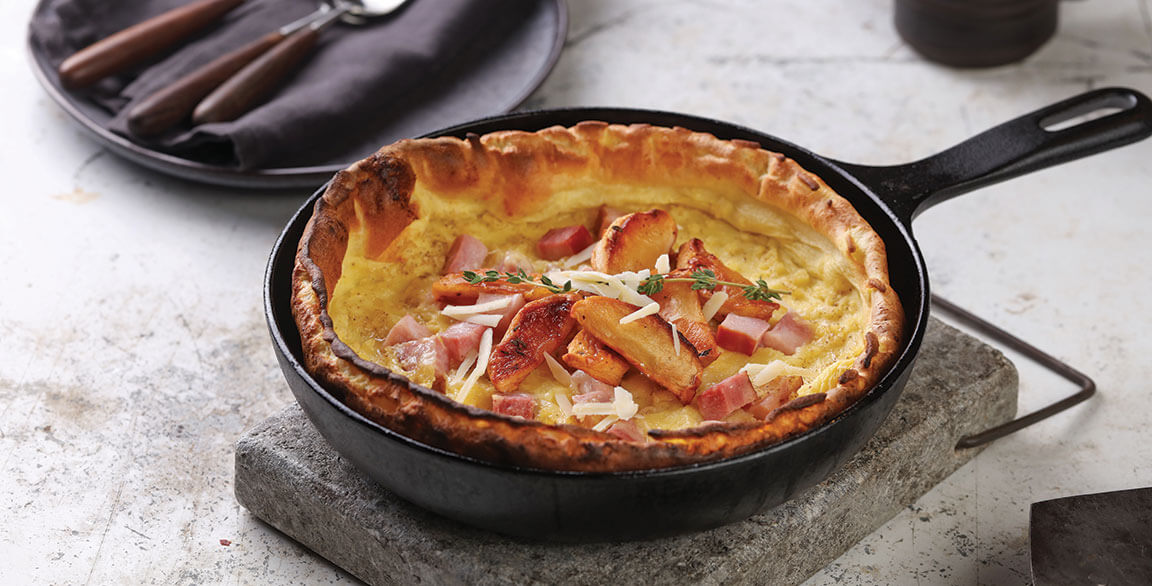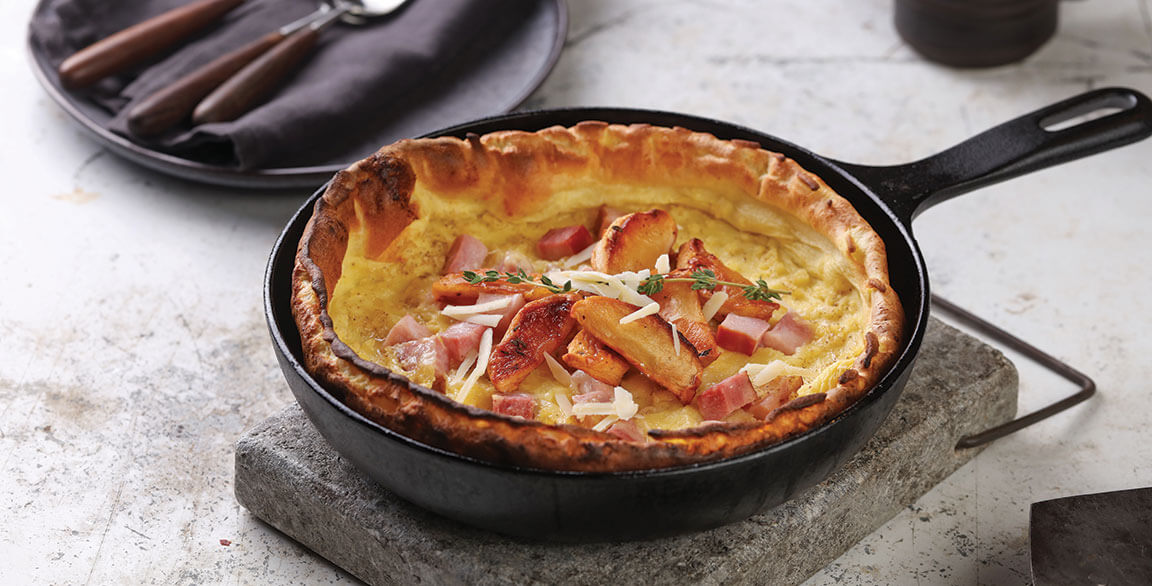 By Flavor & The Menu
June 15, 2021
Consumers have made it clear for a while now that they look for breakfast fare well outside of morning hours. And with the pandemic shaking up daily routines, all-day demand for those comforting, familiar favorites has only grown.
When looking to capture the hearts of diners who love breakfast favorites, anchoring menu development with the big three of breakfast—bacon, ham and breakfast sausage—is a sound strategy. They're craveable, comfort-centric and familiar, three winning traits for today's consumers. These three proteins are also incredibly versatile, making SKU optimization easy and helping operators expand their customers' choices while reducing operational costs.
Janet Kirker is the Executive Chef/Partner of Chicago-based Lettuce Entertain You Enterprises and is the culinary force behind five concepts, including Beatrix, a neighborhood restaurant known for its stellar breakfast and brunch menus. She makes a Ham, Aged Cheddar and Roasted Apple Dutch Baby, adding Smithfield's Fully Cooked Heat 'n' Eat Cubed Ham and white cheddar to a skillet of pancake batter and baking it until golden brown, then tops it with Gala apples that have been sautéed in butter, apple cider, nutmeg and fresh thyme. "Using the fully cooked ham during a busy brunch service makes this à la minute item simple to execute. The ham adds that punch of savory flavor, which works so nicely with the sweetness of the apple. In the summer, use peach or plum instead," she says.
Offering breakfast specials featuring the 'Big Three' beyond traditional hours presents opportunity for more profitable, lower-prep dishes to round out an
all-day menu."
Janet Kirker, Executive Chef/Partner, Lettuce Entertain You Enterprises
BETTER MAKE IT BACON
Chefs understand the power of bacon and wield it regularly on their menus. In its simplest form, bacon acts as a beacon to diners, guiding them to a familiar favorite. Creative uses of this breakfast classic move dishes into craveable best sellers, adding those deeply savory flavors that make it such a superstar.
Baked Egg Custard Bagel with braised greens, crispy melty cheddar cheese and bacon jam
—Takeaway Bagel, Chicago
Sage Fried Chicken and Waffle Tower with a smoked bacon waffle, sage-fried chicken breasts, hot maple reduction and two fried eggs
—Hash House a Go Go, based in San Diego
The Conductor: Fried chicken on cornbread with candied bacon, a fried egg and buttery maple syrup
—Pig & Butter, Brooklyn, N.Y.
Croquettes filled with jalapeño, bacon and cheddar, served with charred avocado dip
—The Lexington, Boston
Breakfast Tacos with bacon, scrambled eggs, cheddar, herb-roasted redskin potatoes, sour cream and pico
—Hero, Dallas
SAUSAGE FOR BREAKFAST AND BEYOND
There's a reason breakfast sausage is distinctive from other sausage categories. Its aromatic seasonings and crispiness of skillet-cooked and well-rendered fat make it a chef go to. Consumers love it for those reasons, plus, breakfast sausage carries strong ties to memory and comfort—powerful drivers no matter what time of day diners are ordering.
Today, chefs are leveraging the breakfast sausage in a few different ways. They're using this familiar protein to anchor nontraditional fare onto progressive breakfast menus. A meaty classic makes an adventurous, intriguing dish more approachable—while still giving diners the excitement they're looking for.
The Breakfast Sausage Stir-Fry, developed by Brian Wright, Executive Chef of Chicago-based Doc B's, offers a good example: pieces of Smithfield Fully Cooked Smoked Sausage star as a hearty, familiar breakfast protein in a build with sticky rice, kung pao sauce, Chinese green beans and onion.
MENU MENTIONS…
…of breakfast sausage are up 15% on menus over the last 4 years Datassential
The combination of sweet and heat find a happy home on bacon. Here are a few modern flavor pairings for a fresh take:
Blackening Seasoning + Brown Sugar
Rosemary + Peach Marmalade + Serrano
Pepper Jelly + Jalapeño
Pineapple + Tamarind + Jerk Seasoning
Visit SmithfieldMorningsAndMore.com for recipe inspiration, rebates, video demos and more.