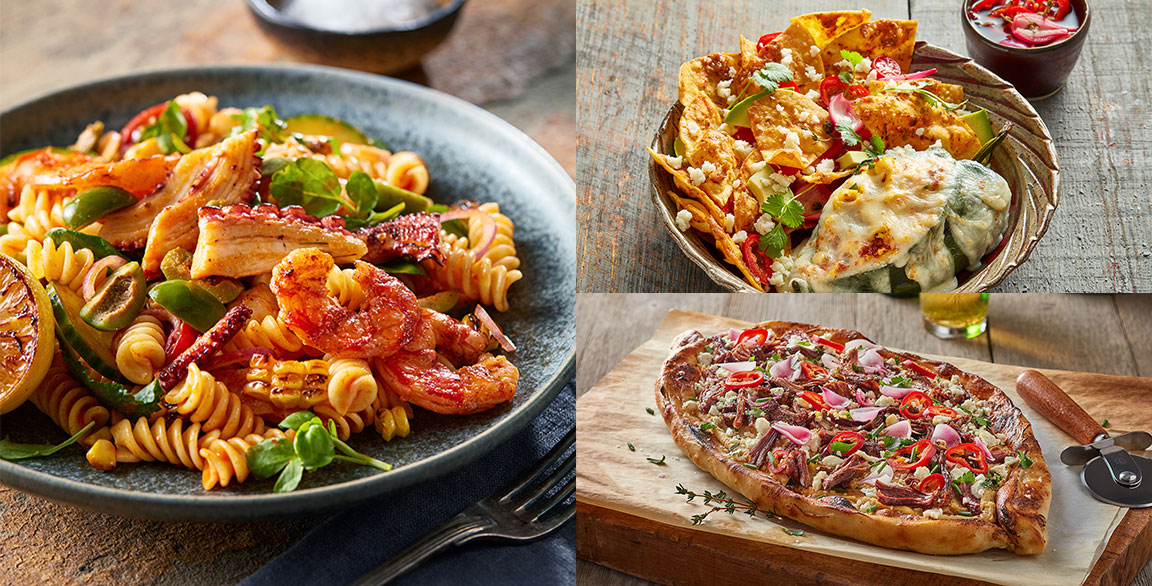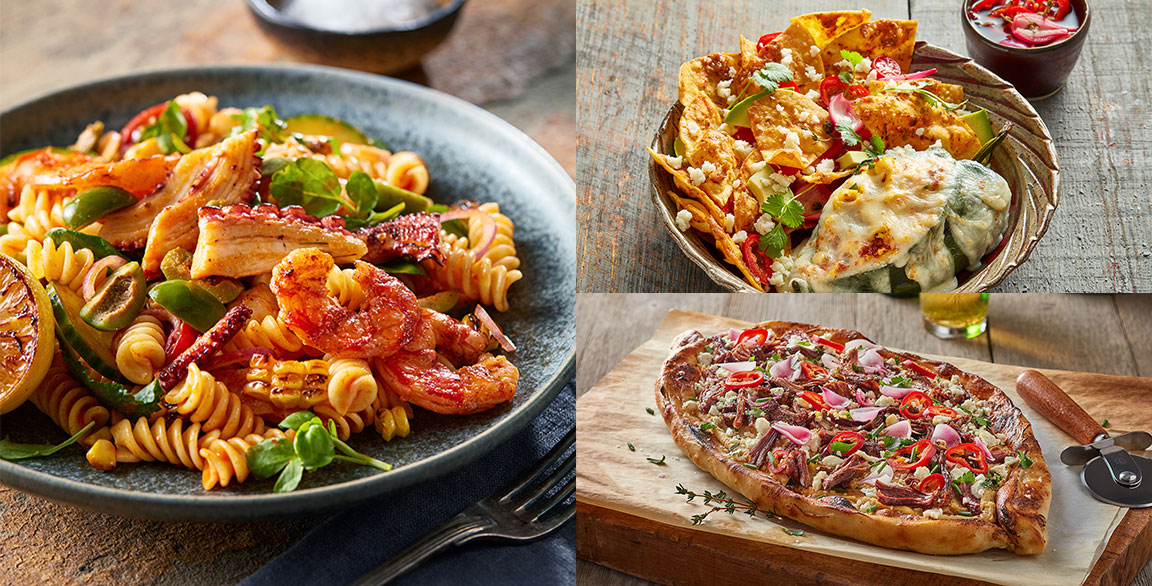 By Flavor & The Menu
October 10, 2021
Kitchen Collaborative is a recipe-development initiative formed by Summit F&B and Flavor & The Menu. To fuel flavor innovation, a group of talented chefs partnered with sponsor brands and commodity boards to create recipes that showcase the passion and potential of our industry.
CHEF SPOTLIGHT: GREG BASALLA
Greg Basalla, Culinary Director, Global, U.S. and Canada Food & Beverage at Marriott International, works to push the concepts under his charge to find creative ways of combining the familiar with the unexpected. He points to Georgian khachapuri as an example of modern-day menu inspiration, giving diners something new and different that still resides in the familiar world of flatbreads. Basalla applied a similar approach to the three recipes he created for Kitchen Collaborative, deftly mashing up flavors and formats in new ways that read as both approachable and craveable for today's consumer: comforting Yankee pot roast finds a new home in an Eastern Med pide; the pasta salad gets a wallop of savory Spanish flavors and two Mexican favorites meld into one brunch superstar.
Wood-Fired Beef Pide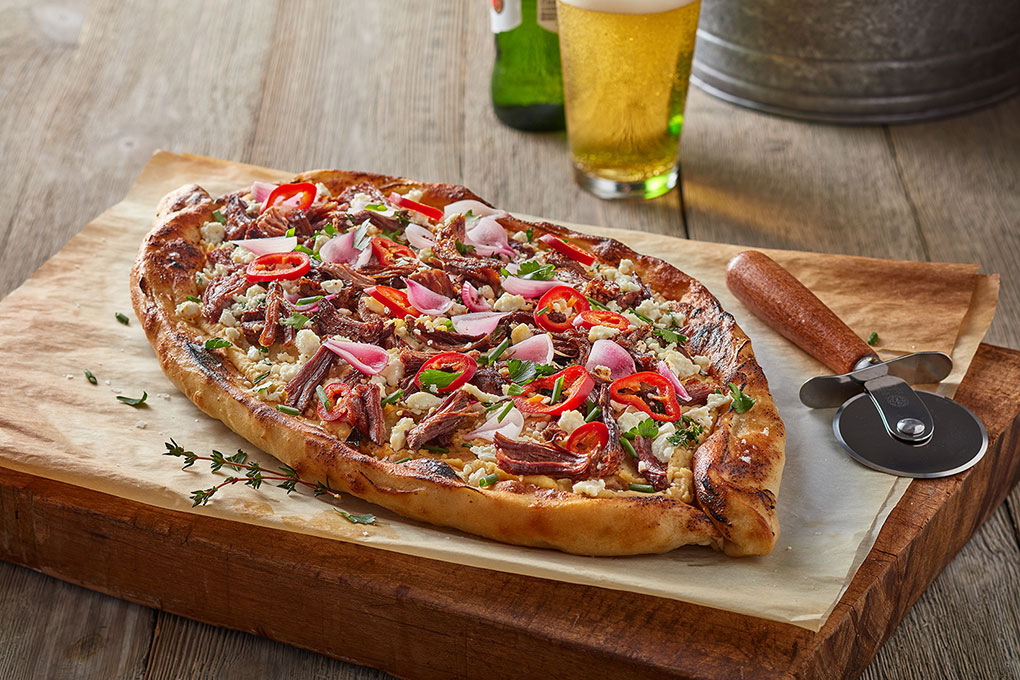 Photo: Carlos Garcia // Food Styling: Peg Blackley & Bree Williams
Some might raise an eyebrow at the idea of using a "Yankee" pot roast with a Turkish-style flatbread, but Basalla has a keen understanding of how to imbue trend-forward dishes with great flavor combinations. His Wood-Fired Beef Pide, featuring Sara Lee Yankee Pot Roast from Tyson Foodservice, represents his ongoing efforts to steer new Mediterranean concepts beyond pizza.
"The pot roast was pretty mild in flavor, cooked in a simple red wine braise," says Basalla. "After tasting it on its own, doing something pulled and smoked came to mind. It has a deep, savory flavor, and even when broken down or shredded, it maintains its moisture really well." While he believes this "super versatile" item could be used in a wide range of dishes, including barbecue pulled beef, seasoned meat for tacos and wraps or a filling for pasta, Basalla opted for the pide, marrying the meat with an array of Eastern Med flavors.
"Turkish-Georgian baked and topped bread is definitely popping up everywhere in the U.S.," says Basalla, who is encouraged by the trend. "In my current role at Marriott, I work with newly concepted outlets that are either entirely new or being renovated or re-branded. When we find a hearth oven in place, I try to drive the conversation away from doing a traditional 12-in. pizza and to encourage something like a pide or khachapuri."
Basalla spreads the base of the pide dough with za'atar-spiced hummus. The beef, spiced with cumin, sumac, allspice and pomegranate molasses, is spooned on top. Feta, mixed with chives and parsley, is crumbled across the beef. "The pide works as a vessel to showcase the meat's versatility and the Turkish, Balkan and North African flavor profiles lend a delicious twist," he says. "Cook it over a wood grill or in a wood oven, and you can't go wrong."
Smoky Seafood Barilla Pasta Salad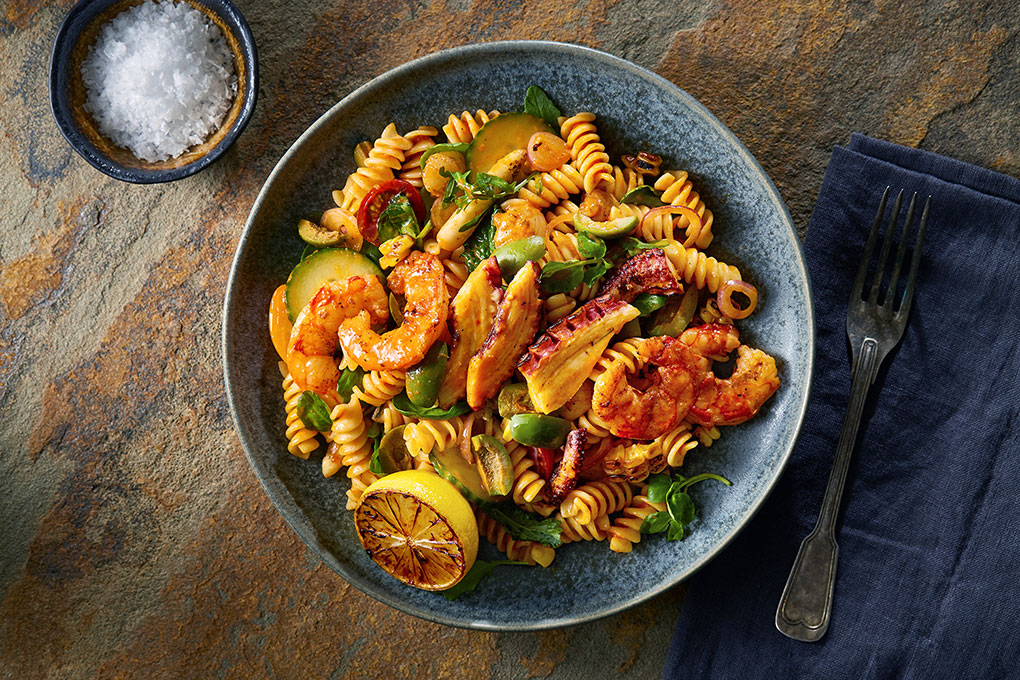 Photo: Carlos Garcia // Food Styling: Peg Blackley & Bree Williams
Basalla connects the dots of his thought process for the Smoky Seafood Barilla Pasta Salad. The rotini shape is classic in pasta salads and that took him immediately to summer grilling. "Most often, pasta salad is a side dish to the rest of the grilled bounty on the table," he explains. "But this preparation brings both together in a great one-dish meal packed with smoky, grilled goodness, as well as some delicate seafood and summer garden vegetables."
The chef is unfazed by news that this recipe is being highlighted in the fall. "It certainly can work at other times of the year. Do a little research to see what seafood is in season and for the vegetables, the corn and white asparagus might be swapped out for roasted squash or golden beets," he says. "Getting into the winter months, produce like Meyer lemon, grapefruit and cara cara orange could be great additions, as well."
"For this particular preparation, I definitely skewed Mediterranean—as I usually do!" Basalla continues, explaining his choice of shrimp, scallops and octopus. "I like these three because they play well together. The shrimp and scallops are sweet, offset with some added bite from the shrimp, plus the octopus lending a rich, meaty flavor and texture."
On the grill, Basalla turns to ladolemono as a glaze for both the seafood and the vegetables to deliver depth, along with some acid, sweetness and caramelization. He discovered the citrus-based honey vinaigrette years ago. "It's just a great balance of sweet and tart and the honey gives it the perfect texture for various uses. It's the base I use for everything, from a salad dressing to having it by the grill to baste any meat, fish or vegetable. It's become my work horse in the kitchen."
The other signature ingredient in this dish is a smoky piquillo vinaigrette that Basalla uses to toss the cooked pasta. Made with piquillo peppers, lightly charred on a grill, it's another of his go-to recipes. "I sometimes cut it with yogurt and use it as more of a sauce or swipe on a plate. I particularly like it with seafood and pork," he says.
California-Style Chile Rellenos con Chilaquiles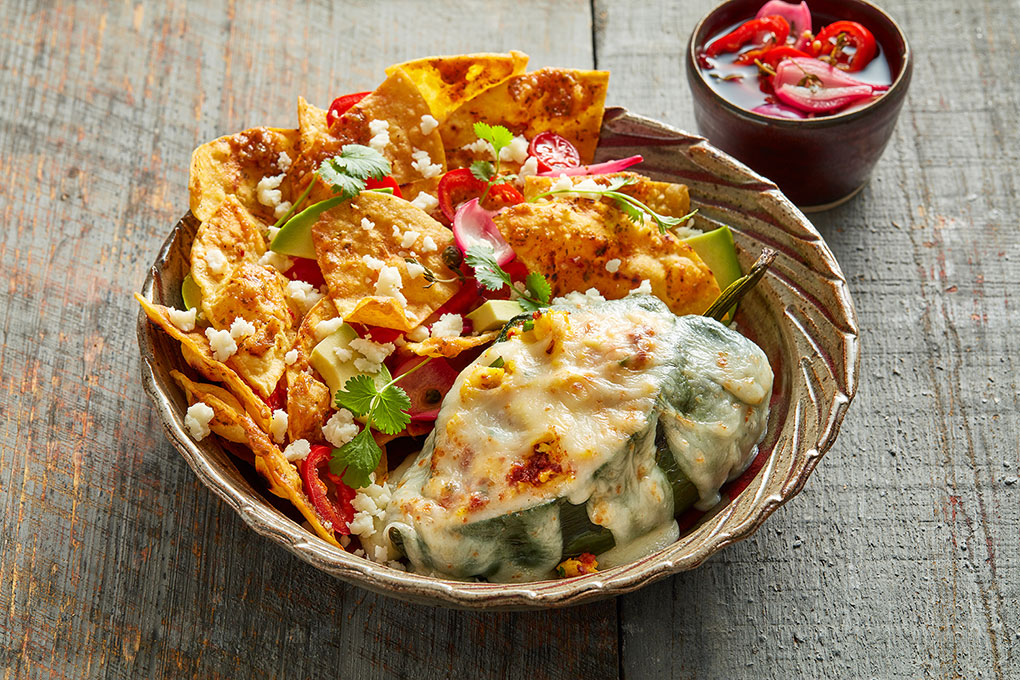 Photo: Carlos Garcia // Food Styling: Peg Blackley & Bree Williams
"This is a hearty, Latin-inspired, brunch-style dish that features two of my favorite indulgences," says Basalla of his California-Style Chile Rellenos con Chilaquiles featuring Real California Cheeses. "They are two cornerstones to Latin American cuisine, and I seek them out whenever I'm fortunate to travel to that part of the world.
He finds the simple builds of meat, beans, cheese and crema inherently craveable. "Let's be honest, if I thought I could eat those for breakfast every morning, I would," says Basalla, reluctantly acknowledging the constraints of dietary discretion. But the versatility of both dishes offers added appeal. "While each dish is rooted in a couple of key ingredients and preparations, they can vary from one region, home or restaurant to the next. You will always get a different little twist, a secret ingredient or a different preparation." Basalla's merger of the two into one dish, highlighting Real California Oaxaca and Cotija cheese, is his contribution to the canon.
Basalla specifies very particular chile peppers for different components of the build. "Starting with the poblano, that's the most commonly used pepper when making this dish. It provides great depth of flavor, as well as structure to be able to hold up to being stuffed and cooked in various ways," he explains. "In the sauce, I used a combination of two chiles: the chile de arbol for some smoky kick and the guajillo, which is actually a dried poblano, to add some richness and a different layer of flavor, while sticking with the poblano family."
Pickled Fresno chile rings are an important touch, both in the dish and as an accompaniment, along with pickled red pearl onions. "I love them and use them wherever I can!" says Basalla. "They have just the right sweet and spice for a great pickle. They add such a beautiful pop of color to any dish, while also adding some layers of texture and flavor."
Project Management: Summit F&B
Photography: Carlos Garcia // Food Styling: Peg Blackley & Bree Williams