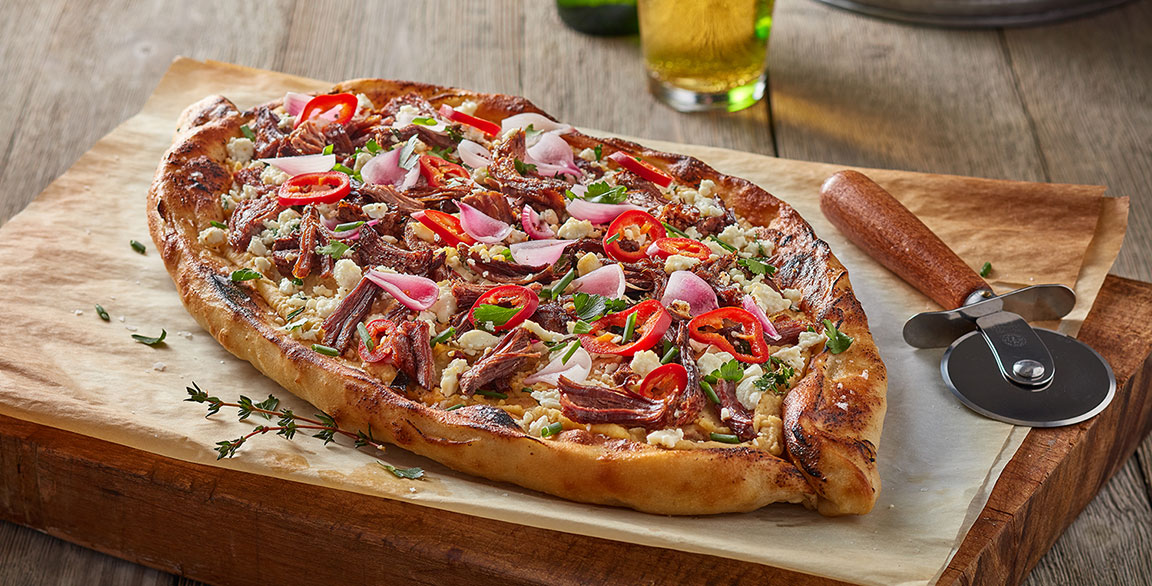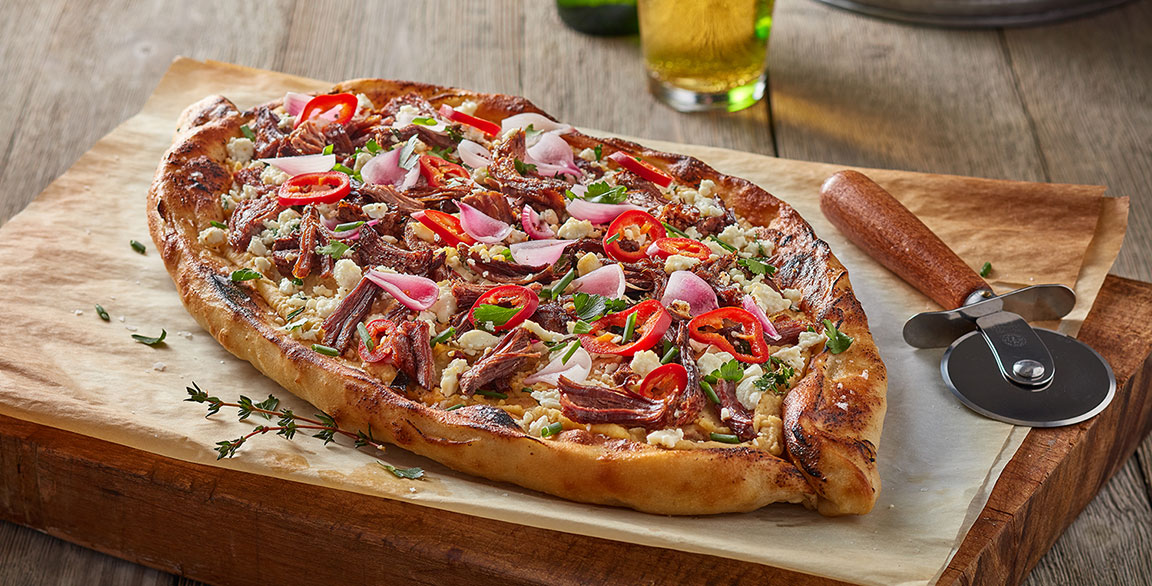 Tyson Foodservice: Wood Fired Beef Pide
Recipe courtesy of Chef Greg Basalla
Sponsor: Tyson Foodservice
Servings: 1
INGREDIENTS
Pide Dough
500 g bread flour
1 ½ tsp dry active yeast
1 tsp caster sugar
2 Tbsp extra-virgin olive oil
300 ml water, slightly warm
Pinch salt
Pickling Liquid (Yield 4 cups):
1 cup sherry vinegar
1 cup white wine vinegar
½ cup sugar
1 tsp salt
1 ea whole star anise
½ tsp black peppercorns
½ tsp white peppercorns
2 ea whole cloves
2 tsp yellow mustard seeds
2 ea dried arbol chiles
1 ea garlic clove, peeled
1 ea dried bay leaf
1 ea sprig rosemary
1 ea sprig thyme
1 ea fresno chile, cut into rings
1 cup red pearl onions, halved lengthwise and layers separated
Beef Pide
3 oz pide dough
2 Tbsp prepared hummus
2 tsp za'atar
4 oz Sara Lee Yankee Pot Roast
1 tsp ground cumin
½ tsp ground sumac
¼ tsp ground allspice
1 tsp pomegranate molasses
As needed salt and pepper
1 oz feta cheese
1 tsp shaved chives
1 tsp torn parsley leaves
8 ea pickled fresno chile slices
8 ea pickled red pearl onion pieces
As needed Maldon sea salt
1 tsp extra-virgin olive oil
Directions
For the pide dough: in a large bowl, mix the flour, yeast, sugar, oil, warm water, and a pinch of salt. Knead by hand for 5 minutes, until the dough comes together and becomes soft and elastic. Place the dough in a clean, lightly oiled bowl and cover with oiled plastic. Let the dough rise and double in size for approximately 2 hours.
For the pickling liquid: bring all the ingredients except the vegetables to a simmer for 3 minutes. Cool and refrigerate for up to 30 days.
To quick pickle the chile and onion, reheat the pickling liquid to a simmer and pour over vegetables in separate containers. Let them cool. Pickled vegetables can be stored up to 5 days.
For each beef pide: Heat a wood oven or wood grill (or an alternative cooking source) to 435 degrees F.
On a flour (or semolina) dusted surface, roll the dough into a thin oval shape. Roll the edges over and pinch to form a border wall. At the ends, pinch the dough to form points, almost a small handle to pick up and eat with. Cover shaped dough with an oiled piece of plastic and proof for about 20 minutes.
While proofing the dough, mix the hummus and za'atar in a bowl until fully and evenly incorporated.
In another bowl, mix the Sara Lee Yankee Pot Roast with the cumin, sumac, allspice, and molasses. Season with salt and pepper to taste. Gently fold the mixture by gloved hand so as to break the meat up into rustic bite-sized chunks.
In a third bowl, mix together the feta cheese, half the chives, and half the parsley.
Uncover the dough and evenly spread the za'atar hummus around the base. Spoon the spiced beef overtop of the hummus. Crumble the herbed feta overtop of the beef. Bake for 15 to 20 minutes, until the dough puffs up and browns.
Remove from the oven, garnish with the pickled chiles, onions, sea salt, a drizzle of oil, and the remaining chives and parsley.
Chef Notes
Hand held meals come in so many different iterations. I always gravitate towards ethnic street food, and more personally those street foods of the greater Mediterranean region. In this case, I used a Turkish-style pide as the vessel to showcase the Sara Lee Yankee Pot Roast versatility and used those Turkish/Balkan/North African flavor profiles to make a delicious twist on a traditional pide. Cook it over a wood grill or in a wood oven and you can't go wrong.
You can also place the dough in the refrigerator and let it rise overnight. Remove it for use the next day and let it come back to room temperature before use.
Project Management: Summit F&B
Photography: Carlos Garcia // Food Styling: Peg Blackley & Bree Williams