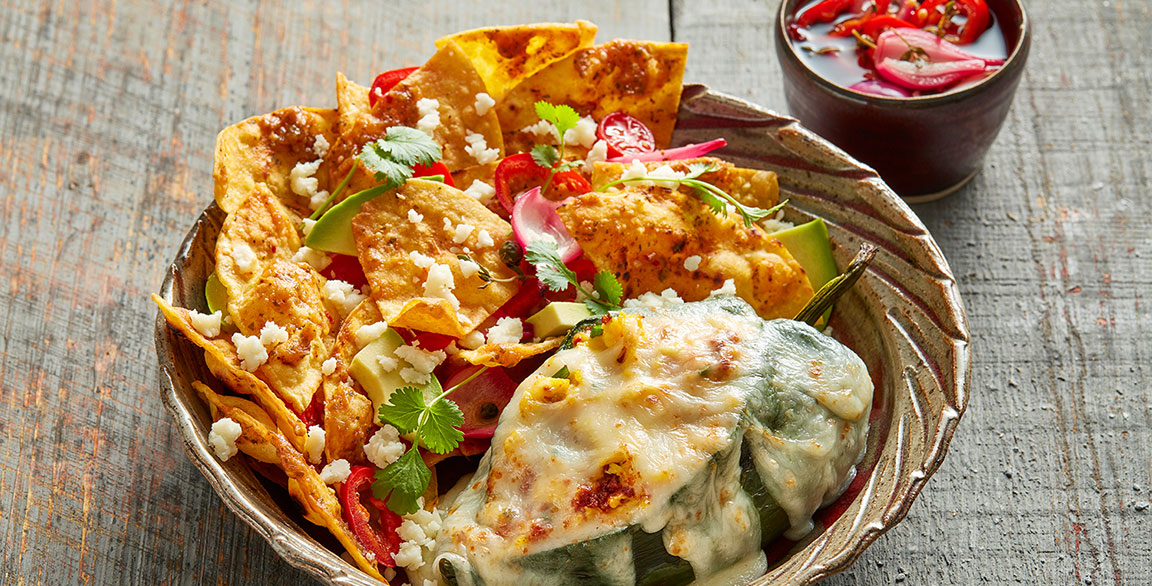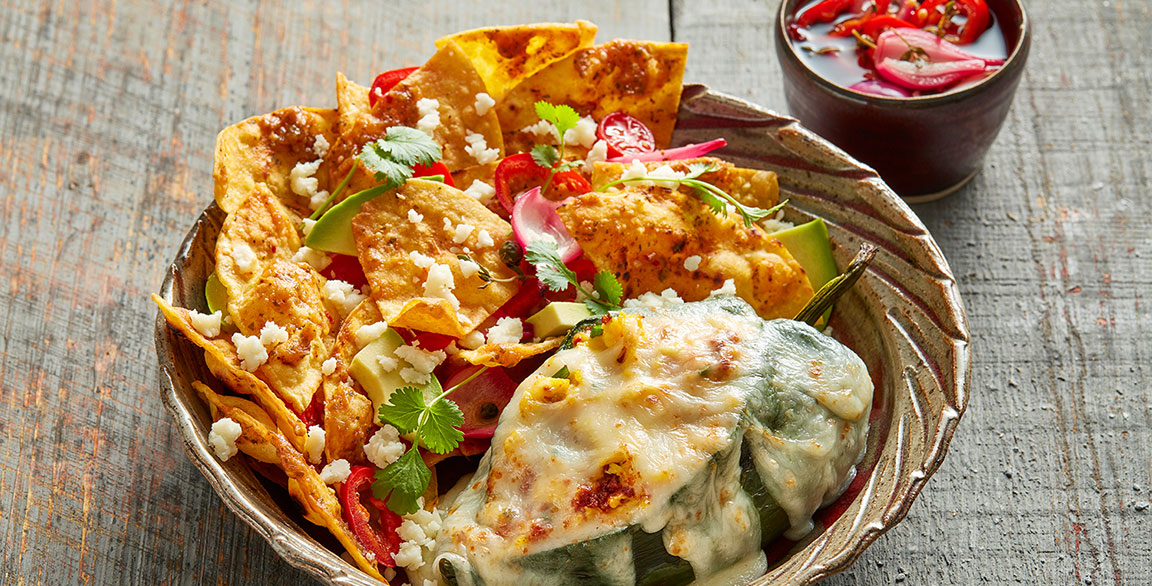 California Style Chile Rellenos con Chilaquiles
Recipe courtesy of Chef Greg Basalla
Sponsor: California Milk Advisory Board
Servings: 1
Ingredients
Pickling Liquid (Yield 4 cups):
1 cup sherry vinegar
1 cup white wine vinegar
½ cup sugar
1 tsp salt
1 ea whole star anise
½ tsp black peppercorns
½ tsp white peppercorns
2 ea whole cloves
2 tsp yellow mustard seeds
2 ea dried arbol chiles
1 ea garlic clove, peeled
1 ea dried bay leaf
1 ea sprig rosemary
1 ea sprig thyme
1 ea Fresno chile, cut into rings
1 cup red pearl onions, halved lengthwise and layers separated
Chilaquiles Sauce (Yield 6 servings):
1 Tbsp vegetable or canola oil
½ ea white onion, finely diced
5 ea garlic cloves, minced
2 ea dried guajillo chiles
6 ea roma tomatoes, chopped
2 Tbsp chipotle chile, finely chopped
2 cups water
To taste salt and pepper
Chile Relleno con Chilaquiles (per serving):
1 ea poblano or other sweet pepper
2 Tbsp extra-virgin olive oil
1 Tbsp red onion brunoise
2 oz chorizo sausage, finely diced or crumbled
2 ea cage-free organic eggs, beaten
2 oz Real California Oaxaca cheese, shredded
1 tsp thinly shaved chives
10 ea fried corn tortilla triangles (any color)
To taste salt and pepper
1/3 cup chilaquiles sauce, warm
¼ ea avocado, sliced
2 ea grape tomatoes, cut into rings
5 ea pickled red pearl onion petals
5 ea pickled Fresno chile rings
1 oz Real California Cotija cheese, crumbled
3 ea cilantro leaves, torn
Directions
For the pickling liquid: bring all the ingredients except the vegetables to a simmer for 3 minutes. Cool and refrigerate for up to 30 days.
To quick pickle the chile and onion, reheat the pickling liquid to a simmer and pour over vegetables in separate containers. Let them cool. Pickled vegetables can be stored up to 5 days.
For the chilaquiles sauce: heat a large pot over medium heat. Add the oil, onions, garlic, and guajillo chiles. Sauté gently until the onions are translucent. Add the tomatoes and chipotle and cook until the tomato breaks down and becomes very soft. Add the water, cover, and simmer for about 10 minutes. Transfer the mix from the pot to a blender and blend until very smooth. Return to the pot and simmer on low, uncovered, for about 10 more minutes. Adjust seasoning with salt and pepper. Label and store for up to 3 days refrigerated.
For the Chile Relleno (per serving): roast the pepper in a 425 degree F oven until it starts to become soft and starts to brown (be careful not to over cook, as it will tear easily once you try to stuff it). Remove from the oven and let cool. (Peppers can be peeled if desired.)
In a nonstick pan, sauté the onions in the olive oil over medium heat until the onions become translucent. Add the chorizo to the onions and fully cook. Drain any excess rendered fat from the pan. Add the beaten eggs, 1 oz of the Oaxaca cheese, and the chives and fully cook until all ingredients are incorporated. Remove from the heat and cool slightly.
Make an incision from stem to tip in the roasted pepper. Gently spoon the egg mixture into the pepper, then top with the remaining 1 oz of Oaxaca cheese. Place the pepper in a small cast-iron or other serving skillet and put under a broiler to melt and brown the cheese on top.
While the pepper is in the broiler, fry the corn tortilla pieces in 325 degree F oil until crisp. Transfer the chips to a towel-lined bowl to remove excess oil and toss with salt and pepper. In a separate bowl, toss the fried tortillas with the warm chilaquiles sauce.
Remove the pepper from the broiler and place the skillet on a service-safe underliner. Spoon the sauced tortilla chips to the side of the pepper. Garnish the chilaquiles with the avocado slices, tomato rings, pickled chiles and onions, crumbled cotija, and cilantro. Serve immediately.
Project Management: Summit F&B
Photography: Carlos Garcia // Food Styling: Peg Blackley & Bree Williams