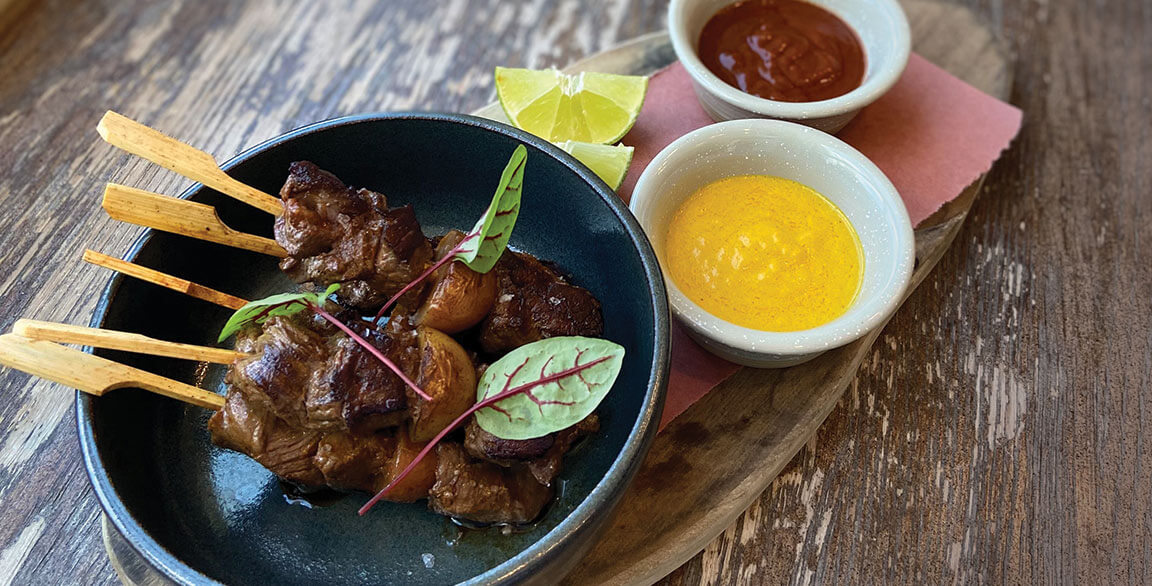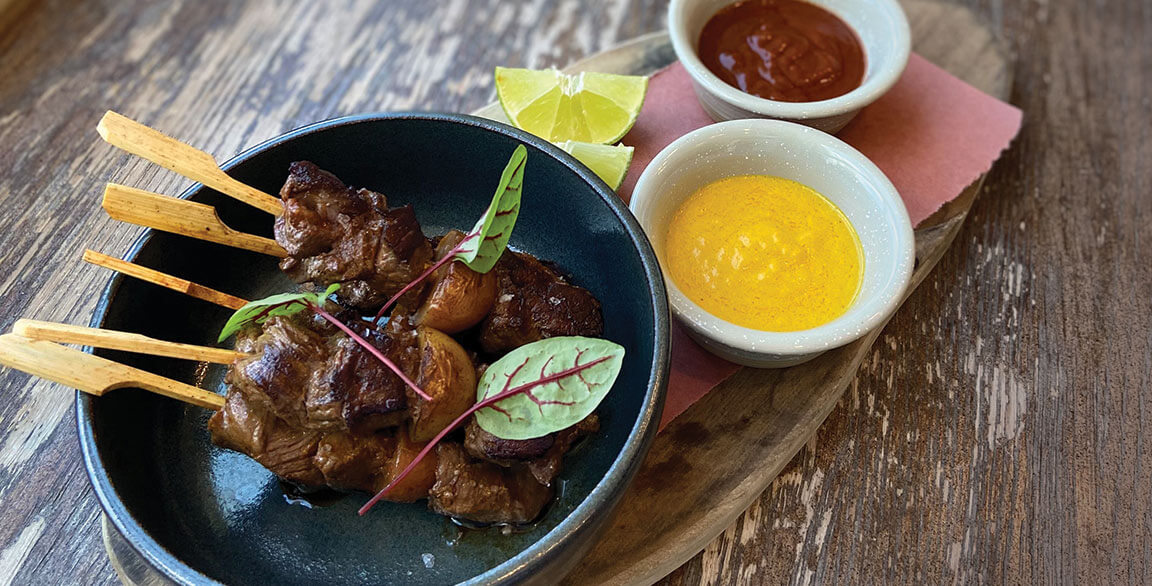 By Mike Kostyo
October 7, 2021
"I love a good sauce," says Aaron Brooks, executive chef at Edge Steak & Bar at the Four Seasons in Miami. He's a big fan of integrating a sauce into the dish as a whole, allowing the flavors and textures to work in tandem. "It should never overpower or complicate a dish, and it shouldn't play a starring role, either. A good sauce is there to complement and partner with other elements on the plate." It's an ethos that diners encounter across his menu, which incorporates a range of globally influenced sauces, from a shrimp curry served with mango-habanero yogurt to a grilled kielbasa served with apple mustard to sauces like Malbec jus and tamarind barbecue sauce as options for the steak cuts.
Brooks calls the beet yogurt served with his traditional falafel a "somewhat eclectic take on the classic," noting that while the beets add vibrant color and a nice sweetness that play well off the fritter and za'atar, the yogurt offers a welcome creamy finish. And anticuchos, Peruvian-style beef skewers, get their own colorful accompaniments with a duo of sauces: a bright yellow aji amarillo sauce, made with lime and sweet onion, and a rich red panca sauce, featuring red chile paste, soy sauce, cumin, garlic and black beer.
He isn't alone in his enthusiasm. Both chefs and consumers have become more adventurous with global sauces, pastes, dips and condiments, fueling the growth in flavor enhancers like chile crisp, harissa, chimichurri, tahini, tzatziki and romesco, all of which have grown by double digits on menus in the past four years, according to Datassential.
Ready for Retail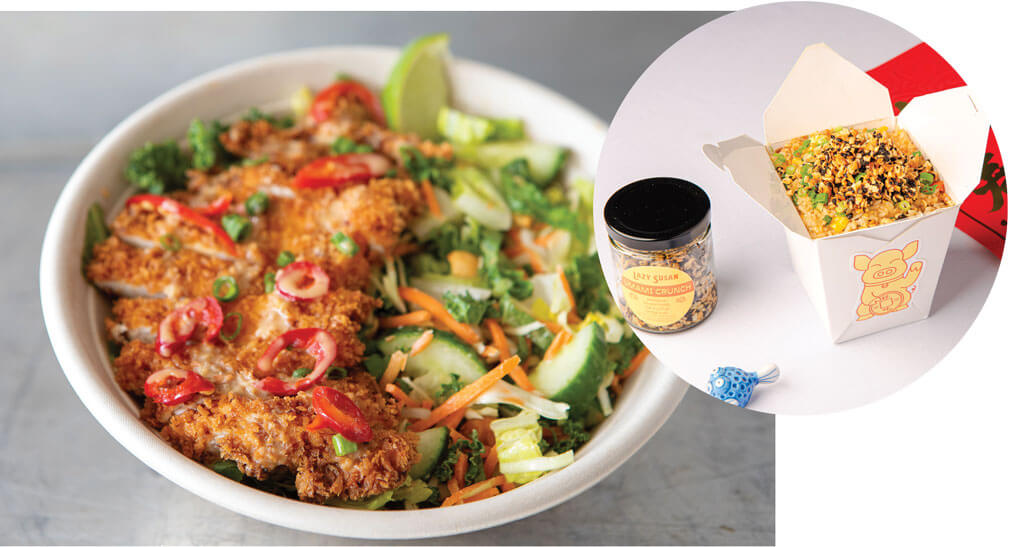 Photo credits: (left) Gott's Roadside and (right) Lazy Susan
During the early days of the pandemic, many restaurants sought alternate revenue streams, including packaging housemade, signature items like sauces and condiments for retail sale. It made a lot of sense then and it's still a good opportunity now, as momentum isn't flagging, thanks to consumers who can't get enough of a good thing.
Northern California-based Gott's Roadside is one restaurant that applied this strategy. The fast-casual concept now offers 13 different condiments to home cooks and diners, including a thick Peanut-Lime Vinaigrette made with fresh ginger, garlic, Fresno chiles, lime juice, peanut butter sauce, sugar and fish sauce. Gott's features it on the Vietnamese Chicken Salad with romaine, kale, cabbage, cucumbers, mung bean sprouts and cilantro.
With chile crunch commanding so much recent attention, Hanson Li and Tiffany Yam, co-founders of San Francisco's Lazy Susan, wanted to mash up this trending condiment with their own favorite: garlic-black bean sauce. Their Umami Crunch combines fermented black beans with garlic and mushroom powder, which is cooked in sizzling hot rice bran oil to release the fragrant aromatics. "It's not just for Chinese food," says Li. "It also pairs wonderfully with scrambled eggs, avocado toast, potato chips, roasted salmon, pork chops or a simple bowl of rice or pasta." Customers agree, embracing the launch of Umami Crunch in the retail space so they can give it a go at home.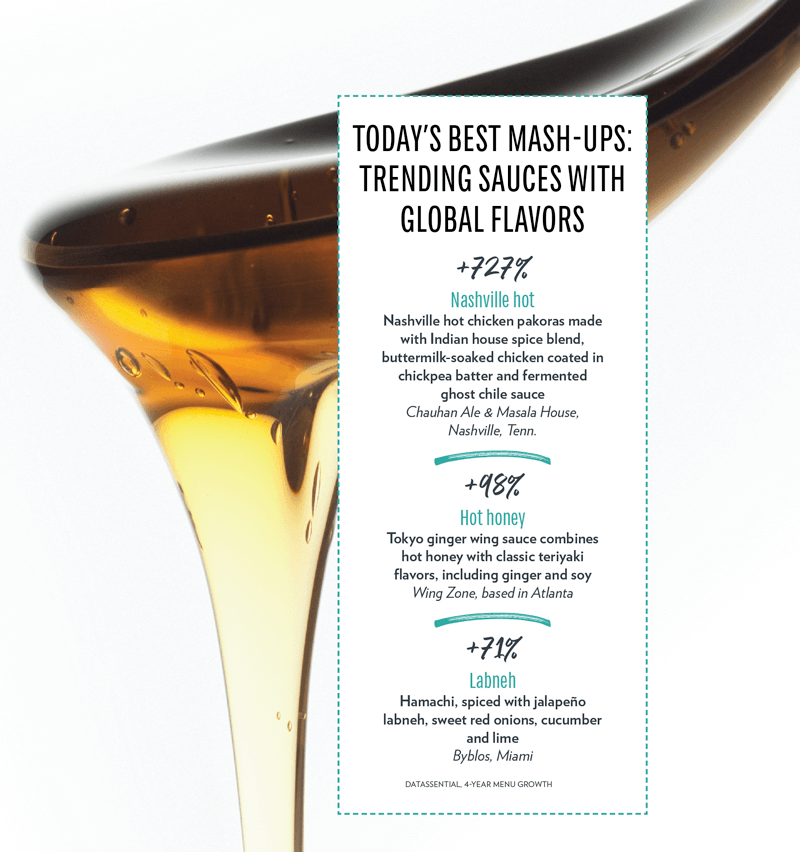 Mash-Up With Modern Flare
Nashville hot, bacon jam and hot honey have reigned as some of the fastest-growing flavor profiles on menus for a few years now. That popularity and familiarity has given rise to flavor play, with chefs across the country dipping into creative global infusions.
Nashville hot grew nearly 730 percent on menus in the past four years, according to Datassential, cementing its place as a modern must. Chefs are running with its broad appeal, interpreting the flavor profile through their own filter and mashing it up with spicy sources found around the world. At San Francisco's Hina Yakitori, Tommy Cleary, executive chef/co-owner, created a Nashville hot chicken-karaage sandwich mash-up that swaps the traditional cayenne for a custom shichimi-togarashi blend.
At the Las Vegas outpost of Sushisamba, the menu mashes up two trending sauces: hot honey (up 98 percent on menus) and truffle aïoli (up 77 percent), but then gives them a global update with a shichimi-honey-truffle aïoli, which is drizzled over the concept's Samba Fries.
And at PAve, a restaurant and nightlife concept in Sioux Falls, S.D., the Big Kahuna Burger features an update on another skyrocketing condiment: bacon jam, which is up 70 percent on menus nationwide, according to Datassential. PAve's Hawaiian-inspired burger incorporates caramelized pineapple and onions into bacon jam, which is then slathered on a burger and served with black garlic aïoli, pepper Jack, tomato and lettuce.
AROUND THE WORLD IN SAUCES
Global flavors transform commonly used sauces, creating something truly extraordinary. Here, three wildly popular sauces and condiments get international updates: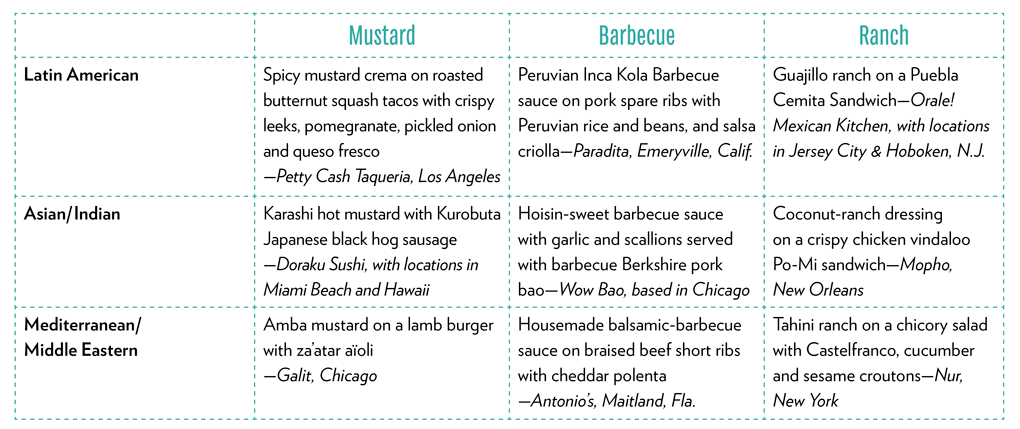 Update The Classics
Sauces and condiments, like honey, barbecue sauce, ranch and mustard, are among the top favorites in the United States, appearing on at least half of menus in this country. This means they are well positioned to take on intriguing global flavors that give guests exposure to new variations of familiar dishes.
Roy Villacrusis, executive chef of Asiatic Group, a culinary consultancy based in Henderson, Nev., who is passionate about Filipino and Asian sauces and flavors, recommends swapping tomato ketchup in favor of banana ketchup, a popular condiment developed in the Philippines when tomatoes were in short supply during World War II. Made with bananas, sugar, vinegar and spices, the condiment can be used anywhere a sweet and tangy flavor is desired, says Villacrusis, from Filipino fried rice to fried chicken.
"Sauces and condiments from other cultures are windows to the rest of the world that will give us not just great, complex flavors, but a better understanding of their rich history, tapping the desires and passions of food," he says.