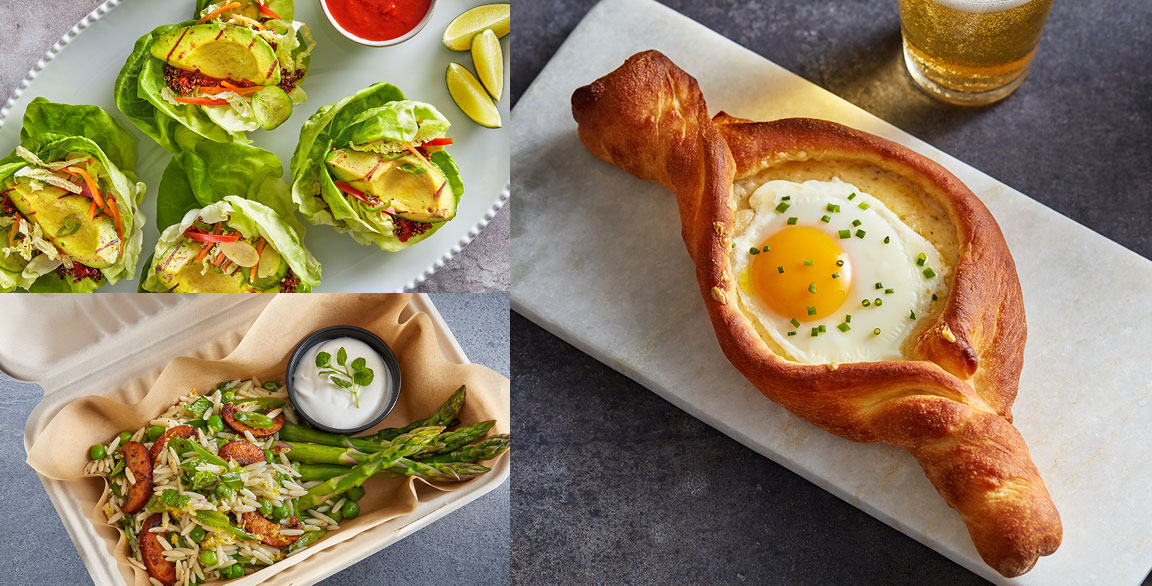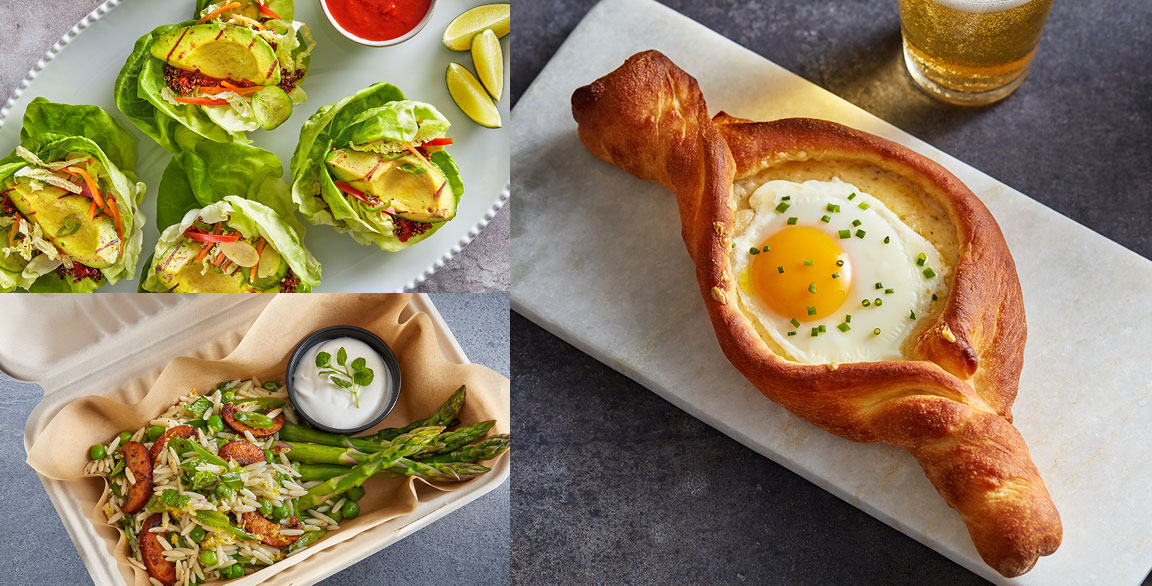 By Flavor & The Menu
July 14, 2020
Kitchen Collaborative is a recipe-development initiative formed by Summit F&B and Flavor & The Menu with support from a handful of sponsor brands and commodity boards looking to help chefs create, inspire and collaborate during these difficult times. Working with high-volume chefs, this project aims to continue to fuel the flavor innovation our industry will always count on. A group of talented chefs were asked to partner with sponsors to create recipes that showcase the passion and potential of this industry.
CHEF SPOTLIGHT: Michael Israel
For Michael Israel, Senior Manager of Culinary Development for The Cheesecake Factory, familiarity is a wellspring of inspiration in recipe development. Touchpoints of the familiar come through in the three recipes he created for the Kitchen Collaborative project, from the intriguing yet comforting build of his California Cheese Khachapuri to the beloved Italian flavor profile in the Barilla "Carbonara" Orzo Pasta Salad and the celebration of the West Coast's bounty in his Grilled California Avocado Ssam.
California Cheese Khachapuri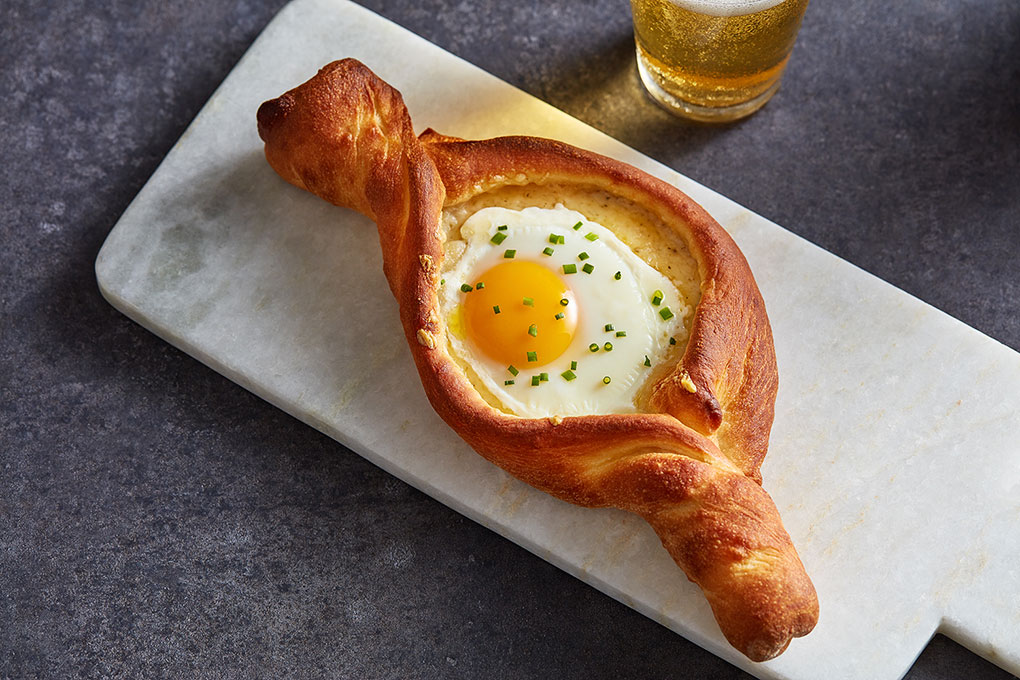 Photo: Carlos Garcia // Food Styling: Peg Blackley & Bree Williams
In recent years, there's been an uptick in the culinary influences of the Balkan region, with many unique ingredients and recipes finding favor on menus across the United States. Thanks to its familiar format, the cheesy, craveable khachapuri is one that's here to stay. This traditional Georgian recipe is a cheese-filled flatbread, with the dough pinched or twisted into a boat shape to form a well for the fondue-like center. It offered an ideal carrier for Israel's use of two indulgent varieties of California Toma cheese. "In essence this dish is a cheese lover's dream," he says. "The way that the cheese becomes a fondue hugged by warm soft dough seemed like a perfect way to highlight these cheeses."
To make the khachapuri, Israel forms the cheese filling into a ball, one for each khachapuri. "This blend of California TomaProvence [flecked with herbs de Provence] and Toma cheese allows for the perfect balance of great cheese and herb flavor along with a decadent creamy and velvety melt," he says. He then presses the cheese ball into the center of the dough, shaping and twisting it into a boat shape. "In order to keep the cheese fondue in place, it is critical to twist the ends of the dough tightly to create a sturdy well for the cheese to cook in," he says. Once shaped, the khachapuri is baked at 550 degrees F for three to four minutes, until the crust is light golden brown and the cheese is melted. He removes it from the oven and places an egg into the center well, and bakes until the egg is set, about six to seven minutes more. Once out of the oven, he brushes the crust with olive oil and sprinkles chives over top. Khachapuri is enjoyed by tearing the dough edges and dipping into the yolk-cheese fondue, an indulgent and shareable experience.
Barilla "Carbonara" Orzo Pasta Salad with Spring Vegetables and Portobello Lardons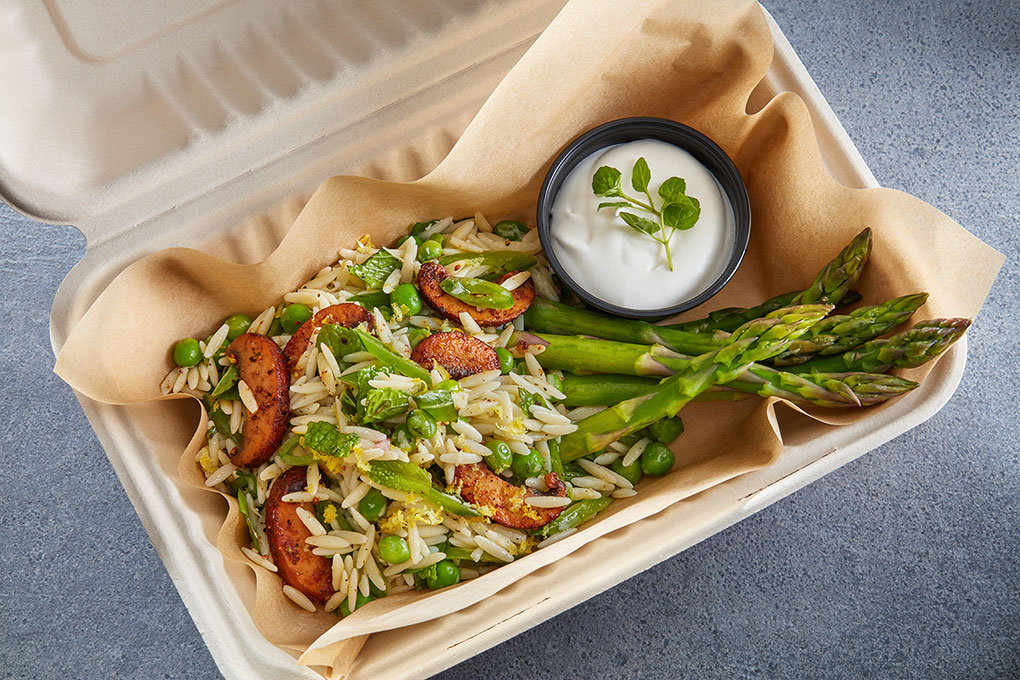 Photo: Carlos Garcia // Food Styling: Peg Blackley & Bree Williams
For this recipe, Israel was inspired to build upon the comforting carbonara profile, but gave it a lighter, plant-forward spin. "Carbonara is a beloved and classic combination that is delicious but oftentimes heavy," he says. "I was inspired to create a plant-forward version that introduced fresh flavors to the traditional combination of ingredients."
Orzo carries the build, with the addition of peas, Parmesan, and an abundance of fresh basil and mint. Portobello "lardons" stand in for bacon, oven-roasted, then sprinkled with smoked paprika. The pasta salad is tossed with a lemon and fresh herb vinaigrette, which delivers a bright, fresh flavor punch. The dish gets creamy indulgence from a whipped Parmesan cream, made by bringing heavy cream to a simmer then pouring it over microplaned Parmesan and stirring until melted, then refrigerating until cooled. It's then whisked to form soft peaks. "The cream sauce is packed with umami from the Parmesan cheese, which brings an intense savory flavor to this plant-based salad."
For service, Israel suggests spreading the Parmesan cream on a chilled plate (to help maintain the cream's pillowy texture) then laying down blanched asparagus spears and mounding the salad atop, finishing with a lemon zest and a drizzle of olive oil. "This dish has a lively combination of fresh flavors including basil, mint and lemon, along with the craveable decadence of Parmesan and sweet cream," Israel says.
Grilled California Avocado Ssam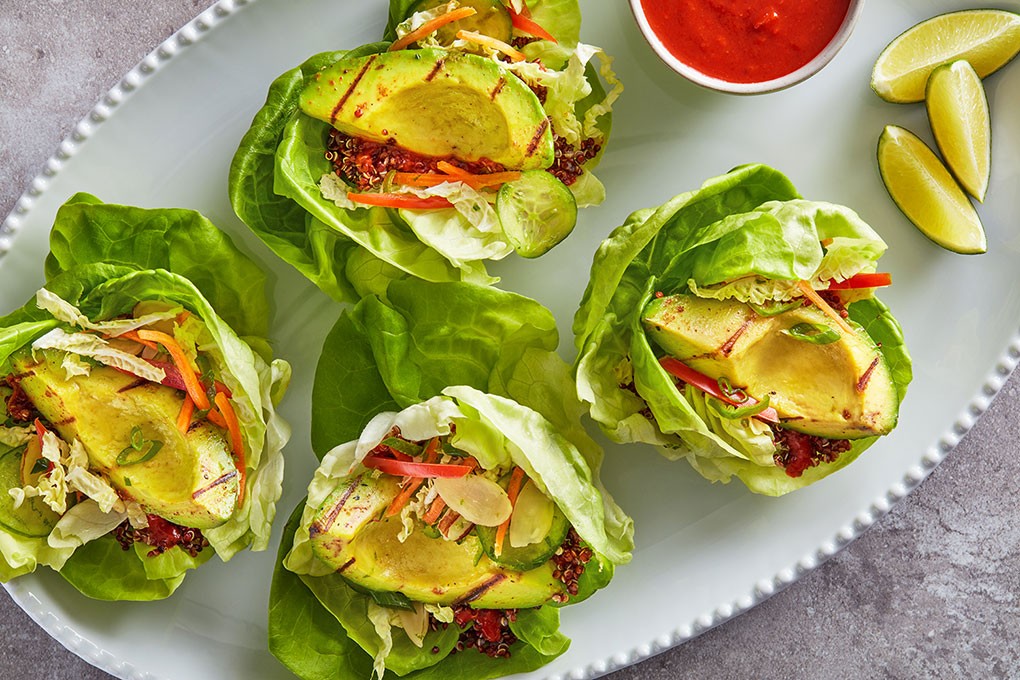 Photo: Carlos Garcia // Food Styling: Peg Blackley & Bree Williams
Israel's recipe for Grilled California Avocado Ssam celebrates the bounty of California, with the avocado as the hero of this dish. "Grilling the avocado gives a light smoky flavor and in turn a meatiness to the avocado, which in this preparation is the 'protein,'" he says. "The flavor of the avocado is also concentrated through the cooking, which allows it to stand up to the other bold ingredients in the build." Before grilling, the avocado quarters are tossed with oil, salt, sugar and Korean chile powder. Israel favors pairing grilled avocados with Asian profiles, and took that into account in his recipe development, choosing to build this into a ssam (wrapped) platform on a base of butter lettuce leaves. "The ssam preparation creates a very hearty and satisfying dish that highlights the versatility of avocados," he says. The leaves are layered with red quinoa and a spicy strawberry ssam sauce.
For the sauce, Israel purées strawberries with onions, gochujang, honey, sesame oil and seeds, soy sauce, rice vinegar, Korean soybean paste, garlic and salt. "Ssam sauce is essential for a ssam, and usually includes some element of fruit. In this case, I was thinking about California's bounty, and there is nothing better than a ripe California strawberry with a perfect balance of sweetness and acidity," he says, noting that strawberries result in the sauce having a fruitier and fresher flavor than prepared ssam sauces.
A crunchy almond slaw finishes the build. The slaw is a crisp blend of sliced napa cabbage, toasted and slivered almonds, sweet red peppers, cucumbers, shishito peppers, green onion and carrots, tossed in lime, cilantro, sugar and salt. "The creamy rich avocados needed a crunchy texture for contrast and a burst of acidity," says Israel. "The nuttiness of the slaw also complements the natural nuttiness of the avocado."
Project Management: Summit F&B
Photography: Carlos Garcia // Food Styling: Peg Blackley & Bree Williams