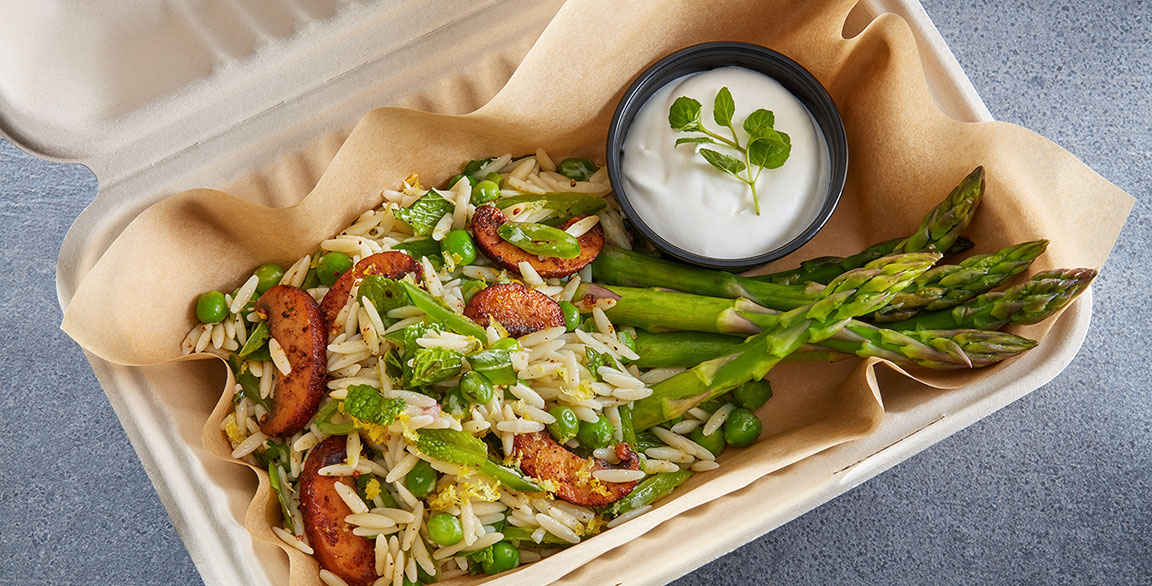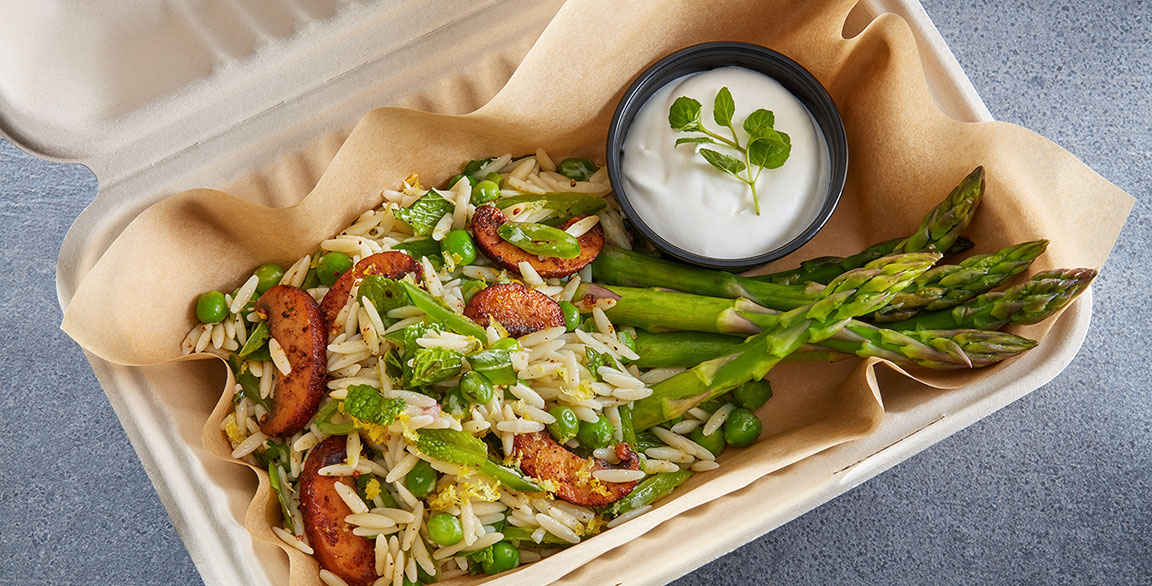 Barilla "Carbonara" Orzo Pasta Salad with Spring Vegetables and Portobello Lardons
Recipe courtesy of Chef Michael Israel
Sponsor: Barilla
Servings: 24
Ingredients
Portobello "Bacon" Lardons
4 portobello mushrooms, stems and gills removed
½ cup olive oil
1 teaspoon kosher salt
1 teaspoon fresh cracked black pepper
2 tablespoons smoked paprika
Lemon-Herb Vinaigrette
¼ cup fresh lemon juice
1 tablespoon minced shallot
1 teaspoon honey
1 teaspoon kosher salt
¼ teaspoon fresh cracked black pepper
1 teaspoon minced fresh basil
1 teaspoon minced fresh mint
1 teaspoon minced fresh parsley
6 ounces olive oil
Whipped Parmesan Cream
2 cups heavy cream
4 ounces microplaned Parmesan cheese
2 teaspoons kosher salt
Pasta Salad
3 pounds Barilla Orzo
1 pound sweet English peas, shelled
8 ounces sugar snap peas, julienned 1/8 inch thick
32 mint leaves, torn into ½-inch pieces
32 basil leaves, torn into ½-inch pieces
5 tablespoons microplaned Parmesan cheese, divided
1 teaspoon kosher salt
1 teaspoon fresh cracked black pepper
48 6-inch asparagus spears, blanched
2 teaspoons lemon zest
2 tablespoons extra-virgin olive oil
Directions
To make the lardons: Preheat the oven to 375°F. Cut the mushroom caps into ¼-inch strips.
In a bowl, combine the mushroom pieces, oil, salt, and pepper and toss to coat. Transfer the mushrooms in a single layer to a sheet pan, ensuring the cut sides are facing down.
Bake for 10 minutes, then flip the mushrooms and bake for another 10 minutes.
Remove and sprinkle with the paprika and toss to combine. Allow to cool.
Cut the mushrooms into ¾-inch pieces and store at room temperature.
To make the vinaigrette: In a bowl, whisk together the lemon juice, shallot, honey, salt, pepper, and herbs. Slowly drizzle in the oil while whisking.
Transfer to a container and refrigerate for no more than 1 day or the herbs will brown.
To make the whipped Parmesan cream: Bring the cream to a simmer on the stove, then pour it over the cheese in a bowl. Whisk to melt and incorporate the cheese. Season with the salt.
Refrigerate the cream to 41°F.
Place the bowl of cream in an ice bath and whisk it to form soft peaks. Transfer to a container and refrigerate for no more than 48 hours.
To make the salad: In a pot of boiling water, cook the orzo as directed on the package. Drain.
Combine the orzo with the peas, herbs, 3 tablespoons of the Parmesan, the mushroom "lardons," salt, and pepper and toss to incorporate.
Drizzle the vinaigrette evenly over the salad and toss to incorporate.
For each serving, evenly spread some Parmesan cream in the center of a chilled plate, forming a 5- to 6-inch circle with a well in the center. Place 2 asparagus spears in a curved bundle on top from 9:00 to 1:00, with the tops of the spears facing 9:00.
Mound some salad into the well of the cream.
Garnish with lemon zest and additional Parmesan. Drizzle extra-virgin olive oil over and around the salad.
Chef Notes
It is important to sprinkle the smoked paprika over the mushrooms while warm to bloom the paprika which intensifies its flavor. The smoked paprika will also better adhere to the mushrooms while warm.
It is critical to cool the cream before whipping in order to be able to form a soft pillowy texture.
When serving, it is important to use a chilled plate to ensure that the Parmesan cream maintains a light and pillowy texture.
The salad mixture can be made in a larger batch and held for up to 6 hours on the line.
Project Management: Summit F&B
Photography: Carlos Garcia // Food Styling: Peg Blackley & Bree Williams