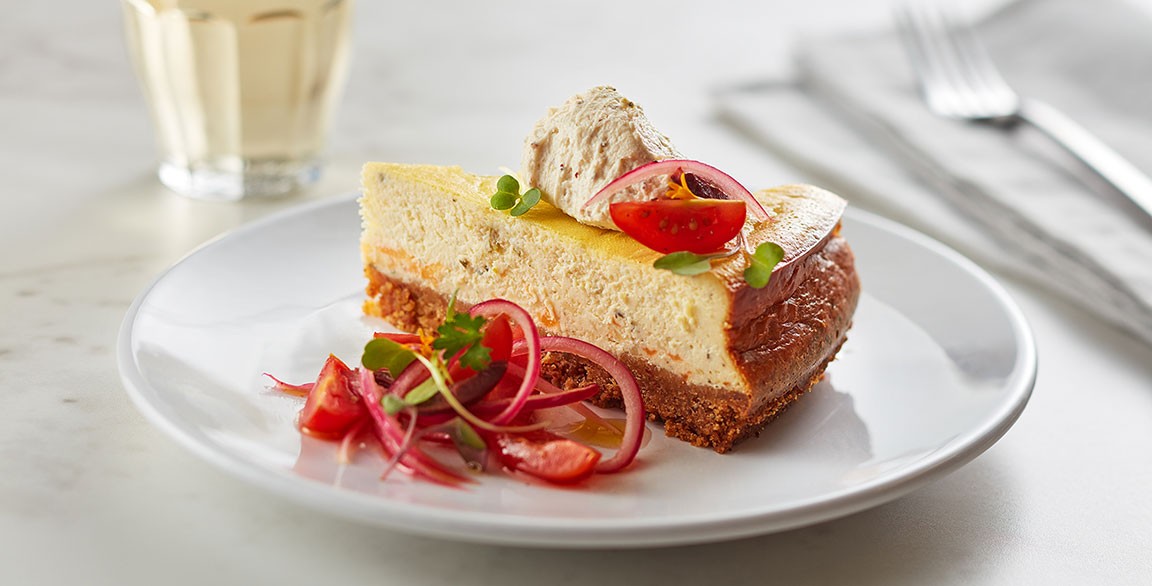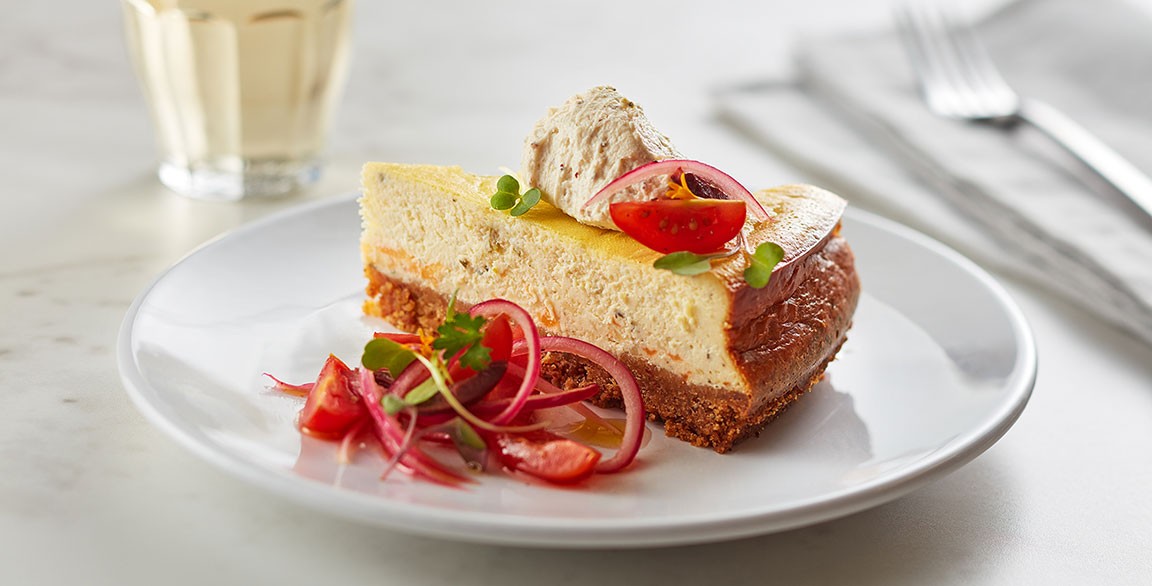 Boursin® Garlic & Herb Cheesecake
Recipe courtesy of Chef James Musser
Sponsor: Bel Brands USA
This is a savory cheesecake using Boursin® Garlic & Fine Herbs Cheese, with a Parmesan cracker crust, topped with whipped Boursin® and a fresh tomato-olive salsa.
Servings: 24 pieces
Ingredients
Boursin® Cheesecake:
18 ounces wheat crackers
1 ¾ packed cups grated Parmesan cheese
1 cup unsalted butter, melted, plus extra for brushing
8 packages Boursin® Garlic & Fine Herbs Cheese
6 eggs
3 egg yolks
1 cup sour cream
1 cup shredded Colby or mild Cheddar cheese
¼ cup sliced green onions
1 teaspoon kosher salt
¼ teaspoon black pepper
¼ teaspoon white pepper
Tomato-Olive Salsa:
2 pints grape tomatoes, quartered
1 pint herb-marinated kalamata olives, sliced
¼ cup shaved red onion
2 tablespoons red wine vinegar
As needed salt and pepper
Whipped Boursin:
4 packages Boursin® Black Pepper Cheese
1 cup heavy cream
2 teaspoons dried herbs, such as herbes de Provence
As needed salt and pepper
As needed micro greens, for garnish
Directions
To make the Cheesecake: Preheat a convection oven to 350 degrees. Line the bottom of two 9-inch springform pans with parchment paper. Brush the sides and bottom with melted butter.
Process the wheat crackers into a fine crumb, then combine with 1 cup of the Parmesan cheese and the melted butter until moistened.
Press the crumbs into the bottom of each pan and bake for 5 minutes. Remove and allow to cool. Turn the oven down to 250 degrees.
Place the Garlic & Fine Herbs Cheese in a stand mixer fitted with the paddle attachment. Mix on medium speed for 3 minutes.
Scrape down the sides and blade and add the eggs, yolks, and sour cream. Mix for 3 minutes, until incorporated and no lumps remain. Scrape the sides and blade and mix in any unincorporated cheese.
Add the Colby, remaining ¾ cup Parmesan, the onions, salt, black pepper, and white pepper. Mix for 3 minutes on medium until incorporated.
Divide the filling between the two pans.
Bake at 250 for 1 ½ hours, until set and lightly browned on top. Remove and allow to cool at room temperature for 1 hour before wrapping and refrigerating.
Once cooled, unwrap, and run a knife around the perimeter of the cheesecakes to release from the pans. Cut each pie into 12 even slices.
To make the Tomato-Olive Salsa: In a bowl, combine the tomatoes, olives, onion, vinegar, salt, and pepper until incorporated. Allow the salsa to marinate while the cheesecakes are cooking. Taste and adjust seasoning as needed.
To make the whipped Boursin®: In a food processor, combine the Black Pepper Boursin®, heavy cream, and dried herbs. Process to combine, then adjust seasoning with salt and pepper.
To Plate: Rewarm the cheesecake slices in a 350-degree oven for 4 to 6 minutes, until heated throughout. Place a dollop (about 1 tablespoon) of whipped Boursin® on top of each. Divide the Tomato-Olive Salsa between each slice. Garnish the top with micro greens.
Project Management: Summit F&B
Photography: Carlos Garcia // Food Styling: Peg Blackley & Bree Williams