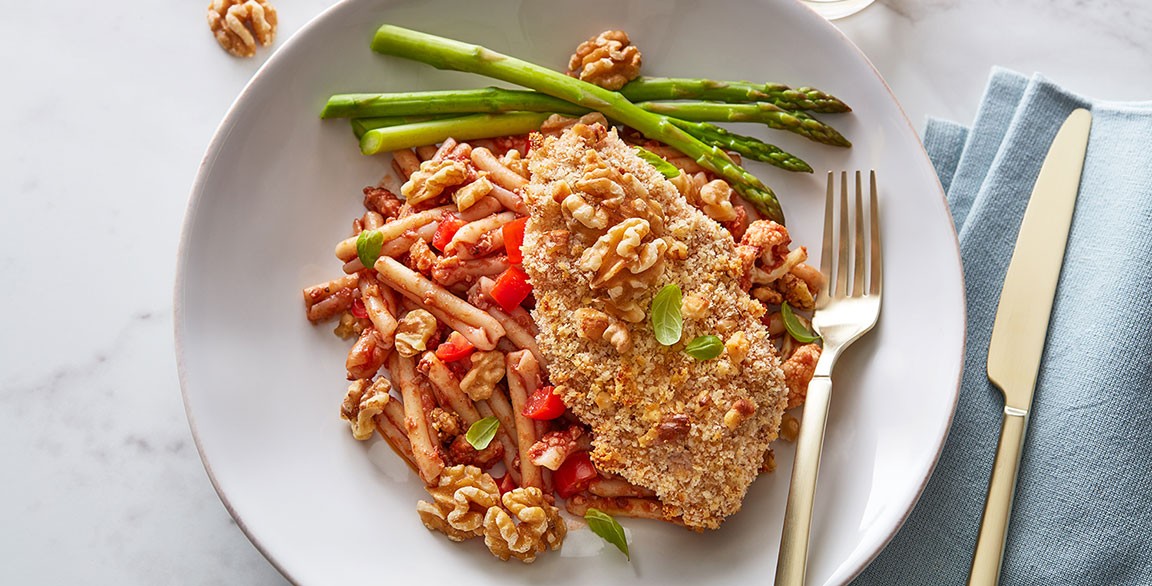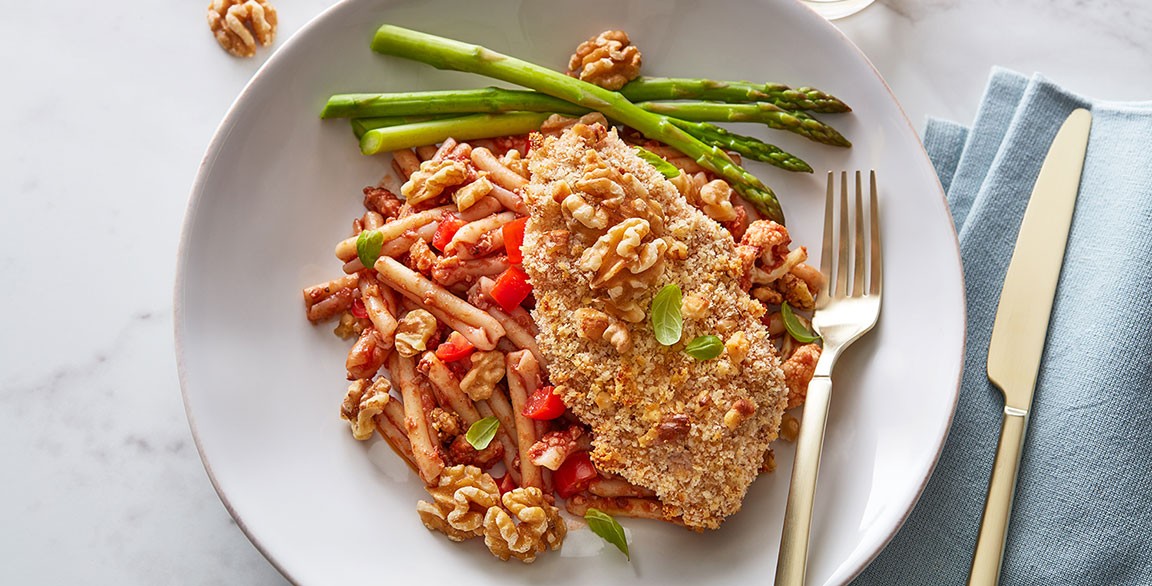 California Walnut Parmesan Chicken
Recipe courtesy of Chef James Musser
Sponsor: California Walnuts
Prep time: 40 minutes
Total time: 1 hour, 20 minutes
Serves: 6
Serving size: 4 oz. chicken, 1/4 cup sauce
Course: Main dish
DESCRIPTION
With a buttermilk marinade and a walnut and panko crust, this chicken is loaded with flavor. Serve with marinara sauce over your favorite pasta, topped with Parmesan and fresh basil.
INGREDIENTS
Walnut Crusted Chicken:
2 cups buttermilk
2 eggs, beaten
2 tablespoons whole grain, Creole or Dijon mustard
1 teaspoon kosher salt
1 teaspoon pepper
1 teaspoon smoked paprika
1 1/2 pounds boneless, skinless chicken breasts
1 1/2 cups finely chopped California walnuts
1 1/2 cups panko breadcrumbs
6 tablespoons grated Parmesan cheese
2 1/4 teaspoons dried Italian herbs
3/4 teaspoon kosher salt
Freshly ground pepper to taste
Olive oil or olive oil cooking spray
1 1/2 cups good quality pasta sauce
Hot cooked pasta, freshly grated Parmesan cheese and snipped fresh basil, (optional)
DIRECTIONS
Whisk together buttermilk, eggs, mustard, salt, pepper and paprika in a large bowl. Cut chicken into small thin fillets and place in buttermilk mixture; refrigerate for at least 1 hour.
Toss together walnuts, breadcrumbs, cheese, herbs, salt and pepper in a medium bowl.
Preheat oven to 425°F and line a large baking sheet with parchment paper. Remove chicken from buttermilk and scrape away excess by dragging against the side of the bowl. Place in walnut mixture, turning to coat well on both sides. Let stand for 15 minutes.
Place on baking sheet and drizzle lightly with olive oil or coat with olive oil cooking spray. Bake for 12 to 15 minutes or until chicken is cooked through and crust is crisp and browned.
Serve over hot cooked pasta topped with Parmesan cheese and basil.
Nutrition
Calories: 560
Total Fat: 33g
Saturated Fat: 5g
Monounsaturated Fat: 9.19g
Polyunsaturated Fat: 16.3g
Cholesterol: 170mg
Sodium: 840mg
Carbohydrates: 24g
Dietary Fiber: 3g
Sugars: 7g
Protein: 48g
Vitamin D: 0mcg (0%)
Calcium: 160mg (10%)
Iron: 4mg (20%)
Potassium: 760mg (15%)
Project Management: Summit F&B
Photography: Carlos Garcia // Food Styling: Peg Blackley & Bree Williams