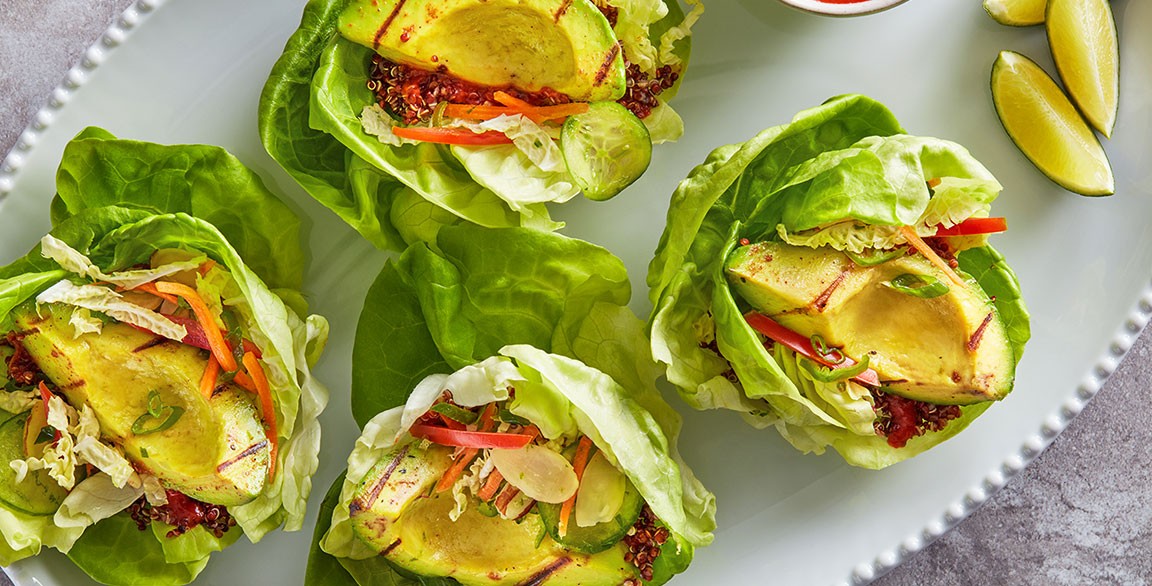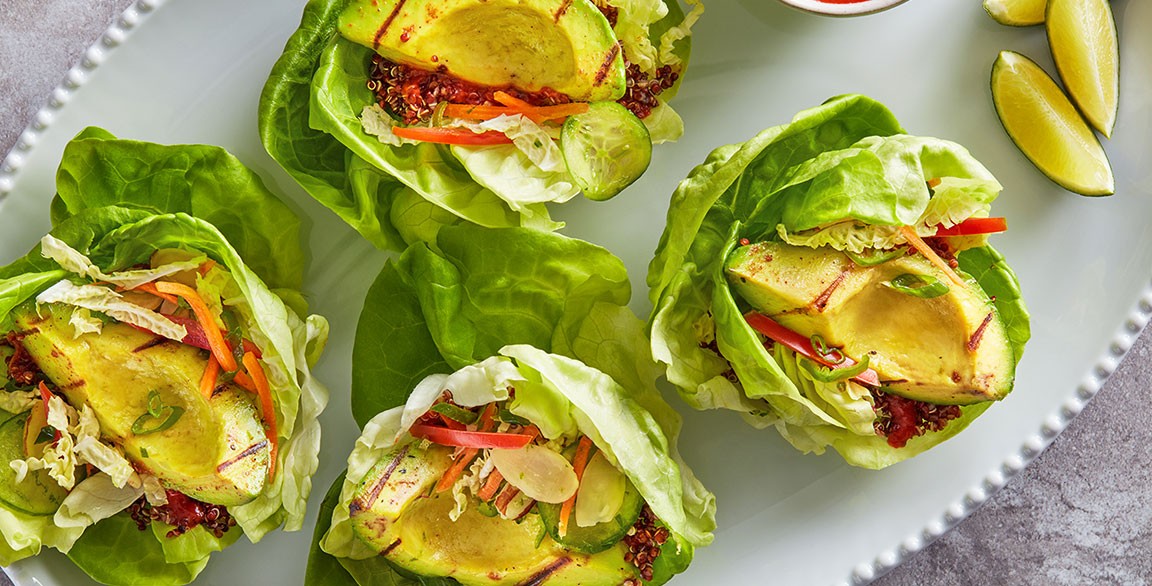 Grilled California Avocado Ssam
Recipe courtesy of Chef Michael Israel, The Cheesecake Factory
Sponsor: California Avocado Commission
Serves: 1-2
INGREDIENTS
1 ripe Fresh California Avocado, quartered with the peel intact
½ tsp. canola oil
½ tsp. kosher salt
¼ tsp. granulated sugar
¼ tsp. Korean chile powder
4 butter lettuce leaves, 3-4″ in length
2 oz. red quinoa, cooked, cooled
1 oz. + 2 tsp. Spicy Strawberry Ssam Sauce (recipe follows)
Crunchy Almond Slaw (recipe follows)
Lime wedges, for garnish
Spicy Strawberry Ssam
(Yield: 12 oz., about 1-½ cups)
6 oz. strawberries, stem removed, diced ½"
2 oz. onions, diced ½"
¼ cup gochujang
2 Tbsp. honey
2 Tbsp. sesame oil
1 Tbsp. tamari soy sauce
1 Tbsp. seasoned rice vinegar
1 Tbsp. Korean fermented soybean paste or miso paste
1 tsp. sesame seeds
½ oz. garlic cloves
½ tsp. kosher salt
Crunchy Almond Slaw
(Yield: 4 oz.)
2 oz. napa cabbage, sliced ¼" x 2″
½ oz. almonds, toasted, sliced or slivered
½ oz. sweet red peppers, seeds and stem removed, julienned 1/8″ x 1/8″ x 2″
½ oz. Persian cucumber, ends removed, julienned 1/8″ x 1/8″ x 2″
¼ oz. shishito peppers, seeds and stems removed, sliced 1/8″ rings
¼ oz. green onions, sliced 1/8″
¼ oz. carrots, julienned 1/8″ x 1/8″ x 2″
½ tsp. lime zest
½ tsp. cilantro, minced
1 tsp. lime juice, freshly squeezed
¼ tsp. kosher salt
¼ tsp. granulated sugar
INSTRUCTIONS
Pour the canola oil into the bowl and whisk in the salt, sugar and Korean chile powder. Gently toss the avocado quarters until evenly coated with the oil and seasonings.
Place avocado quarters, cut side down, onto a hot grill and cook until grill marks are evident,1-½ minutes. Rotate 45 degrees and cook 1-½ minutes. Flip the avocado quarters onto the other cut side and repeat the marking process. Remove from the grill.
Place the butter lettuce leaves onto a clean work surface. Evenly divide the cooled red quinoa onto each leaf.
Drizzle 2 tsp. of the Spicy Strawberry Ssam sauce evenly over the quinoa.
Peel the avocado quarters and place on top of the quinoa, grill marks up.
Mound ½ oz. Crunchy Almond Slaw on top of the avocado quarters.
Place the finished lettuce cups onto a serving platter side-by-side diagonally.
Pour the remaining 1 oz. of Spicy Strawberry Ssam sauce into a ramekin and place next to the lettuce cups.
Place the lime wedges next to the lettuce wraps and serve.
Spicy Strawberry Ssam Sauce
Place all the ingredients in a blender and puree until completely smooth, 1 to 1-1/2 minutes. Sauce should have a velvety consistency with medium body.
Transfer into a storage container, cover and refrigerate for up to 3 days.
Crunchy Almond Slaw
Place the first nine ingredients into a mixing bowl.
Pour the lime juice over the mixture and season with salt and sugar, tossing to incorporate.
Transfer to a storage container, cover and refrigerate. Let slaw sit for at least 20 minutes before serving. Hold refrigerated up to 12 hours.
*Large avocados are recommended for this recipe. A large avocado averages about 8 ounces. If using smaller or larger size avocados adjust the quantity accordingly.
Project Management: Summit F&B
Photography: Carlos Garcia // Food Styling: Peg Blackley & Bree Williams