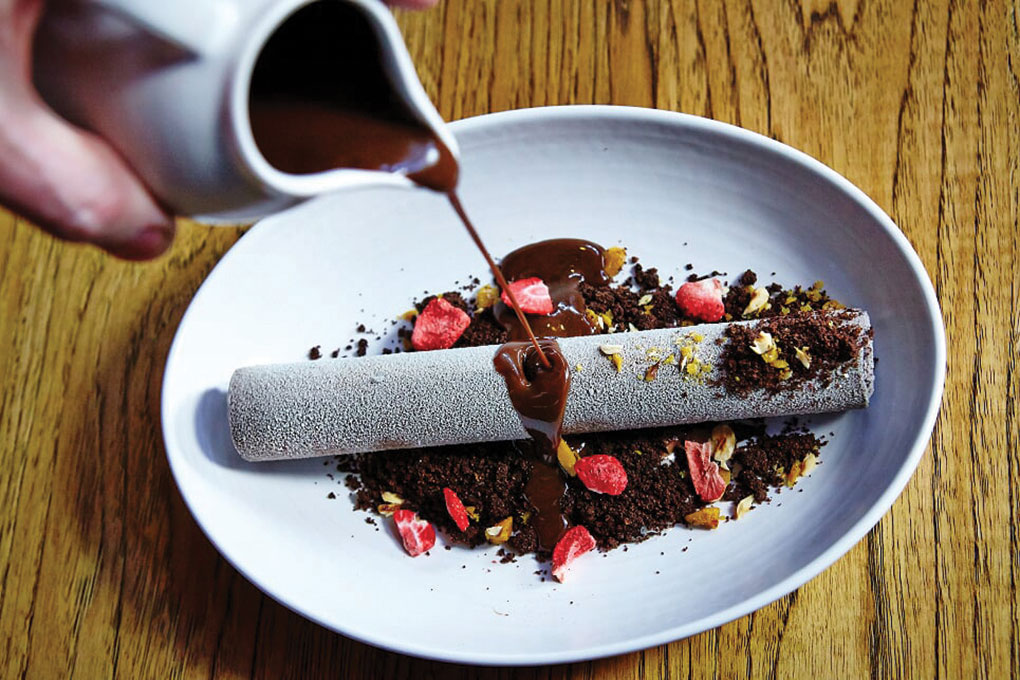 By Flavor & The Menu
April 19, 2019
The dessert category offers a great playground for both fun and nostalgia. Today, restaurants are reeling in diners with elevated takes on fan-favorite candy bars, snacks and branded desserts. The Yodel, a riff on the Drake's snack cake, is menued at modern American fine-dining concept Juniper & Ivy, giving guests the chocolate cylinder they expect while adding a sophisticated spin.
A chocolate devil's food cake log is stuffed with dark chocolate pâté, hazelnut brittle and crunchy white chocolate pellets, covered in a hard chocolate cylinder shell, then dusted with cocoa and topped with chocolate cookie crumbs and strawberries. A server pours warm chocolate ganache on top for an entertaining finish that rides the growing tableside trend.
"The dessert is interactive as the ganache melts the cylinder, and guests can enjoy contrasting hot and cold temperatures within a single bite," says Executive Chef Anthony Wells.
Juniper & Ivy offers seasonal takes on the Yodel, using the basic format as a jumping-off point. In the fall, it's an apple version, while a strawberry version (pictured here) graced the menu for Valentine's Day and the month of February.