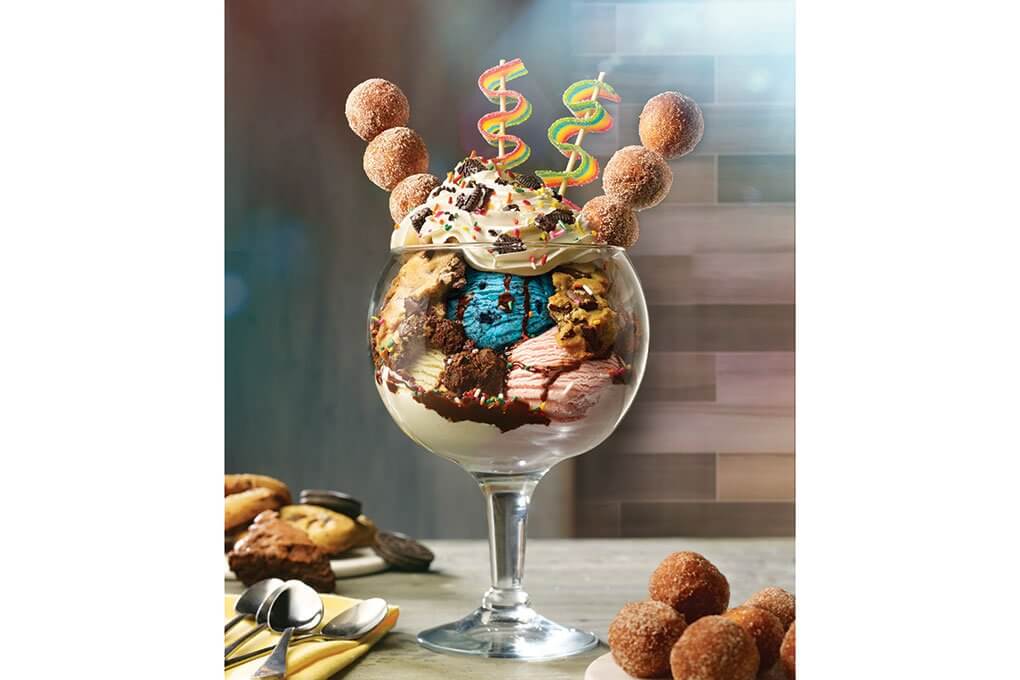 Sometimes bigger is better. At Main Event, a family entertainment center concept featuring entertainment alongside casual dining, the sheer size of the Big Fun Super Sundae is a draw. With a height of 12 inches and a volume that requires a 53-oz. glass, the shareable dessert is immediately Instagrammable, and encapsulates the destination's fun vibe.
Four scoops of gelato—strawberry, chocolate crunch, vanilla, and blue cookies and cream—establish a cool, colorful base. The gelato is topped with chocolate sauce, chocolate brownies, chocolate chip cookies, Oreo crumbs, whipped cream and rainbow sprinkles. Two skewers of warm cinnamon-sugar doughnut holes and two skewers of rainbow Airheads candy stick out of the glass, giving the dessert a dose of heat, a dash of sour, and cementing the dessert's status as photo-worthy.
"The dessert showcases a variety of textures—from the cold, creamy gelato to the chunky cookie bites and the warm, soft doughnut holes," says Mark Boyton, Director of Menu Innovation. "You get rich flavors from the brownie bites and sour flavors from the candies—packing a punch to your taste buds."
Since the debut of the Big Fun Super Sundae, Main Event's overall dessert category has more than doubled in both units and revenue. Its success has led Main Event to develop even larger shareable desserts.