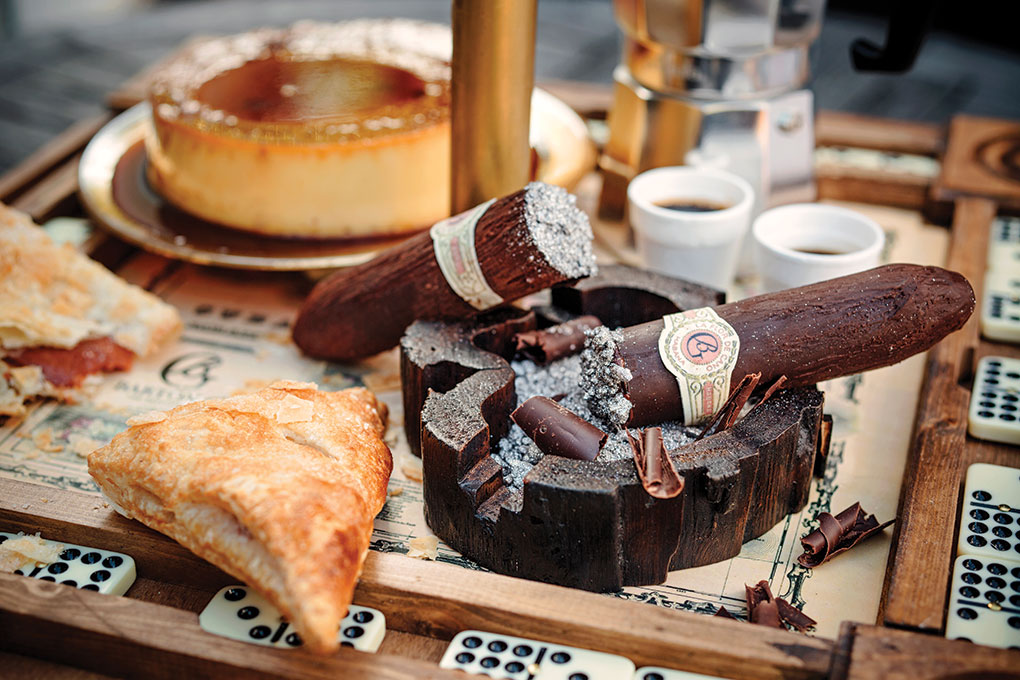 By Flavor & The Menu
April 3, 2019
Luxurious ambience pairs with quirky menu items at Barton G., a fine-dining concept with locations in Miami, Los Angeles and Chicago, and more on the way. Creative presentation is the name of the game, and at the Los Angeles location, the El Cubanito, a collection of Cuban desserts plated on a dominoes game board, showcases Barton G.'s signature flair.
Dominoes—a national pastime of Cuba—form a perimeter around a Cuban map, on top of which rests a trio of Cuban desserts: a café caramel flan, tobacco-laced gianduja chocolate cigars and guava pastelitos.
Also on the board are a café con leche dipping sauce and a carafe of Cuban coffee.
The El Cubanito pays homage to Barton G.'s Miami roots, where the hospitality and event company opened its first restaurant a decade ago.
The smorgasbord of sweets is meant for sharing, emphasizing Barton G.'s family-style experience, while the buffet of authentic Cuban flavors ups its appeal. "The ability for guests to get an all-encompassing taste of a traditional Cuban dessert spread makes for a successful dish adored by many," says Executive Chef Attila Bollok.
Impossible to miss, the striking dessert is seriously Instagram-worthy.