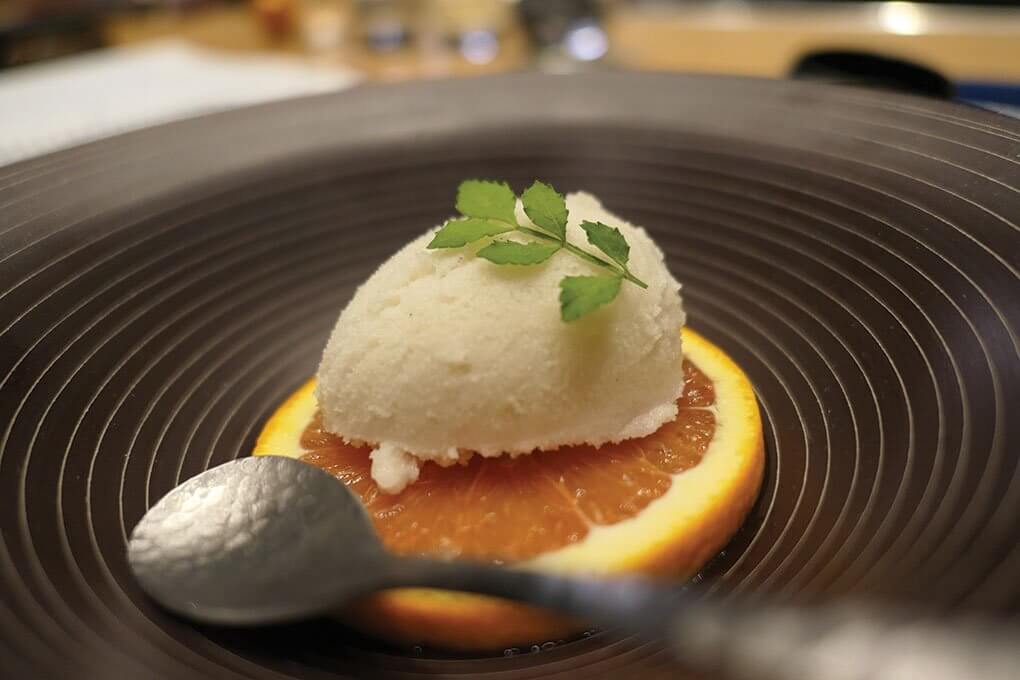 By Flavor & The Menu
April 19, 2019
Through exhibitions and events, Japan House educates visitors about Japanese culture at its centers in New York, London, São Paulo and Los Angeles. The Inn Ann restaurant is a natural extension of the organization's mission, where Executive Chef Mori Onodera introduces diners to authentic Japanese flavors.
When developing the fine-dining concept's tasting menu, he wanted to create a uniquely Japanese ice cream, turning to the unfamiliar sansho pepper to make the Sansho Spice Sorbet a signature dessert.
Sansho wasn't Onodera's first choice to flavor a frozen treat. He experimented with wasabi, but found its strong flavor overpowering. So he turned to the sansho pepper, relatively unknown in the United States, because he wanted to introduce American palates to it—and because he had a surplus in his pantry. The discovery proved serendipitous. These green pods boast citrus flavor and make the tongue tingle—fitting traits for a modern dessert.
Onodera layers sorbet with the sansho, lemon and other citrus, depending on seasonality (iterations have included yuzu and blood orange). "When enjoying the dish, the first impression is a light, refreshing citrus quality, then the numbing sensation from the sansho pepper kicks in for a satisfying finish," he says.