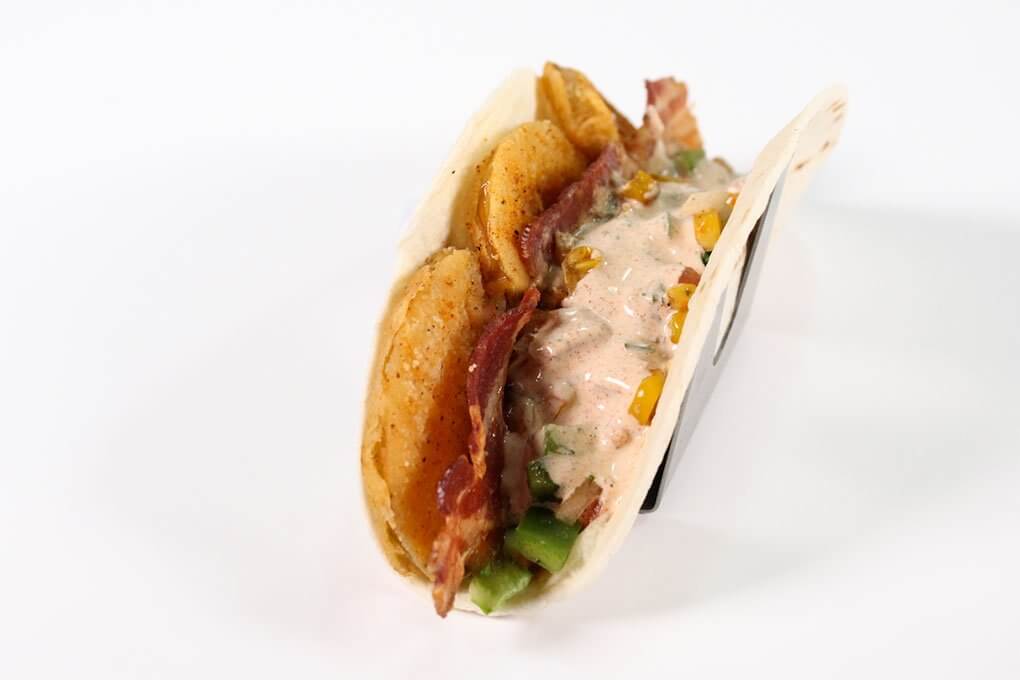 By Flavor & The Menu
April 19, 2019
Fried green tomatoes are a summertime joy, making them a perfect star for a seasonal special. At Tacos 4 Life, a Mexican fast casual, the Fried Green Tomato Taco capitalizes on their fleeting perfection and tucks them into a creative taco build.
Executive Chef Cynthia Malik starts by hand-breading the tomatoes, frying them and topping with bacon, Cajun ranch, lettuce, pico de gallo and roasted corn, all housed in a soft flour tortilla. "Getting the tomatoes just right for this taco was a process," she says.
"When building a taco recipe, we often find that flavors and textures get lost or change dramatically when we put them on a tortilla. In this case, our biggest challenge was finding the right breading, which ended up being a flour and spice blend rather than a more traditional cornmeal blend."
The taco has become one of the most requested seasonal items. "Every bite is packed full of tart and salty, creamy and smoky, hot and cold, juicy and fatty, for an experience that leaves you wanting more," says Malik.
Menu success brings rich reward—for every taco, quesadilla, rice bowl, salad or nachos purchased, Tacos 4 Life provides funds to feed a hungry child through a partnership with Feed My Starving Children.