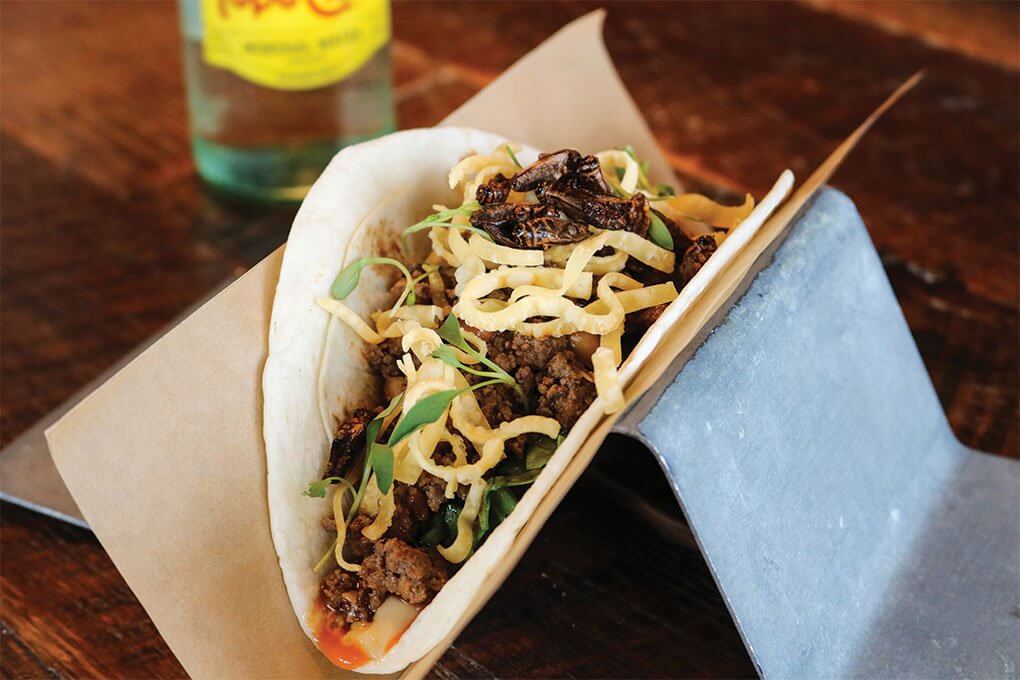 By Flavor & The Menu
April 19, 2019
Velvet Taco's Szechuan Dan Dan Taco is a perfect expression of the modern taco trend. It takes components traditionally found in a dan dan noodle dish, and reimagines them in a taco format. It combines ground beef cooked with sambal and sesame oil, aïoli spiked with Sichuan pepper, and a bok choy salad dressed in a housemade sesame-soy vinaigrette. The garnish? Crispy wonton strips and Sriracha crickets, of course.
"I've been playing around with different ideas for incorporating bugs onto our menu, but up until now hadn't found the best vessel for it," says Corporate Chef Grant Morgan. "The Sriracha crickets perfectly complement the Szechuan Dan Dan Taco and are fun and quirky—exactly what Velvet Taco is all about."
The taco build was a product of Tacopalooza, Velvet Taco's culinary event where it partners with chefs from around the world to invent new and unique tacos for the brand's Weekly Taco Feature (WTF) menu. "This particular taco was made in conjunction with Chef Adam Moore, on behalf of True Aussie Beef & Lamb, and it uses grass-fed Australian beef," says Morgan. Thanks to the shock value of the crickets, it lined up perfectly as the WTF for the week of April Fool's Day.