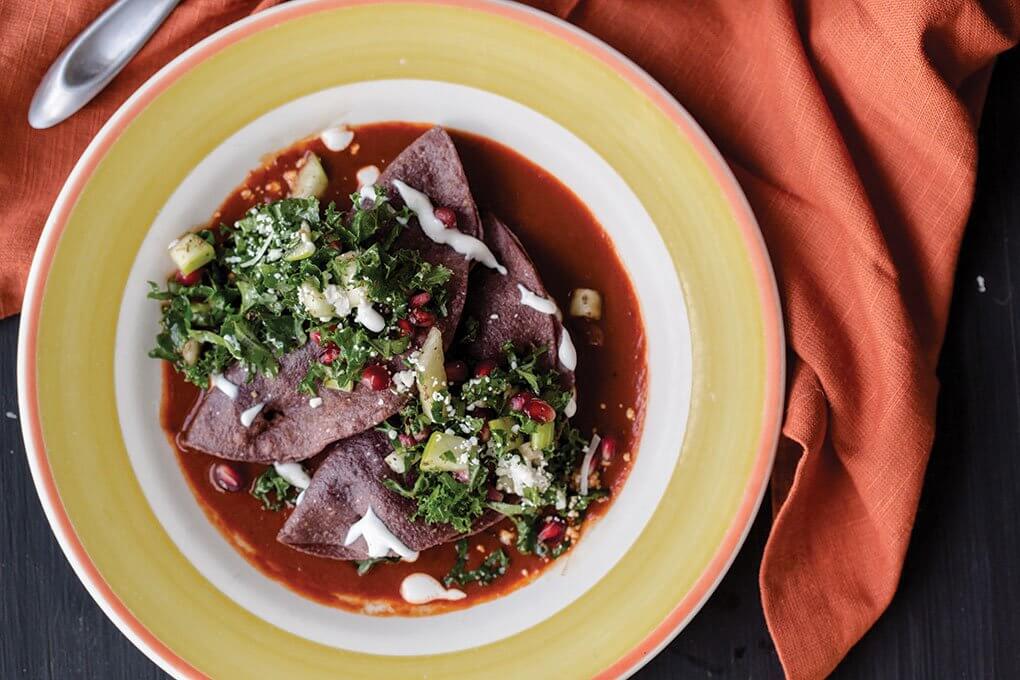 By Flavor & The Menu
April 19, 2019
Veg-forward dishes find a natural home in tacos. The challenge, as with everything, is making the flavors craveable. Mark Casale, Executive Chef of Dos Coyotes Border Cafe, succeeds with his Tewa Tacos. They combine a Southwest sensibility with a modern feel—adobo-roasted butternut squash and a black-bean/corn salsa are inside crisp, blue-corn tortillas, served on red chile sauce with pomegranate-kale slaw, maple cream, pumpkin seeds and Cotija.
"The Tewa Tacos see layers of complex flavors and ingredients that are all at once refreshing, vibrant, deep and comforting," says Casale. "The ingredients are based on the three sisters—beans, corn and squash. The palate is touched by salt (Cotija), bitter (kale), sweet (maple), and sour (lime). This is simply to prepare you for the depth and complexity that comes next." The red chile sauce is made in traditional New Mexican fashion from Hatch chiles that are simmered slowly. An adobo paste, with notes of cinnamon and clove, add depth to the sauce.
"As you enjoy bite after bite, you're reminded of the comforts of the autumn table—clove, cinnamon, roasted squash, pumpkin seeds, pomegranate and maple," he says. "The bright slaw is an exquisite contrast to the rich flavors that lie beneath. These vegetarian tacos now have a true following and are enjoyed over and over again by omnivores and vegetarians alike."