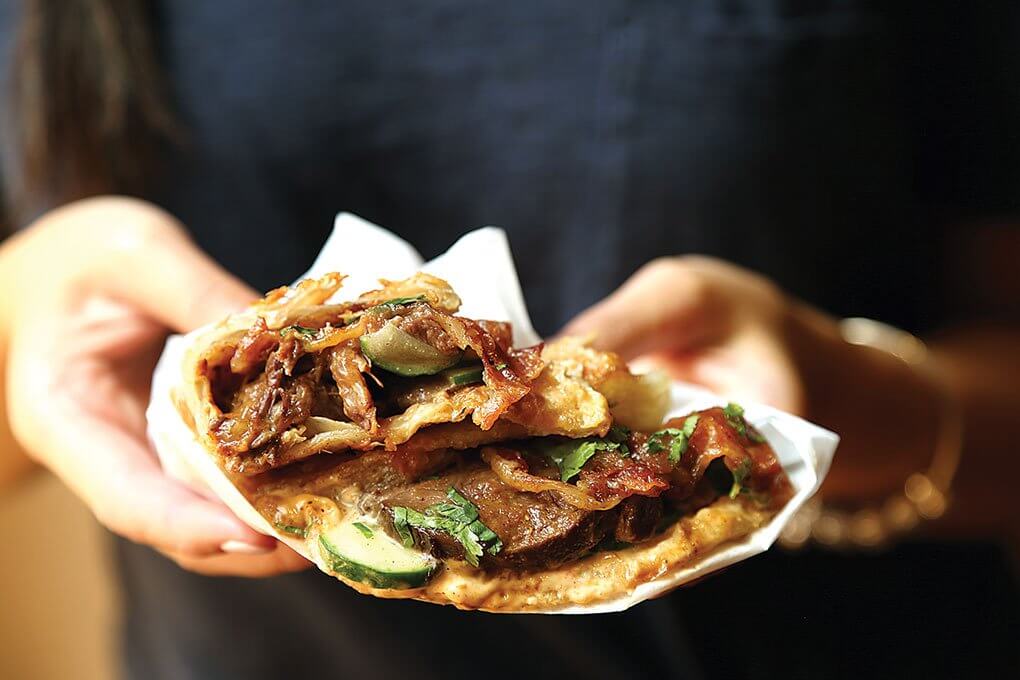 By Flavor & The Menu
April 19, 2019
The jianbing, or bing for short, is on the rise here—thanks to operators serving stellar versions of this savory Chinese crêpe. But the jiabing, a more generalized term for a sandwich in China, is where Little Tong Noodle Shop, a contemporary Chinese eatery specializing in Yunnan-inspired rice noodles at its East Village and Midtown East locations, has found success.
On the menu as the Shank JB Melt, this flaky bing is stuffed with beef shank braised with mirepoix, three kinds of fried chiles, spices and Shaoxing rice wine. Along with the beef, griddled cheese curds, fermented chile mayonnaise, cucumber and cilantro make up the filling. Tangy house-marinated cabbage and chicken broth are served on the side.
"The sandwich is indulgent, satisfying and well balanced," says Chef/Owner Simone Tong. "Every component is expertly made with care from fresh, high-quality ingredients, and it shows in the final product."
Highly customizable, the bing delivers what diners come looking for. "Folks love that the sandwich features the timeless favorite combination of carbs and cheese with creative, Chinese-inspired additions that you can only find at Little Tong," says Tong. The success of the JB Melt has inspired Little Tong to offer seasonal bings, with more in the pipeline.