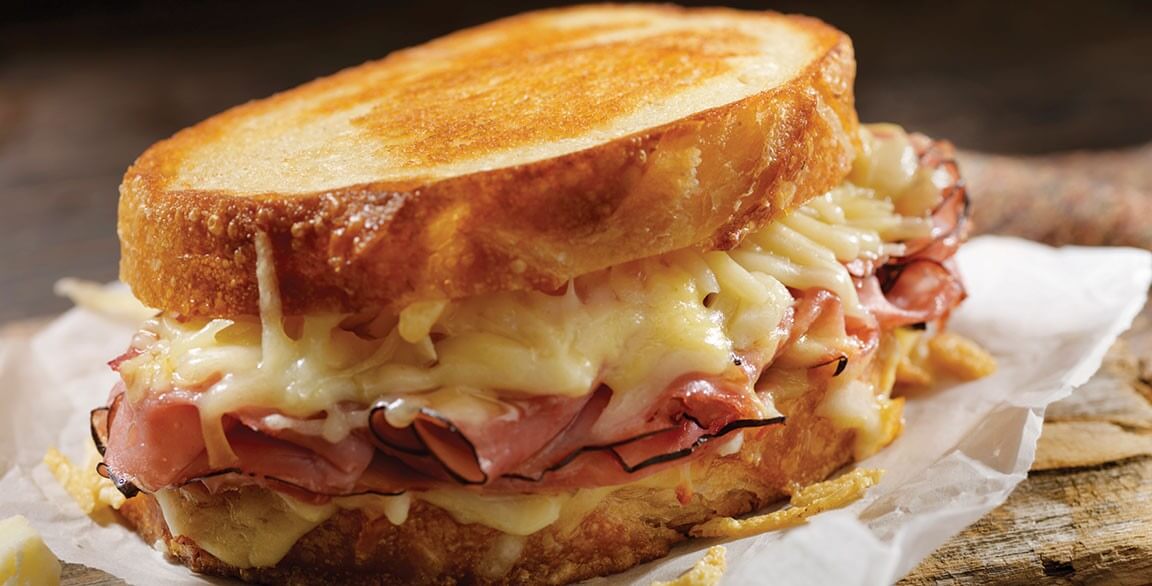 Sandwiches span all dayparts and garner valuable menu space as a proven sales driver, with their handheld convenience, timeless comfort and perpetual innovation opportunities. Toasted and hot sandwiches up the flavor game even further, delivering layers of big flavor, texture and satiating comfort.
They check a lot of boxes with consumers, while also giving operators a versatile platform for innovation. Look to feature quality across every aspect of your toasted sandwich builds. Even the simplest builds should deliver complexity and signature notes.
Much like other menu categories, sandwiches are being shaped by a confluence of multiple culinary trends, including: plant-centric, approachable premium, global street foods, nostalgic regional cuisines, mindful wellness and cross-category hybrids. Savvy operators are bucketing these trends into strategic flavor-development platforms.
Here's a look at noteworthy menu-development areas, along with inspiration from around the country.
1

Cheese Lovers

Appeal to cheese-loving guests with more of what they crave. Think beyond grilled cheese. Call out and feature interesting cheeses, unique applications, cheese powders or flavors through cheese—both inside and outside of the sandwich.

Spicy Turkey BBQ Bacon Smokecheesy: Smoked turkey, smoked cheddar, jalapeño, bacon, barbecue sauce, red onion, lettuce, tomato, toasted jalapeño cheese bun
—Schlotzsky's, based in Atlanta

Purple Haze: Triple cream Borgonzola (a Canadian Gorgonzola), blackened hanger steak, potato chips, Parmesan-crusted sourdough, blackberry-balsamic reduction
—The Grilled Cheese Experience food truck, Seattle

Try This
Pimento Cheese Crusty: Pimento cheese + pickled green tomato + frico-encrusted Texas toast
Triple-Cheese Croque Monsieur: Sliced fontina + grated Gruyère + Parmesan cream + Dijon mustard + smoked ham + toasted potato bread
2

Hot-Pressed Decadence

Texture is a critical part of flavor development. Pressing a sandwich heightens outside texture and deepens internal flavors. Inject new life into classic panini-style features with the introduction of global nuances and emerging flavors.

Overnight Duck Confit Panini with bok choy, pickled daikon, cilantro, black-garlic mayo on bread baked daily by Sorella's Bakehouse
—Duckfat, Portland, Maine

Farm Cubano: Spanish "focaccia," Puerto Rican adobo-roasted veggies, pickled chayote, Tomme cheese, herbs, Dijon
—El Super Pan, Atlanta

Try This
Blushing Beet Panini: Thick-sliced roasted beets + goat cheese + baby arugula + walnut-citrus jam + ciabatta
Chimi-Steak Press: Chimichurri flank-steak slices + Jack cheese + caramelized baked plantains + Italian roll
3

Surf- or Turf-Centric

High-quality meat- or seafood-centric sandwiches continue to resonate, standing on their own merits or coexisting on the menu with plant-based sandwich offerings. Look to hefty portions, select cuts, slow-cooking methods and enticing flavor combinations.

Santa Monica Hot Fish: Beer-battered Alaska cod rubbed in Nashville hot spice, lettuce, pickles, tartar sauce, on a soft potato roll
—Voltaggio Strfsh, Santa Monica, Calif.

King's Hawaiian Big Kahuna: Crispy chicken, sliced brisket, pit-smoked ham, melted Swiss cheese, lettuce, tomato, pineapple-habanero sauce, toasted King's Hawaiian bun
—Arby's, based in Sandy Springs, Ga.

Try This
Hot Chick: Double-dipped buttermilk-fried "hot" chicken cutlet + creamy Alabama white barbecue sauce + pickles + toasted egg bun
Crab Ball Slider Smash: Crab ball + celeriac/apple slaw + Old Bay mayonnaise + mini brioche bun
4

Veg-Centric

The plant-based movement has launched vast creativity and flavor discoveries on menus. Vegetables now hold meat-worthy prominence as the star of sandwich builds, offering a wonderful opportunity for chefs to expand lighter fare with elevated indulgence.

Grilled Artichoke Sub: Artichoke hearts, provolone, oregano, Parmesan, mayonnaise, hearth-baked bread
—Penn Station East Coast Subs, based in Cincinnati

Zucchini Grillini: Roasted zucchini, Muenster, spinach, red onion, Roma tomatoes, Kalamata olives, roasted red-pepper hummus, toasted on multigrain
—Jason's Deli, based in Beaumont, Texas

Try This
Eggplant Supreme: Crispy fried eggplant + fresh mozzarella + spinach + baba ghanouj + romesco sauce + toasted egg bun
Portobello Philly: Marinated/grilled portobello slices + beer-braised onions + Havarti + shredded lettuce with garlic dressing + Italian roll
5

Elevated Spice

The use of trending spice and/or savory heat applications brings allure to sandwiches. This affords operators an easy and quick flavor treatment that can transport guests' palates across the globe.

Chef Which by Ian Hung of SeaSweets Poke: Crispy furikake-crusted ahi sandwich with wasabi furikake mayo, tempura bits, pickled onion, tomato, English cucumber
—Lardo, Portland, Ore., and Las Vegas

A Sandwich Study of Heat: Shaved roasted turkey breast, smoked Gouda, avocado, chile aïoli, jalapeño relish, tomatoes, romaine, pressed rustic white, salsa quemada
—Mendocino Farms, based in Los Angeles

Try This
Marvelous Med: Za'atar smashed chickpeas + harissa sun-dried tomatoes + roasted chicken + feta + soft-toasted flatbread
"Everything" Salmon Club: Seared salmon petit fillet + everything spice whipped cream cheese + Pommery mustard + Bibb lettuce + toasted marble rye bread
6

Premium Grilled Cheese

Grilled cheese provides a safe platform for guests to experience a new, premium flavor introduction. Expand and deepen this perennial favorite with a focus on authentic, distinguished flavors and textures built for cooler weather.

Grilled Steve: Buckboard bacon, raclette, bread-and-butter pickles, mustard-horseradish butter on white bread
—Publican Quality Meats, Chicago

Huckleberry Heaven: White cheddar, braised beef short ribs, caramelized onions, huckleberry barbecue and horseradish aïoli
—Meltz Extreme Grilled Cheese, Coeur d'Alene, Idaho

Try This
French Onion: Red-wine caramelized onion jam + Gruyère + American cheese + white cheddar + chive sourdough
Southern Charm: Chicken sausage (ground) + collard greens + apple butter + aged cheddar + pepper Jack + challah bread
7

Holiday-ish

Showcase the excitement of the upcoming holidays with ingredients that speak to seasonal grandeur without seeming gimmicky. Develop festive builds that tap into nostalgia with a modern twist. Think "exceptional casual."

Turkey Brie: Braised turkey, jalapeño-cranberry relish, honey mustard, Brie and apples on Silke's hoagie
—Mitchell Delicatessen, Nashville, Tenn.

Roast N Dip (seasonal): Daily roast, rosemary aïoli, cheddar, roasted roots, jus
—The Goodwich, Las Vegas

Try This
Harvest Club: Hand-carved roasted turkey + maple bacon + roasted pear slices + sweet potato jam + leaf lettuce + toasted Sally Lunn bread
Bombay Eggwich: Madras curried egg salad + pomegranate chutney + frisée + toasted brioche bun
8

Open-Faced Melts

Inspired by loaded toast and the classic Hot Brown, traditional hot open-faced knife-and-fork sandwiches are ripe for contemporary flavor play. Their visual prowess naturally evokes indulgence, striking an emotional chord with inherent value and simplicity.

Bacon & Queso Mollete: Artisan bacon, artisan Jack cheese, chipotle, black beans, Cotija cheese, cilantro, bolillo roll
—Tortas Frontera, Chicago

Pork & Peppers: Pork shoulder, habaneros and oranges, crispy pig ear, lettuce, onions, and citrus mayonnaise served open face on roti bread with a side of habanero vinegar
—Turkey and the Wolf, New Orleans

Try This
"Lasagna" Melt Toastie: Toasted garlic/herb breadstick + charred broccolini + Bolognese sauce + provolone cheese + ricotta
Egg-In-a-Hole Tuna Melt: Toasted sourdough with fried egg (inside) + sliced avocado + creamy tuna salad + Colby/Jack cheese gratinée + microgreens garnish
9

Breakfast Builders

Don't take the name "breakfast sandwiches" literally, as they are finding relevance any time of day, providing multiple areas of engagement. Build off this recognition and craft nontraditional items that garner attention and generate menu buzz.

Blueberry Maple Square: Egg, sausage and melted cheddar on a blueberry maple square
—Potbelly Sandwich Shop, based in Chicago

Potatoes & Eggs Hero: Seasoned baked potatoes, mozzarella, eggs prepared in a cast-iron skillet
—Defonte's, Staten Island, N.Y.

Try This
B-fast Muffuletta: Olive/pepper/kale salad + shredded hash browns + fried egg + whipped feta + Italian roll
24/7: Thick-cut griddled mortadella + American cheese + frizzled onions + smoked mayonnaise + hot mustard + toasted brioche bun
10

Mash-Up Classics

What's tried and true can become new culinary menu gold in the hands of a skilled chef. Incorporate a new component or regional flair into a sandwich that is rooted in tradition, creating your signature hybrid showpiece. Guests will appreciate the originality.

Low Country Sloppy Joe: Spicy ground pork and beef, red Creole sauce, housemade pimento cheese, green tomato chow-chow, grilled local honey white bread
—The Southern General, Johns Island, S.C.

Rockfish Reuben: Local rockfish, bistro sauce, coleslaw, Swiss cheese on griddled marbled bread
—Waypoint Seafood & Grill, Williamsburg, Va.

Try This
Shrimp Toast Fondue Dipper: Creamy chile-spiked shrimp dip + Asiago cheese + rustic country bread + cheese fondue dipping sauce
Bistro Meatloaf Melt: Griddled bison/beef meatloaf + smoked white cheddar + bacon-onion jam + miso ketchup + toasted sourdough