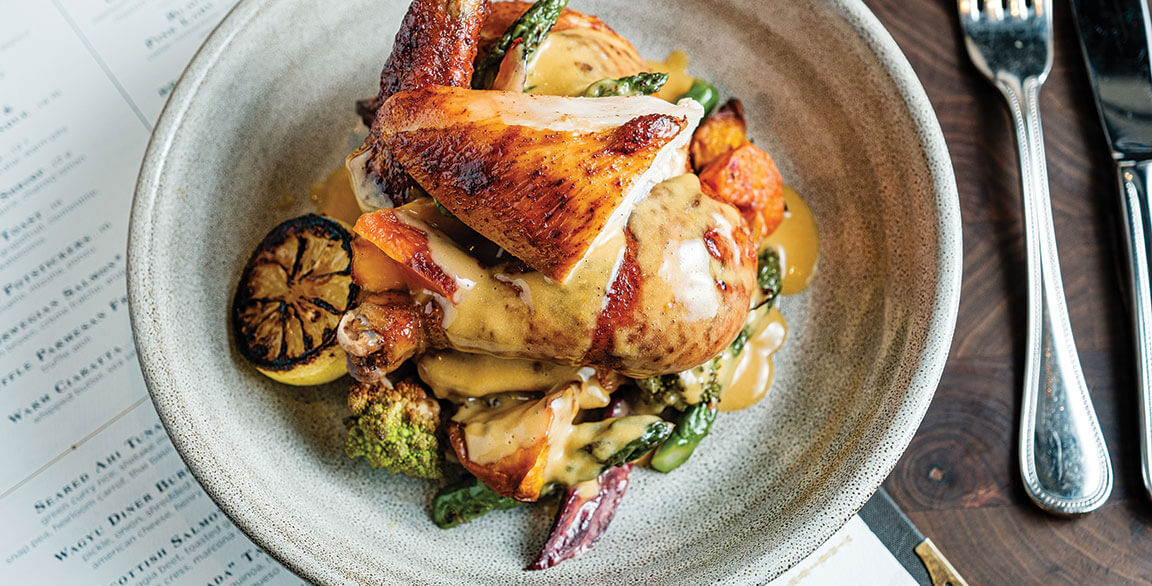 Umami is certainly not new, even if it feels as if many consumers are only now recognizing the name of that esoteric, elusive fifth taste. In Japanese, umami means "deliciousness." In menu development, it translates to "craveability."
Asian cuisine has been celebrating umami for centuries through ingredients like soy sauce, miso paste, fish sauce, gochujang, bonito flakes—the list is long.
In the West, umami stalwarts range from Parmesan, cured ham and tomato paste to mushrooms and anchovy—the list here is also long.
But something interesting is happening today: Umami is making a deeper play in menu development. Why? First, even though it's a refrain we hear a lot in foodservice, it bears repeating: The collective taste buds of consumers are evolving.
"Pleasing, savory flavor notes resonate with modern palates," says Rob Corliss, executive chef of fast casual Unforked in Overland Park, Kan., and founder of consulting firm All Things Epicurean. "There's a shift away from overtly sweet foods and a sharper focus on savory. Umami helps round out and balance the other four tastes: sweet, sour, salty and bitter."
Second, there's a general shift in the culinary approach of delivering big flavor. "As chefs, we were taught that fat is flavor. And we knew the opposite way to get to flavor was through citrus, with bright, punchy notes," says John Franke, principal of Franke Culinary Consulting, a Dallas-based consultancy focusing on brand development and innovation.
"Now, we're exploring the umami realm because you don't always want citrusy overtones and you don't always want to rely on fat for flavor. You can have tons of flavor and a memorable eating experience by using ingredients that are rich in umami, rather than rich in fat."
Evidence of umami's deeper reach can be found in trend-forward restaurants. At The Henry, a neighborhood restaurant concept from Phoenix-based Fox Restaurant Concepts, the Rotisserie Half Chicken, a classic American comfort food, gets an accompanying "umami sauce," which features Parmesan, butter, garlic and citrus.
At Little Pearl, a café and wine bar in Washington, D.C., the Anchovy Toast delivers umami in a thoroughly modern way, with a boquerones butter on grilled focaccia.
"Umami is craveability," says Franke. "It gives you deep, at times earthy, savory flavor. It stays with you. Tart and sour don't linger. Salty can be washed away, but umami stays." The pathway to umami and the embrace of it by today's diners are what make the possibilities so exciting.
New Roads to Umami
When a number of chefs point toward the same restaurant for an example of what they all term as an "umami bomb," there's nothing to do but track it down. ChoLon, the flagship restaurant of Denver-based ChoLon Restaurant Concepts, is where we found it.
Interestingly, even though this is a modern Asian concept, umami is delivered through "Western" ways in this particular dish. A No. 1 seller since the restaurant opened, the French Onion Soup Dumplings are deeply craveable. "The umami comes from the intensification of sugars from the onion reduction, the roasted veal bones and, of course, the Gruyère," says Lon Symensma, executive chef and founder of ChoLon Restaurant Concepts.
The process behind the dumplings helps make them successful. He stews onions with butter and salt for almost 20 hours, yielding a thick, sugary paste. He passes the paste through a strainer, then makes a classic French onion soup. He sets that soup with a heavy amount of gelatin.
"I'm essentially making French onion soup Jell-O," he says. He adds the cube of soup, cheese and onion paste into the dumplings and seals them. "When you cook them, the cube melts, without seeping through the dumpling," says Symensma. He sells 1,000 dumplings a night, four to an order.
Of course, he relies on traditional umami-rich Asian ingredients for a number of his menu items, including hoisin, bean sauce and soy sauce. "Umami gives you that all-over mouthfeel with a fun, tingly feeling," he says. "We use a bit of chicken powder in our scallion pancakes to bring in umami." He pairs an "umami mayo" with Crunchy Thai Shrimp Rolls. For that, he turns to mushrooms and fish sauce to deliver umami.
"The mayo is made with fish sauce, deeply caramelized button mushrooms, lime juice, egg yolks and grapeseed oil," he says. "It goes really well with the intense shrimp filling in the rolls."
Franke likes to use umami-rich ingredients in condiments, sauces and dressings that don't typically feature them. "Employing good umami strategies today is about taking everything to the next level," he says.
Roasting is one tactic. For shrimp stock, that means roasting the shrimp to extract the fifth taste. The same applies to roasting corn or other vegetables to achieve deeper, more complex notes. "Those are easy lay-ups for a chef," says Franke.
Using Asian ingredients outside of Asian builds is another path to umami. "The characteristics work globally, and they amplify flavor," says Rob Corliss. "You can easily use miso in soup, blend it into aïoli for a sandwich spread, or add it to salad dressings," he says. "Soy sauce can dial up flavor in tomato sauce, be used as an ingredient in ceviche, or in a glaze for beef, pork or poultry."
Franke takes advantage of the fermented notes in kimchi to introduce umami in a number of ways. "I use the liquid to jazz up a sauce or vinaigrette," he says. "Use that vinaigrette as a baseline for a kimchi gastrique over roasted fish." He also employs what he calls a "cheat technique." "I'll use a drop of chicken base in a pesto mayo for that umami touch. It saves on ingredients like Parmesan and herbs," says Franke.
"Beef jerky is another way to add umami in an unexpected way." He grinds it up as powder and uses it as a Bloody Mary rim, or sprinkled over a salad. "The strategy is to use it as an enhancer," says Franke. "How do you get layers of flavors in your build? Umami."
A Fast-Casual Approach
Junzi Kitchen, a fast casual based in New York that specializes in regional Chinese cuisine, is known for its craveable noodle bowls and bing wraps. Lucas Sin, chef and culinary director, uses a stealth approach to deliver umami. "One of the challenges of a fast casual is that the food is based on customization. We don't have influence over our guests' choices," he says. That influence over the combination of ingredients is important when building umami in order to multiply amino acids and maximize the flavor experience. "We want those specific interactions of ingredients," says Sin.
"In Chinese cuisine, ingredients like ginger, scallions and garlic, when combined with other ingredients like mushrooms, increase the umami flavor." In order to help his guests navigate toward an umami-rich experience, he embeds umami in the choices. "Think of umami and the ingredients that build it as land mines." So, if a guest builds a bing and chooses garlic-chile pork, the umami is built into that choice through its combination of garlic chives with braised pork hock.
"The land-mine method is typical of homestyle Chinese cooking," says Sin. Tomato and egg sauce are one example, cooked with ginger, garlic and scallion. "Tomato Pork, which features the tomato-egg sauce, is our best-selling dish. It's based on what Chinese moms and aunties have known all along—umami lives in these types of combinations," he says.
Plant-Based Umami
So many umami-heavy ingredients stem from meat, fish or dairy. How do you get umami into vegan or plant-based menu items? "Work carrot and celery juices into broths. They have the same glutamates that your tongue's receptors react to," says Abe van Beek, principal of 826 Complete Culinary, a Los Angeles-based consultancy for restaurants, retail brands and grocery stores.
Another tool in his umami belt for vegan builds is fermented yeast. "It's got a big burst of umami," he says. "I use it to deglaze vegetables—you just need a few dashes. It's like soy sauce, but less salty."
When trying to build umami in dishes that feature meat analogues, van Beek turns to coconut aminos. "It's super clean-tasting with a slight hint of coconut. I'll use it in a dressing for a salad that features a meat analogue because it provides the umami flavor missing from that. It helps amplify the sensation in vegan profiles."
He is just now starting to play with koji, a fermented soy bean product. "It's got so much umami and a wonderful saltiness to it," says van Beek. "It works great as a quick marinade for fish or as an add-in to soups or sauces. I also combined koji with ketchup and paired it with steak fries. Unbelievably good."
Umami is a powerful tool in recipe development. Today's creative strategies to boost umami illustrate the incredible opportunity for flavor building in modern foodservice.
Dialing Up Beverages
Tony Pereyra is a bar and beverage specialist and co-founder of Los Angeles-based The Spirits in Motion beverage consultancy. He's been tinkering with umami in both cocktails and nonalcoholic beverages, searching for the right balance while leveraging that depth that only umami can deliver. His research has led to insights on how umami can play in modern beverages.
Green Bloody Mary
"I've been trying out smoked oyster sauce, adding it to Bloody Marys for that umami kick. You have to match it carefully with other ingredients. I'm working on a Green Bloody Mary: roasted tomatillos, cilantro, avocado and oyster sauce."
Smokehouse Bloody Mary
"Smoke concentrate has a great umami pop and works nicely in a classic Bloody Mary, adding depth and savoriness."
Roasted Oolong Iced Tea
"I'm incorporating preserved plum, which is loaded with umami, to roasted oolong tea, then adding pear for a bit of sweetness and rosemary for that herbal note. It's a unique nonalcoholic that serves up umami."