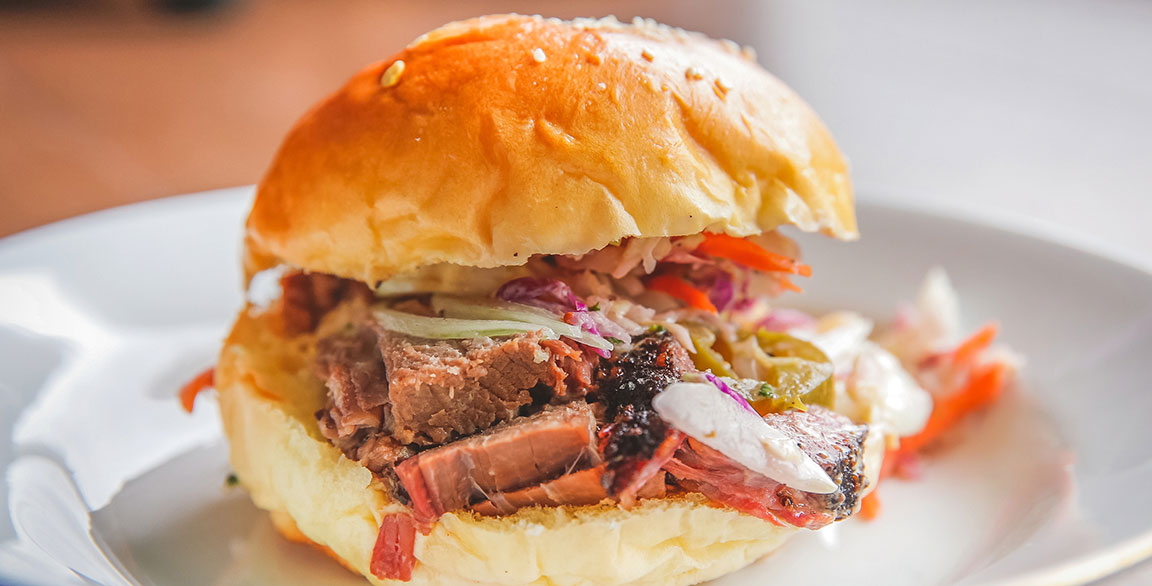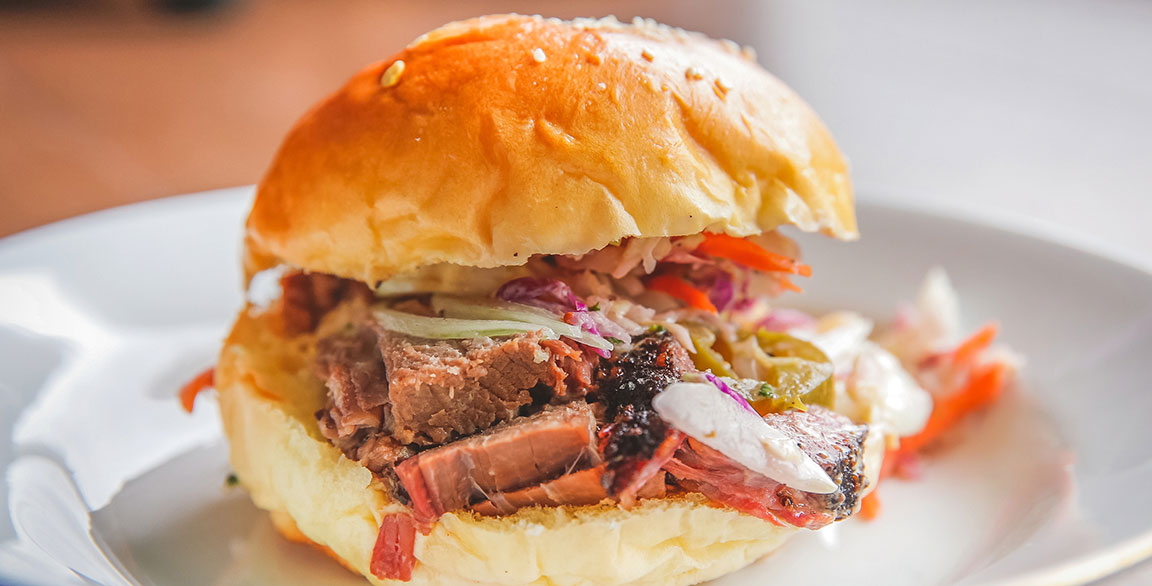 With consumers seeking out bolder menu offerings on breakfast menus, operators are pulling popular, comfort-centric lunch and dinner meats into breakfast. Expanding the all-day eats approach, they're featuring satiating, craveable proteins like brisket, as the protein of choice for winning handhelds. Brisket at breakfast makes a lot of sense today, marrying several trends including the allure of barbecue-centric slow-cooked breakfast meats, the blending of modern with traditional sandwich builds, and the continued hankering for comfort food.
Here are 10 inspiring menu sightings from restaurants across the country that go above and beyond with creating intriguing breakfast brisket sandwiches.
Menu Sightings
Brisket Breakfast Sandwich: Smoked brisket, two fried eggs, habanero-pepper Jack cheese, spinach, tomato, pickled red onion, rémoulade, garlic aïoli on sourdough toast
Right Fork Diner, Edgartown, Mass.
Brisket & Pork Sausage Breakfast Sandwich: Brisket and pork sausage, cheddar, soft-scrambled egg served on an onion roll
Carving Room Kitchen & Bar, Washington, D.C.
Smokehouse Brisket: Fresh-cracked egg, smoky brisket topped with cheddar cheese and extra heat added with jalapeño cream cheese on a plain bagel
Bruegger's Bagels, based in Burlington, Vt.
The Corben: Portuguese muffins, braised brisket, latkes, apple sauce, Dijon, braising jus
Blue Collar, Miami
Real Country Style Rib Sandwich: Texas pit-smoked pork rib, melted smoked Gouda cheese, crispy onions, smoky barbecue sauce and mayonnaise on a toasted star bun
Arby's, based in Atlanta
Bronx Dip: Thinly sliced beef brisket on French baguette served with house au jus
Bronx Sandwich Company, based in Anaheim, Calif.
Brisket Egg and Cheese: Our hickory smoked sliced brisket with barbecue sauce topped with a fried egg, fresh spinach, cheddar and cilantro aïoli
Barb's Butchery, Beacon, N.Y.
The 817: Deluxe sandwich with brisket, egg, bacon, cheese and jalapeños
Panther City BBQ, Fort Worth, Texas
Biscuit & Brisket: Our own in-house smoked beer brisket, egg over easy, American cheese on a German-style lager-infused biscuit, topped with Backbeat Smokehouse mayo
Backbeat Brewing Company, Beverly, Mass.
Brisket Biscuit: Over hard egg, brisket, American cheese and hollandaise sauce
Shale Brewing Company, Canton, Ohio
FEATURED RECIPE: Breakfast Burger