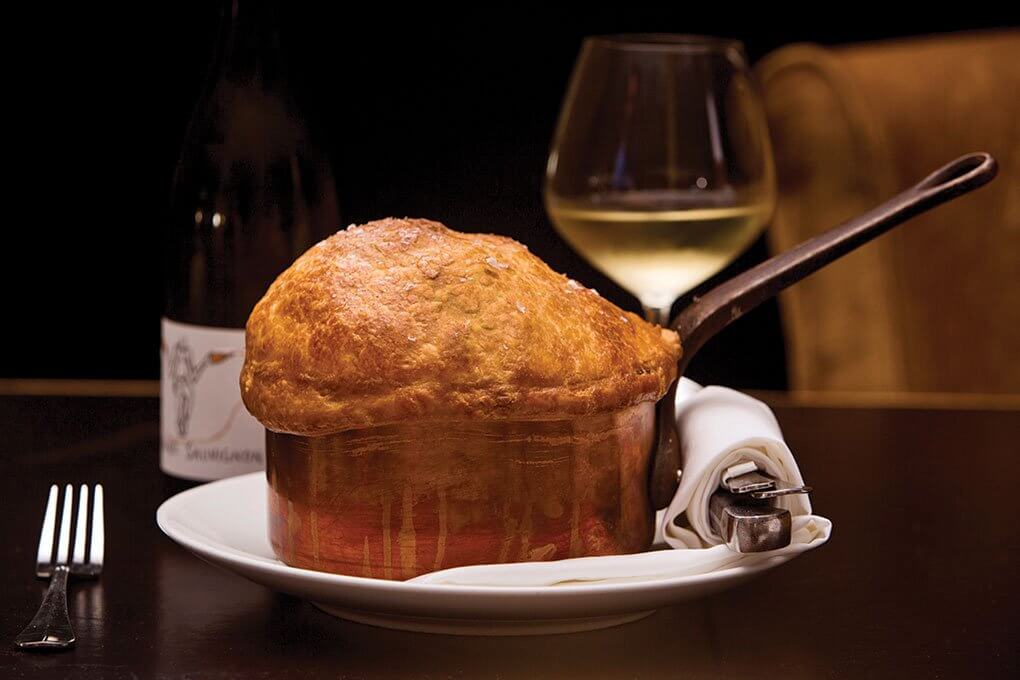 By Katie Ayoub
June 27, 2019
Innovation in seafood entrées is pretty staggering these days, with chefs showcasing modern flavor building. Creativity in this space is yet another example of today's flavor revolution, which sees attention to creative ingredient combinations and textural contrast. There's also a recognition of the importance of curb appeal on plate presentation, turning heads in the dining room and garnering those coveted little hearts on Instagram. Three successful seafood entrées stand out as a good illustration of the opportunity here. The first digs into aggressive flavors for a best-selling fish entrée. The second leverages the sway of table side presentation with fantastic flourish. And the third stands out with a dramatic plate presentation and Southeast Asian-inspired flavor play.
Love Letter
The Miso Glazed Barramundi at Crave Fishbar is a best seller. That's saying something, considering the restaurant is known for seafood, as the name implies. This popular fish entrée stars white miso, honey, plancha-grilled asparagus and chipotle oil.
"I love the sustainability, the flavor and the freshness of our barramundi," says Todd Mitgang, Executive Chef/Co-Owner. "After falling in love with this fish and working in the spring pantry, I knew I wanted to make a pairing between barramundi and jumbo asparagus."
He flavors the barramundi with a salty-sweet glaze featuring white miso paste, shaoxing wine and local honey. "I love spicy foods and thought this dish could use a smoky heat, which we apply making a hot oil using dry chipotle morita and canola oil," says Mitgang. The fish is then finished with popped red quinoa and nasturtium leaves. "In my mind, any fish that has an edible skin should be devoured," he says. "That's why we plancha-grill the fish skin-side down, crisp, before we paint on the glaze."
Strike It Rich
There's nothing quite like the flourish of tableside presentation, especially when it showcases the decadence of a dish. Maine Lobster Pot Pie at Bourbon Steak by Michael Mina, a modern steakhouse, wows guests with its theater and its rich, indulgent flavors.
This signature item is assembled in a gleaming copper pot—Maine lobster, sauce américaine, heavy cream, market baby vegetables, potatoes, brandy and black truffles. It's topped with housemade pastry dough, sea salt and egg wash, and is baked until crisp and beautiful. The copper pot domed with a puffy, golden brown crust is presented by the server, then plated tableside. The crust is cut off and placed on the plate, and the server then carefully assembles the lobster back to its original shape, laying it over the pastry, and finishes the dish with the vegetables and truffle-brandy lobster cream sauce.
"The flakiness of the dough combined with the rich lobster sauce provides a hit all on its own," says Gabe Fenton, Executive Chef of the Bourbon Steak in Miami. "Combine this with the freshest lobster and beautiful market baby vegetables and you have a home run and consistent winner on the menu."
Fish Tale
When the Crispy Red Snapper for Two at the Pearl restaurant at The Oyster Point Hotel, known for its fresh seafood, makes its way across the dining room, heads turn. The dramatic presentation showcases a whole red snapper, which has been marinated in olive oil, ginger, garlic, lime juice, lemon, peppercorns and shallot, and then coated with a gluten-free blend of rice flour and corn starch and fried until golden and crispy. A quick stir-fry of bok choy, shiitake and bean sprouts buddies up to the fish, and a side of simmered coconut broth with chile pods accompanies the entrée.
"It's fresh, tasty and fork-tender—a hit with our guests," says Mark LePore, Executive Chef. "It's a staple on our spring/summer menu, but I receive calls during the fall and winter months from guests who ask to reserve a snapper for their weekend dinner."