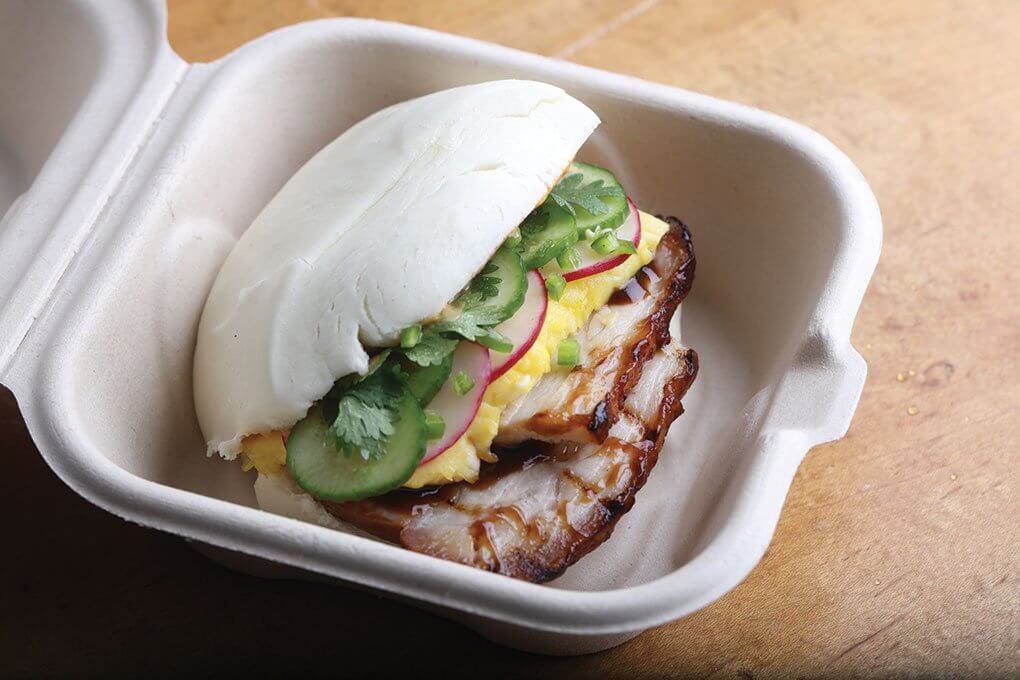 SPONSORED CONTENT
Breakfast is the most exciting daypart in our industry right now. Both an influx of global flavor mash-ups and an exuberant "anything goes" consumer attitude has propelled innovation in this space. Familiarity, though, needs to anchor flavor adventures, promising diners that they won't be taken too far out. Eggs, of course, serve that function beautifully, promising "breakfast" no matter what the build. Pork has a similar effect—thanks to breakfast favorites like bacon, ham and sausage.
Chefs today are taking that idea of familiarity and adventure and applying it to trend-forward pork-centric dishes that make breakfast today so dynamic. They're also responding to consumers' busy lifestyles, making their breakfast stars portable for on-the-go lifestyles. It's a smart move, considering 33 percent of 18- to 34-year olds eat their weekday breakfasts en route to work or school, according to Technomic.
Joe Frillman, Executive Chef/Owner of Daisies, a New American spot in Chicago, demonstrates the opportunity in craveable, unique breakfast handhelds with his Breakfast Pork Belly Bun. "Diners are familiar with sausage and egg, bacon and egg, or ham and egg sandwiches, so this isn't too much of a stretch, but it's something new and exciting," he says.
He flavors pork belly with sugar, salt and lemon zest, letting that marinate for six hours. He then rinses the belly and roasts it until golden brown. For service, he crisps the belly in a pan and adds it to warm steamed buns, along with a dose of Sriracha. He adds eggs that have been scrambled with jalapeño and cilantro, then finishes the build with hoisin and pickled cucumber and radish.
"You get the richness from the pork belly and the brightness from the pickle, along with a bit of heat. It works really well together," says Frillman.
Carnitas Craze
Carnitas, that wonderful invention of rich, shredded pork that has been slow-cooked, then roasted for a deliciously crispy texture, is breaking out of its lunch and dinner positioning and moving into breakfast. From breakfast tacos and burritos to breakfast flatbreads and sandwiches, the crave factor with carnitas, along with a push from consumers for more exciting options, are driving menu development here.
Carnitas on Breakfast Menus
Poblano Smothered Breakfast Burrito: Smoked pork carnitas in a flour tortilla filled with country potatoes, scrambled eggs, cheddar and Monterey Jack, onion, jalapeño, tomato and roasted corn, then smothered with poblano cream sauce, a drizzle of citrus chile and pico de gallo
—Village Inn, based in Nashville, Tenn.
Sabroso (Yummy) Carnitas Breakfast Sandwich: Tender carnitas, broken eggs, Hatch green chiles, caramelized onions, and spicy aïoli, grilled in white bread
—Jitters Lunchbox, Flagstaff, Ariz.
Carnitas Benedict: Braised pork served over housemade cornbread, with arugula, poached eggs and hollandaise
—Próximo, Fort Wayne, Ind.
El Camino: Poached egg, avocado, pulled-pork carnitas, black bean salsa, red cabbage, fried tortilla, cilantro­
—Egg Shop, two locations in New York
Bowl Them Away
The bowl build phenomenon continues, serving up a unique platform for innovation while solving many of today's foodservice challenges. Bowls encourage trial because of their familiar, comforting posture. They also seem to carry both a health halo and an assurance of satisfaction—a winning formula today. Bowls find a happy home at breakfast, thanks in part to their portability.
Thomas Kim, Chef and Co-Owner of The Left-Handed Cook in La Crescenta, Calif., turns to the bowl platform for a number of trend-forward menu items. His Seared Pork Belly Breakfast Bowl stars thinly sliced pork belly, kimchi and pickled daikon over white rice, crowned with a fried egg. He describes his Omu Rice Bowl as a "riff on Korean-Japanese flavors."
He combines braised pig tail, pork belly and potato hash, stirring that combination into fried rice. Kim then blankets the bowl in a fluffy, soft omelet, topped with a carrot-ginger emulsion. "I love using pork belly in this recipe," he says. "And it's an easy transition for guests who like ham and bacon at breakfast to embrace this cut."
On the Go
Younger consumers are the biggest driving force behind the away-from-home breakfast phenomenon, but all generations have demonstrated a shift in eating habits—thanks to busier, on-the-move lifestyles.
Give them what they want!
45% of consumers say they skip breakfast during the week because they don't have the time.
Maximize the opportunity!
24% of consumers 18-34 years old say that offering breakfast sandwiches/wraps/burritos is important or extremely important.