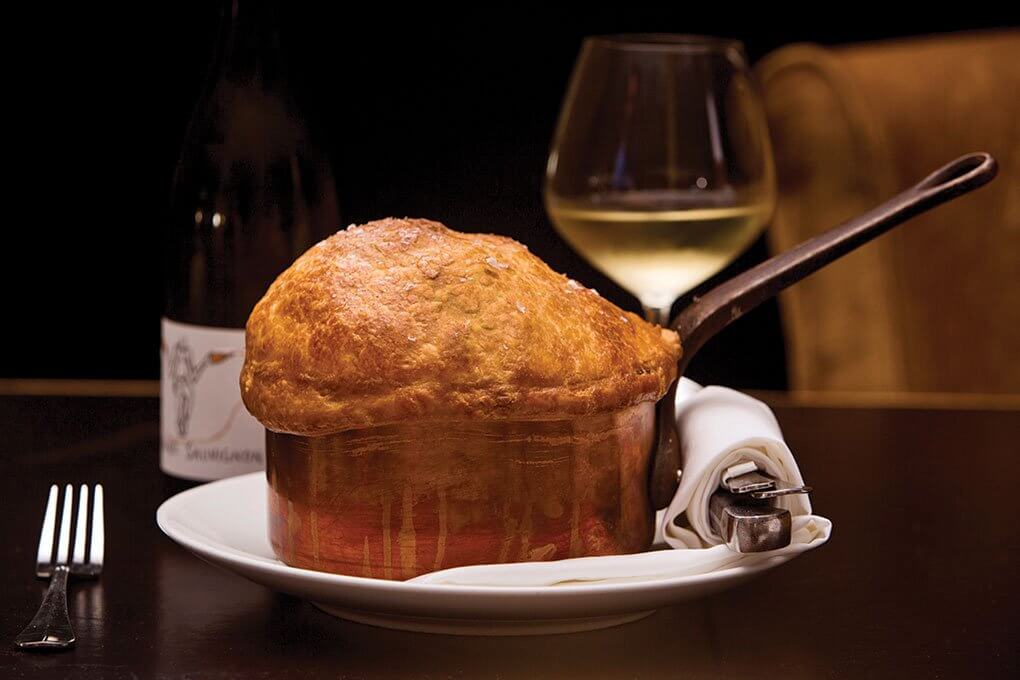 By Flavor & The Menu
April 19, 2019
There's nothing quite like the flourish of tableside presentation, especially when it showcases the decadence of a dish. Maine Lobster Pot Pie at Bourbon Steak by Michael Mina, a modern steakhouse, wows guests with its theater and its rich, indulgent flavors.
This signature item is assembled in a gleaming copper pot—Maine lobster, sauce américaine, heavy cream, market baby vegetables, potatoes, brandy and black truffles. It's topped with housemade pastry dough, sea salt and egg wash, and is baked until crisp and beautiful. The copper pot domed with a puffy, golden brown crust is presented by the server, then plated tableside.
The crust is cut off and placed on the plate, and the server then carefully assembles the lobster back to its original shape, laying it over the pastry, and finishes the dish with the vegetables and truffle-brandy lobster cream sauce.
"The flakiness of the dough combined with the rich lobster sauce provides a hit all on its own," says Gabe Fenton, Executive Chef of the Bourbon Steak in Miami. "Combine this with the freshest lobster and beautiful market baby vegetables and you have a home run and consistent winner on the menu."