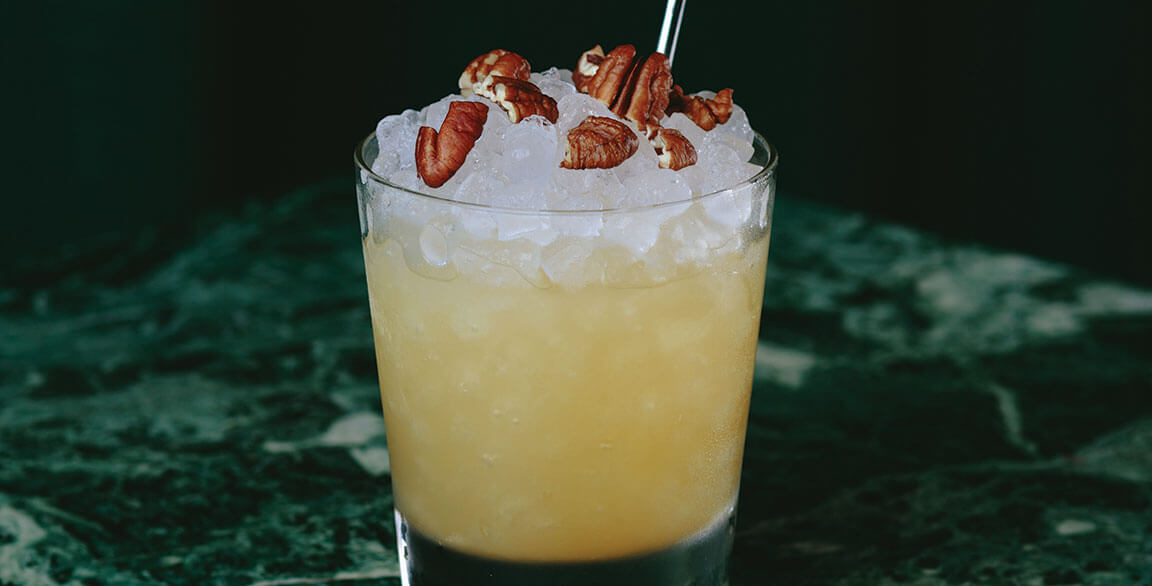 By Rob Corliss
September 10, 2019
Cold-weather cocktails that warm the soul and satiate the spirit don't always need to be hot, temperature-wise, but they do need to heat up the trend appeal. The fall and winter seasons are an ideal time to communicate cozy comfort on beverage menus.
Flavor combinations should be smooth, easy sipping, and speak to the spirit that the shift in seasons evokes. Cocktails that rekindle timeless classics will resonate with consumers looking for a premium nostalgic experience.
To help execute this strategy, position your cocktail menu with a quality-first messaging. Convey quality through elevated ingredients, seasonal attributes, local/regional partnerships, authenticity and technique.
Open the door to further excitement with the introduction of emerging flavors in cocktail creation. There is beauty in artfully pairing the unexpected with the familiar.
Introduce savory cues, bittersweet notes, fermented ingredients, botanicals/aromatics, global accents, alluring spices and the brightness of exotic citrus. Operators can ground these emerging flavors by leaning on perennial favorites to anchor a drink. Here are 10 ways to bring new school to old school and entice with intriguing flavors.
1

Apple Many Ways

Apple is an established flavor, but it's being showcased in sophisticated ways. It's a beautiful and refreshing complement to alcohol-based drinks. Fresh-pressed, hard, mulled or chilled, apple-based cocktails deliver flavor that relates on a basic level.

Applejack Cocktail: Applejack, apple cider, raspberries, fresh lemon juice, sugar
—Fresh Kills Bar, Brooklyn, N.Y.

Apple Pie: Laird's apple brandy, spiced apple butter, lime, lemon, egg yolk, apple chip; shaken and served up
—Taste Bar + Kitchen, Houston

Try This
Royal Cider: Chilled fresh-pressed apple cider + Grand Marnier + fresh thyme sprig + bullet ice
Mulled Holiday Wassail: Warmed hard cider + red wine + blood orange slices + whole cranberries + star anise pod
2

Cocoa-ish

Chocolate provides operators with a variety of connection points and has been inspiring drinks with a newfound savory appeal. Move away from overtly sweet and impart the essence of chocolate, enhancing drinks with spiced bitterness, richness, aromatics and warmth.

A Fig in the Air: Plantation dark rum, Madeira, dry nuts, figs, organic cocoa nibs, vanilla, clarified with milk
—Dirty Habit, San Francisco

50/50 #1: Potato vodka, port, cocoa, currant
—Bully Boy, Atlanta

Try This
Midnight Madness: Chocolate stout beer + Baileys + grated dark chocolate
Gingerbread Cocoa: Hot dark cocoa + gingerbread syrup + Cointreau + butterscotch whipped cream topper
3

Cold-pressed/Cold-brewed

Leveraging and merging the mass appeal of cold-pressed juices or cold-brewed beverages with a bit of alcohol and a diverse range of emerging flavors translates to cocktail success. Consumers will appreciate the lighter touch and forward-thinking moderation.

Fresh Strawberry Martini: Freshly muddled strawberries, Tito's vodka and Connecticut's own Ripe cold-pressed agave citrus sour mix
—Ninety Nine Restaurant & Pub, based in Woburn, Mass.

Lamplighter Inn: Cold brew, heavy cream, lemon, egg white, seltzer
—Death & Co, Denver

Try This
Blushing Beet: Tequila + cold-pressed beet juice + roasted blackberries + lime
Pomelo Greyhound: Gin + cold-pressed pomelo juice + amber agave nectar + rosemary sprig
4

Fermented & Infused

Fermentation continues to influence all aspects of menu development, as back-of-house techniques and creativity evolve to keep pace with adventurous palates. Take layered cocktail flavor to the next level with the introduction of fermented infusions, pickled vegetable garnishes and more.

Root Bloody: Gin, aquavit, carrot, ginger, mango-habanero, pickle brine, soy sauce, Old Bay, pickled carrot
—The Saratoga, San Francisco

Captain's Brass: Fermented plum-infused bourbon, maple, Angostura bitters
—1751 Sea and Bar, Houston

Try This
Fizzed Lemon Finisher: Limoncello + ginger kombucha + orange blossom honey
Slow Burn: Jalapeño-infused tequila + charred red bell pepper and tamarind syrup + lime wedge + oversized smoked ice cube
5

Tea Tribute

Tea continues to gain menu prominence in new and unexpected applications that showcase its menu value. As consumers crave more from beverage experiences, operators can look to tea for adding body to cocktails, introducing tannins and interesting yet subtle back notes.

Full Moon Party: Thai tea apricot mix, Mount Gay rum, Chinese five spice and citrus
—Quill, Washington, D.C.

Jasmine Mimosa: Blanc de Blancs, jasmine tea syrup, orange juice
—Sanctuary T, New York

Try This
Pearteani: Pear liqueur + vanilla vodka + winter white Earl Grey tea
Emperor's Tea: Shochu + matcha + tangerine juice + smoked tea salt rim
6

Coffee-centric

Coffee is a perennial powerhouse and vehicle for new flavors. Its versatility, in both hot and cold applications, continues to evolve and drive beverage purchases. Connect with the consumer affinity for coffee by positioning it as the star feature of your cocktail.

Day Ender: Death Wish Coffee vodka, Lemon Hart Blackpool Spiced Rum, cold-brew coffee
—Bloomsday, Philadelphia

Spanish Coffee: Orange liqueur, Demerara, coffee, malted cream, fire and magic
—Bordel, Chicago

Try This
Grand Espresso: Espresso + Ancho Reyes liqueur + amaretto + cinnamon stick + ice
Coffee Old Fashioned: Espresso + whiskey + burnt-sugar syrup + bitters + candied orange
7

Mistletoe Mules

The mainstay mule can easily morph into a dynamic enhanced beverage feature, tempting guests looking for something familiar yet more memorable to celebrate the holidays. This creates an opportunity to incorporate bold flavors to the classic cocktail combination.

Jalisco Mule: Don Julio blanco tequila, fresh lime juice, Monin agave nectar, blackberries, Fever-Tree ginger beer, cracked black pepper
—Morton's The Steakhouse, based in Houston

Magic City Mule: Absolut Elyx, house pineapple-ginger beer, chile-pepper bitters
—The Sylvester, Miami

Try This
Ruby Mule: Vodka + ginger beer + pomegranate purée + lime wedge
"Hot" Mule: Gin + tamarind soda + crystalized ginger + hot honey
8

Updated Milk Punch & Eggnog

Reset consumer expectations using housemade expertise to craft creamy, milkshake-thick eggnog or an on-trend milk punch. Infuse both with exceptional spirits and craveworthy flavor enhancements that deliver luscious texture.

Box Lunch: Goat's milk, genepy, Palo Cortado, oatmeal spices
—Billy Sunday, Chicago

Brandy Milk Punch: Brandy, Irish cream, vanilla, cream; shaken, topped with nutmeg, served over crushed ice
—Tibby's New Orleans Kitchen, three locations in Florida

Try This
Bombay Eggnog: Coconut milk/condensed milk + gold rum + brandy + cardamom-brown-sugar rim + rose-petal topper
Salted Caramel Eggnog: Housemade classic eggnog + caramel swirled glass + Maldon salt-flakes topper
9

Hot Toddies

Hot beverages make for an impactful cold-weather menu complement to chilled cocktails. Change up the traditional hot toddy with modern touches that will transport discerning guest tastes into premium nostalgia or a new experience.

Two Hands Hot Toddy: Apple moonshine, lemon, mint, cinnamon, star anise
—Two Hands, New York

Black Currant Hot Toddy: Harney & Sons black currant tea, house-infused cinnamon-and-clove bourbon, muddled orange and lemon
—Mother's Bistro & Bar, Portland, Ore.

Try This
Yuzu Gin Toddy: Gin + clover honey + yuzu
Maple Chai Toddy: Bourbon + maple syrup + chai spice + citrus
10

Hot Buttered…

Cocktails such as hot buttered rum allow operators to apply enticing signature touches without deviating too far from a classic. There is also an interactive opportunity for tableside theater, letting guests add the splash of hot water to their cocktail.

Hot Buttered Rum: Winter rum blend, cinnamon, clove, allspice, nutmeg, Nordic butter, spiced cream
—Three Dots and a Dash, Chicago

Hot Buttered Soul: Brown butter bourbon, pecan orgeat, lemon, cassia, cayenne pepper
—Midnight Rambler, Dallas

Try This
Hot Buttered Bourbon: Bourbon + soft butter + cream + buckwheat honey + splash of hot water
Hot Buttered Cider: Fresh-pressed apple cider + dark rum + spiced butter + lemon peel + splash of hot water