Coffee culture is humming, getting jolts of energy from the latest crazes, from cold brew to nitro to cascara. The world of tea is enjoying a similar track, gaining momentum from varietals like matcha and Lapsang souchong. Together, coffee and tea carry a lot of good menu juju.
It makes sense that the cocktail world is plugging in, rewiring some of that buzz into boozy beverage development. Of course, the incredible popularity of brunch has helped stimulate coffee-infused cocktail innovation. Tea in drinks has gained traction thanks to both a push in global flavors and its positive wellness story.
But beyond that, drink developers have also discovered coffee and tea's ability to add structure and backbone to cocktails—important qualities when building modern, flavor-forward drinks.
Our Restaurant at The Williamsburg Hotel in Brooklyn, N.Y., demonstrates how the opportunity is taking shape. The Rise & Shine stars Casa Dragones tequila, Jack's cold brew, agave and Milkadamia (macadamia nut milk).
"The combo of Casa Dragones, which is a tequila that has a nose of fresh pepper and grapefruit, with cold brew will make you rise and shine after having the drink," says Rael Petit, beverage director. "Also, the great thing about cold brew and agave liquor is that you don't need to add any sugar to the cocktail."
Served in a Collins glass, it showcases how coffee can help lengthen a drink, making it less of a novelty and more of a mainstay. Drinks like this one capture the spirit of modern times—cold brew, nut milk, alternative sweetener—all packing a seriously boozy punch.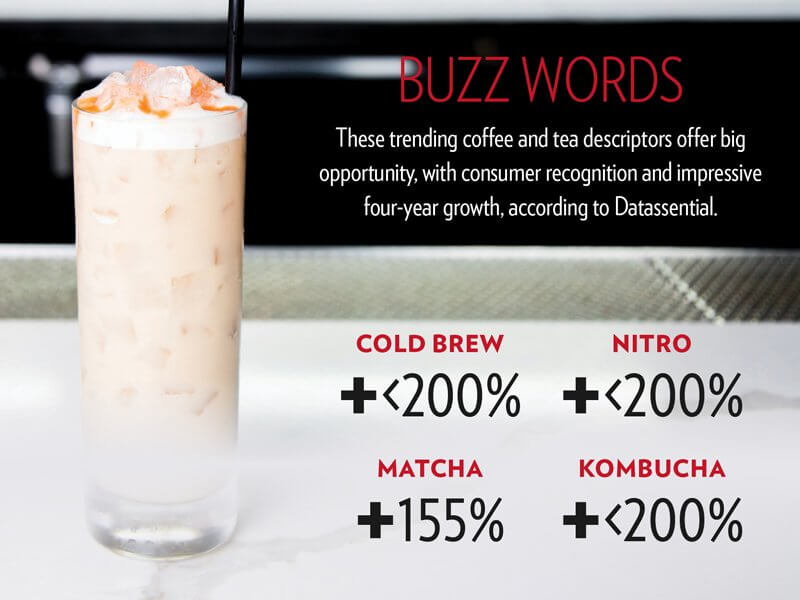 Espresso Yourself
The espresso martini used to be such a novelty. It's more established now, inviting creative renditions for that signature status. At The Shannon Rose Irish Pub, with locations in Clifton and Ramsey, N.J., the Espresso Martini features a shot of espresso, vodka steeped in vanilla bean, and Tia Maria coffee liqueur.
"A fresh-brewed espresso shot adds an earthy and robust coffee flavor and creates a creamy head reminiscent of the coffee drink, while adding the kick an espresso martini is known for," says Sal LaVerdi, beverage program specialist and general manager.
Further showcasing coffee's new role in cocktails, the Midnight Train to Portland at Chicago's Travelle Kitchen + Bar is touted as "a jet-lag remedy and the perfect pick-me-up," made with pinot noir, espresso tequila, pear wine and aromatic bitters.
Kombucha Catches On
Just a couple years ago, you'd be hard-pressed to find kombucha outside of natural grocery stores. Today, the fermented, lightly effervescent black or green tea is part of the functional food and beverage movement, offering the promise of good bacteria—along with a healthy dose of coolness. It's expanding its reach today, sometimes even offered on tap. And some forward-leaning restaurants are now leveraging its popularity, adding it to cocktails for clear menu differentiation.
At Cindy's in Chicago, the SCOBY Snack stars Citadelle Gin, Frog Juice kombucha, grapefruit and sparkling rosé. The drink plays up the functional side of kombucha with its name, which stands for "Symbiotic Colony of Bacteria and Yeast" and is the starter for all kombucha.
Revelator Coffee Company, based in Atlanta and boasting more than 20 locations, serves The Pinky Promise, a rosé sangria with the addition of lavender and kombucha. "The kombucha brings a beautiful effervescence to this drink," says Missy Roll, beverage director for Revelator in Birmingham, Ala. Notes of baking spices like nutmeg, cinnamon and ginger soften the flavor. "The appeal of bringing something like kombucha to a cocktail is balance—you've got booze and medicinal benefits all swimming together in one glass."
Beyond Irish Coffee
The Chickory Dickory Dock at Hide in Dallas modernizes the Irish coffee with finesse, tapping a few trending ingredients while pulling off a really appealing flavor combination. The cocktail combines Irish whiskey, cold-brew coffee, chai tea, sherry, condensed milk and black-walnut bitters.
"The scent of fresh grated nutmeg tempts you to follow it into a rich blend of coffee and spicy chai," says Scott Jenkins, director of beverage. "Both ingredients are lovely, and supported by a backbone of Irish whiskey infused with the sweet, sharp spice of chicory. All of these flavors are held together by the soft, sweet creaminess of condensed milk."
On the Menu: Coffee & Tea Cocktails
Matcha with rum, honey, cardamom and milk
—Olmsted, Brooklyn, N.Y.
Dark and Icy: CH Vodka or Maker's Mark, Dark Matter cold brew, CH coffee liqueur, hazelnut, cream
—Half Sour, Chicago
Matcha-Cha: Few gin, matcha, ginger liqueur, green chartreuse, lemon
—Kinship, Evanston, Ill.
The 8 a.m.: Nitrous-charged Vietnamese blended coffee, vanilla-infused bourbon, sweetened condensed milk
—Henry's Majestic, Dallas
Alvarado St./Best Part of Waking Up (Nitro): Milk stout with coffee, vanilla and chocolate
—The Snug, San Francisco
Chai Times
Chai tea has certainly taken the tea world by storm, and now it's adding its heady combination of Indian spices to flavor-forward cocktails. At Bombay Clay Oven in Denver, the Chai-tini cocktail features iced chai made with Darjeeling tea leaves, cinnamon, green cardamom, cloves and fresh ginger, simmered with whole milk and mixed with a chai liqueur, then served in a chilled martini glass garnished with cinnamon powder.
"Authentic Indian chai brings an aromatic and bold flavor profile—evenly balanced and with a hint of sweetness," says Marshall Miranda, co-owner of this Indian-themed restaurant. "The combination makes for a smooth and refreshing martini our guests love on hot Denver days."