By Eliza Amari
September 10, 2019
Restaurant brands understand the power and the purpose of a strong limited-time offering (LTO). They also are keenly aware of the importance of serving up "Wow!" factor. A smooth road to enticing, exciting dishes is through strategic partnerships with commodity boards.
Representing the promotional arm of produce, meats, seafood, nuts and legumes, these boards are uniquely positioned to help develop campaigns that work for a particular restaurant brand—while tapping into trend-forward flavors and formats. Boards also are primed to maximize the excitement of seasonal specials, showcasing the best of spring, summer, fall or winter in delicious, unexpected ways.
Translating Ceviche
The beginning of the California avocado season is the ideal time to push a fresh, seafood-inspired LTO for Lent. Chevys, a casual California-inspired Mexican chain based in Emeryville, Calif., developed this Shrimp Ceviche with fresh shrimp marinated in citrus juices, red onion, jalapeño, bell pepper and avocado, which adds a buttery flavor that balances the punch from the onion and jalapeño.
Served with Chevys' hand-cut, house-fried tortilla chips, this Lenten LTO appetizer was featured from March through April, along with other seafood favorites, such as Shrimp & Crab Enchiladas, Grilled Fish Tacos and Grilled Salmon. Among the promotional efforts around this special menu, Chevys marketed this dish to its e-club members and ran the California Avocado logo on its LTO menu.
"We like to highlight new dishes with our loyal e-club members, and working with the California Avocado Commission was a quality partnership we were proud to share," says Leslie Mendoza, senior director of marketing for Chevys.
"Chevys is about fresh, made-from-scratch dishes, and introducing the Shrimp Ceviche on the spring menu was a perfect complement to what the Chevys brand stands for. We wanted to provide bright flavors in this dish, and it delivered," says Mendoza. "Promoting a seasonal, local ingredient tells our customers we bring in only quality ingredients. Also, as a California-based chain, we like to support local ingredients such as California avocados."
The Shrimp Ceviche helped Chevys translate a trend-forward seafood application—ceviche—while keeping things seasonally focused with avocado. The LTO served to differentiate the Chevys brand with a memorable, singular, seasonal experience.
Salad Sensation
The California grape season helped inspire this appetizing savory-sweet California Harvest Salad LTO, developed in a collaboration between the California Table Grape Commission and Wow Café, recently rebranded to Wow American Eats. Serving up classic American favorites with a modern twist in a fast-casual setting, Covington, La.-based Wow is known for its award-winning signature sauces and made-from-scratch spice rubs.
"The purpose of the promotion was to keep the minds of the Wow guests anticipating and exploring innovative, delicious food offerings from the brand," says Courtney Romano, foodservice consultant for the California Table Grape Commission. "California grapes offered fresh appeal—the salad was very well-received and significantly exceeded expectations in certain locations."
The salad showcases grapes in a new and enticing way—marinated in Wow's proprietary Kansas City Honey BBQ sauce and finished on the grill. Served warm, they introduce a pleasing temperature contrast to the salad. The build featured a sweet-smoky flavor from the marinated grapes, accented with bacon and honey-roasted almonds. "The pop of each grape provided a smoky-sweet burst of flavor," says Romano.
"The grapes served as both a dressing and topping, but also as the hero of the salad, offering flavor, texture and visual appeal." Served with Wow's popular ranch dressing, this dish focused on making grapes the star ingredient, both by choosing an innovative preparation and by pairing it with a key signature ingredient, the brand's own barbecue sauce.
The promotion ran last fall, but a return looks promising. According to Brad Creel, consulting chef with Wow, the success of the California Harvest Salad has led to additional exploration with grapes, and this salad will be brought back from time to time—always during the California grape season.
Season Opener
Promoting seasonality is a standard strategy for most restaurant concepts, but Seasons 52 takes it a step further, integrating micro seasonality in all levels of its operation, from its name to its menus. This polished casual, based in Orlando, Fla., has a mission to provide a better way to eat by sourcing ingredients at their peak freshness and creating full-flavored and satisfying menu items.
During the salmon run season, Seasons 52 features a limited-time wood-grilled Alaska sockeye salmon as part of that commitment. Partnering with the Alaska Seafood Marketing Institute (ASMI), the promotion runs for about eight weeks, this year from late May to late July, in 44 units in the Midwest, South and East.
"Alaska seafood is a powerhouse on restaurant menus, and LTOs like Seasons 52's highlight the unique opportunity of capitalizing on the excitement of wild-capture fisheries," says Sarah Cannard, ASMI's domestic marketing coordinator. ASMI has partnered with Seasons 52 for six years now, and their values are well aligned.
"We value our partners who share the same commitment to the freshest, most flavorful ingredients sourced in a sustainable way," says Tina Bourbeau, VP and corporate executive chef for Seasons 52.
The dish features a wood-grilled Alaska salmon fillet served with spiced summer squash and green beans, complemented with lime brown butter. The lime brown butter roasts with the caramelized vegetables and then eventually dresses the fish, adding a nutty richness and acidity that sets off the rich salmon flavor. The vegetables also add a contrasting texture to the grilled fish for a balanced plate.
Grab-and-go Winner
Today's consumers expect seasonality, freshness and creative flavor combinations—even on the go. A successful partnership between Farmer's Fridge—a growing Chicago-based chain of automated "smart" refrigerators that instantly provide chef-curated meals and snacks—and the U.S. Highbush Blueberry Council resulted in a Blueberry Mezze Salad LTO .
In addition to colorful pops of sweetness from fresh blueberries, the salad paired sugar snap peas, cucumber, watermelon radish and toasted almonds with a crisp romaine and shredded red cabbage mixture. Packed over a protein-rich base of tangy nontraditional tabbouleh with quinoa and chickpeas, the salad gets its creative edge from a blueberry vinaigrette dressing made with sumac, Aleppo chile and frozen blueberries.
"This colorful and flavorful salad is a spring celebration in a jar—and just so happens to be vegan," says Jessica Foust, culinary director at Farmer's Fridge. "The inspiration for the Blueberry Mezze Salad started with the blueberries, and as a celebration of spring and all it has to offer. This salad delivers on this seasonal freshness by utilizing not only fresh blueberries, but also frozen blueberries, which are the anchor for our housemade Blueberry Vinaigrette."
With a focus on seasonal, sustainably sourced produce, Farmer's Fridge harnessed the opportunity to highlight blueberries, developing a recipe that celebrates spring and summer. The U.S. Highbush Blueberry Council provided marketing support via media outreach, a chef Q&A blog post on the council's website, social media posts and e-newsletter blasts—all to promote the LTO.
Over the course of the 2018 summer promotion, 6,700 Blueberry Mezze Salads were sold, using more than 1,000 pounds of blueberries. "The Blueberry Mezze Salad was a huge hit with our high-repeat core customers," says Foust. "Blueberries are one of our favorite ingredients because they deliver great flavor, color and nutrition in our recipes, and customers naturally feel great about eating them." Foust appreciates the ease blueberries offer, as well as their versatility, given their many product forms. "They can be used fresh, frozen or dried without compromising quality," she says.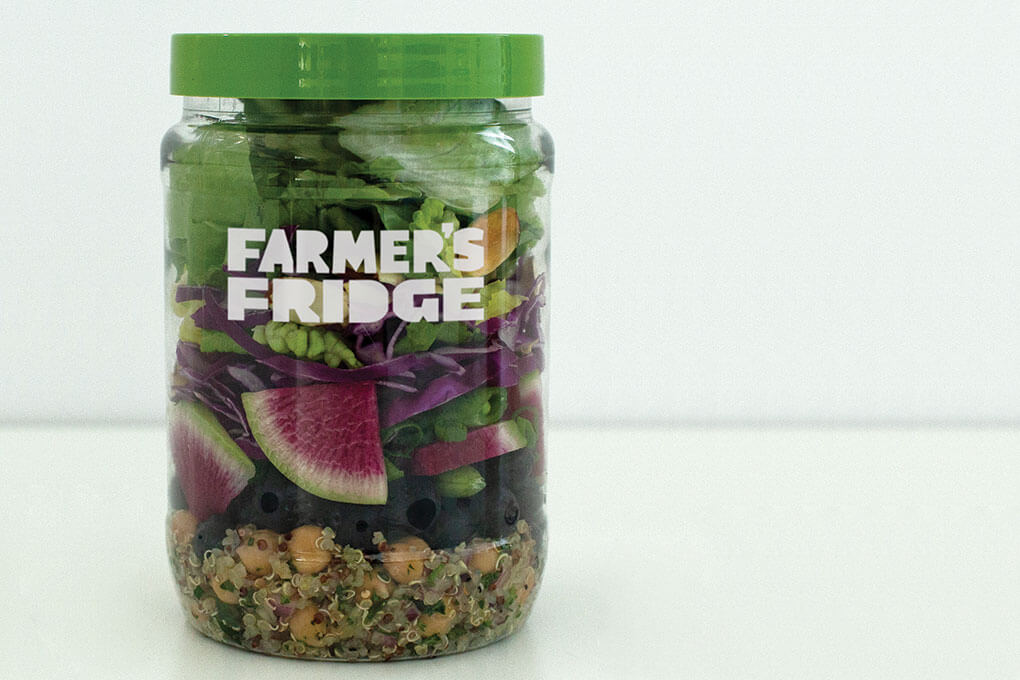 Farmer's Fridge