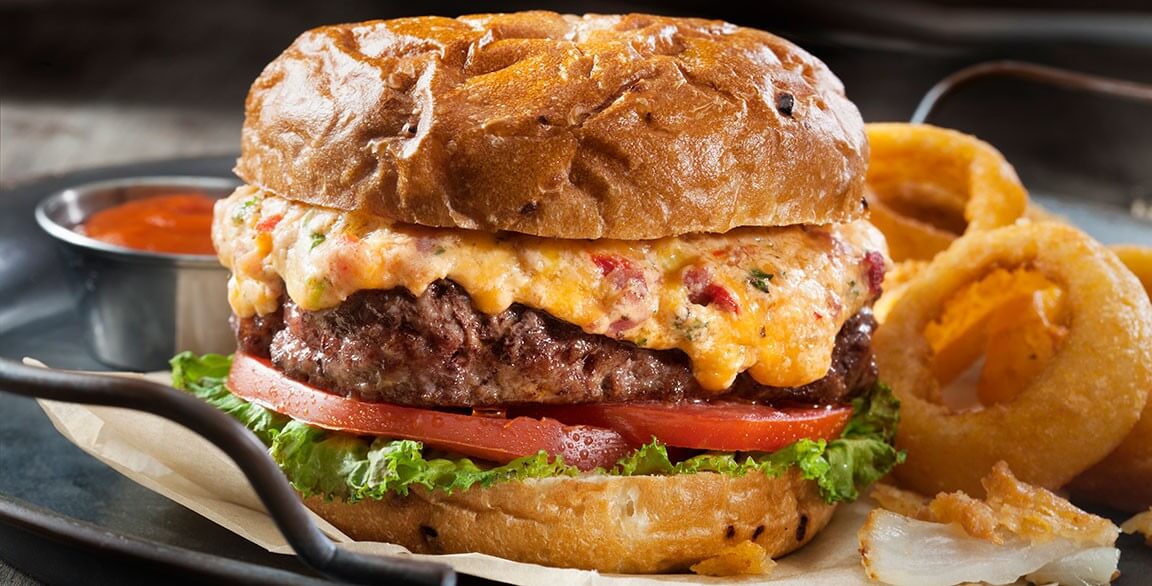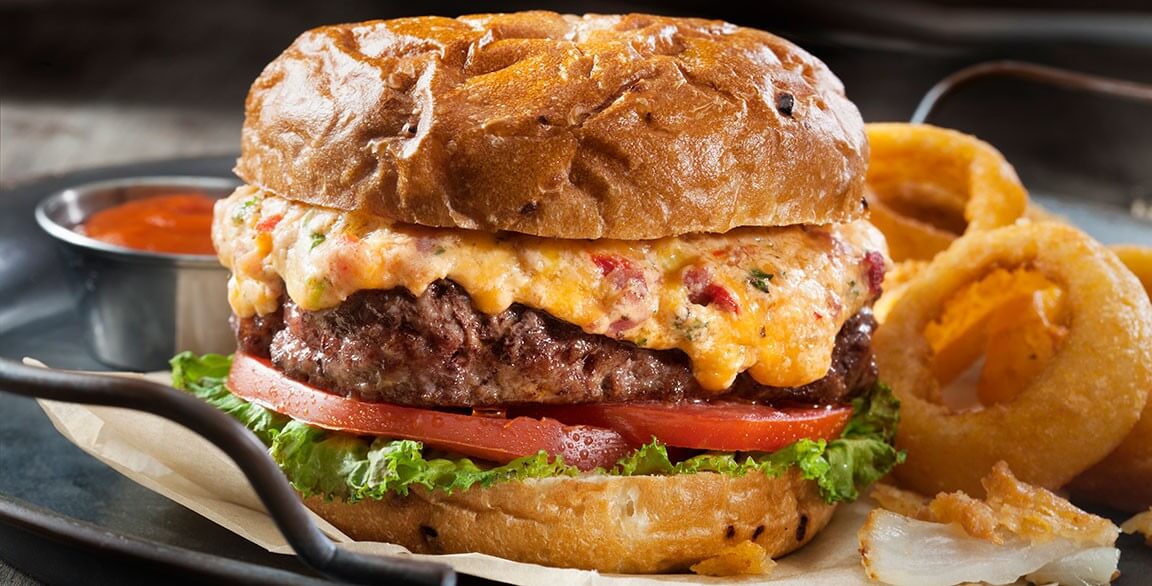 By Rob Corliss
May 18, 2021
Pimento cheese has been establishing its status outside of its Southern lineage and crushing the old adage: "One taste and you'll be hooked." Chefs are expanding its versatility and consumers are embracing its comforting charm. A savvy approach sees pimento being incorporated into mainstream menu formats wherever cheese plays a strong role. This strategy allows operators to maximize comfort while creating something new and unique.
We put together recipe builds and in-market menu examples that are refreshingly unexpected, leveraging pimento cheese's star power and crave factor.
"Try This"
Pimento Carnitas Poppers: Fresh mammoth jalapeño peppers halved and stuffed with pimento cheese and shredded carnitas; baked
Baja Pimento Lasagna: Lasagna sheets layered with ricotta-pimento cheese blend, seasoned ground beef and chorizo crumbles, red tomato sauce and salsa verde; baked
Pimento Elote Salad: Classic chilled street corn salad mixed with Cotija-pimento cheese
Pimento Juicy Lucy: Charbroiled hamburger stuffed with smoked pimento cheese, topped with white American cheese along with lettuce and tomato on a toasted brioche bun
Southern Chopped Salad: Mixed greens, pulled BBQ chicken, pimento cheese, black eyed peas, blanched green beans, fresh raw corn kernels, chopped tomato, peppered bacon, glazed pecans, citrus-ranch dressing
MENU SIGHTINGS
Pimento Cheese Beignets: Buttermilk dressing, pickled green tomato, smoked paprika
Cotton, Monroe, La.
Say Cheese: Deep-fried pimento cheese balls with a spicy pepper jelly
Sugar Hill Cidery; Norton, Va.
BBQ Pork & Pimento Cheese Wontons: Sriracha aïoli and cabbage confetti
Steel Magnolias; Valdosta, Ga.
Southern Comfort: Smoked pimento cheese and whiskey bacon marmalade served with a grilled baguette
Fado Irish Pub; Columbus, Ohio
Lodge Meat Loaf: Baked and then grilled meat loaf topped with caramelized onion, roasted mushrooms and housemade pimento cheese, served with sides of mashed red skin potatoes, green beans
Stone Mountain Grill; Charlotte, N.C.
Loaded Pimento Pizza: Pimento cheese, garlic salt, roasted chicken, spinach, red peppers, mozzarella, jalapeños and bacon
AJ's Pizza; Myrtle Beach, S.C.
Pimento Cheese BLT: Our traditional or spicy pimento cheese, crispy bacon, fresh lettuce and sliced tomato
Chicken Salad Chick, based in Atlanta
Hot Alabama Chicken Sandwich: Pulled rotisserie chicken, cayenne Buffalo sauce, pimento cheese spread, fried green tomato and Alabama white barbecue sauce on a buttered local roll
The Rotisserie Shop; Kennesaw, Ga.
Pot Roast Patty Melt: Pimento cheese, onions, mustard green salsa verde
Southern National, Mobile, Ala.
GET THE RECIPE FOR SMOKED PULLED PORK MARMALADE AND PIMENTO CHEESE