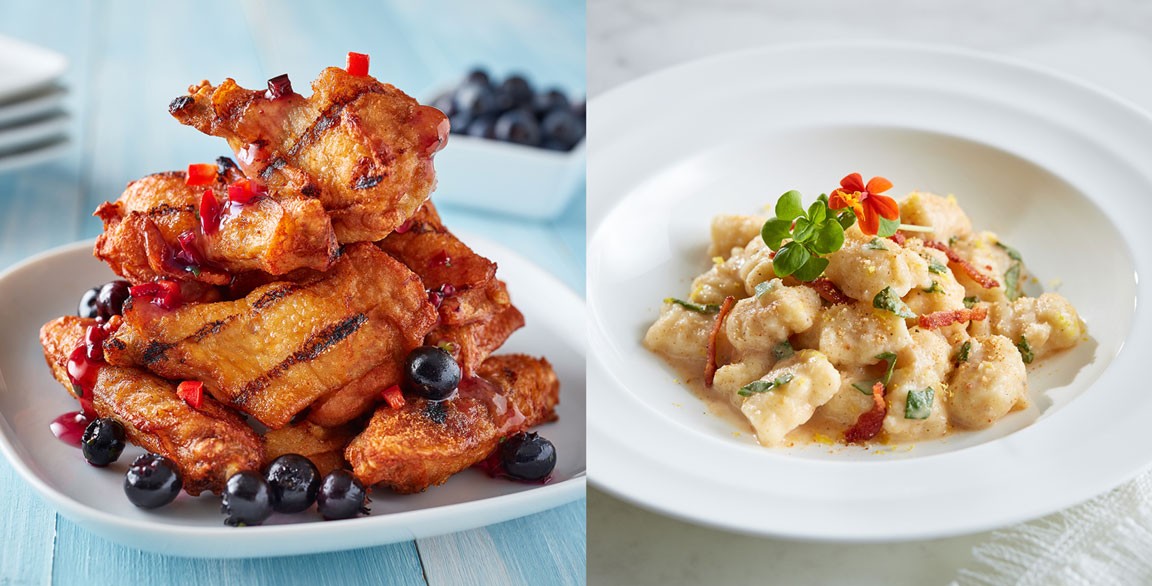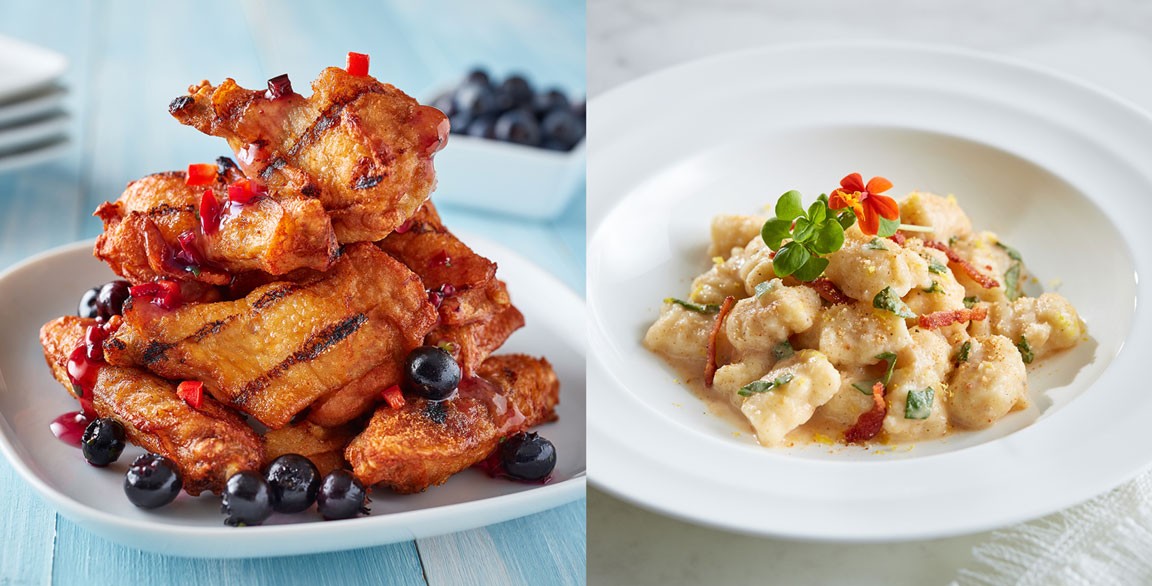 By Flavor & The Menu
June 22, 2020
Kitchen Collaborative is a recipe-development initiative formed by Summit F&B and Flavor & The Menu. To fuel flavor innovation, a group of talented chefs partnered with sponsor brands and commodity boards to create recipes that showcase the passion and potential of our industry.
CHEF SPOTLIGHT: JOE NATOLI
An ingredient with a sense of place adds a storyline to a dish. In these two recipes created by Joe Natoli, Executive Chef of Sawgrass Marriott Golf Resort & Spa in Ponte Vedra Beach, Fla., the spotlight shines on ingredients which call to mind regionality and reinforce a transparency in sourcing. His Blazin' Blueberry Glazed Wings recipe celebrates a pepper native to his locale, while the hero in his Idaho® Potato Gnocchi recipe is the iconic russet. Both recipes offer comfort and indulgence with a signature spin.
Blazin' Blueberry Glazed Wings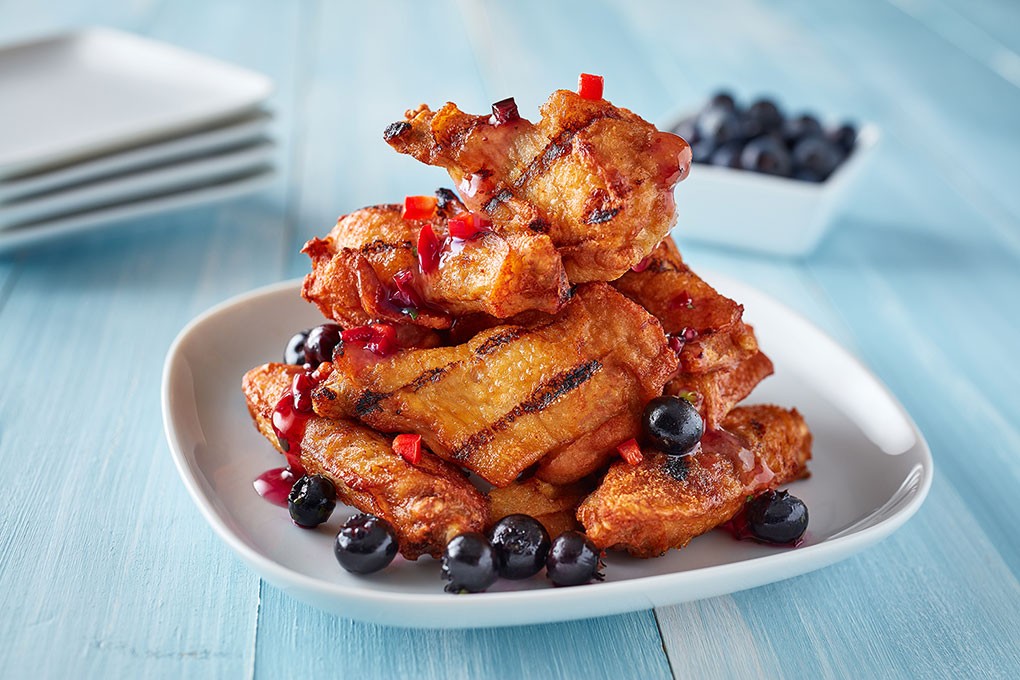 Carlos Garcia // Food Styling: Peg Blackley & Bree Williams
The power pairing in this recipe for Blazin' Blueberry Glazed Wings is blueberry and datil pepper, a chile native to St. Augustine, Fla., with a unique culinary history. Based in nearby Ponte Vedra Beach, it made sense for Natoli to feature the local hero here. "This is the perfect time of year when both the datil and the blueberry are ready for the harvest," he says. He likens the heat of the datil to the jalapeño but with an added citrus note. Natoli uses frozen blueberries for the base of the glaze, heating them with sugar, apple cider vinegar, salt and pepper until the sugar dissolves. Once cooled, he combines it with the pepper mixture: green and red peppers, datil peppers, red onion, cilantro and lime zest and juice. The fried chicken wings are tossed in the glaze and garnished with excess sauce and fresh blueberries. Natoli sees greater use for this sweet-heat glaze. "This glaze is also a great pairing for a freshly grilled catch, such as swordfish or scallops," he says.
Idaho® Potato Gnocchi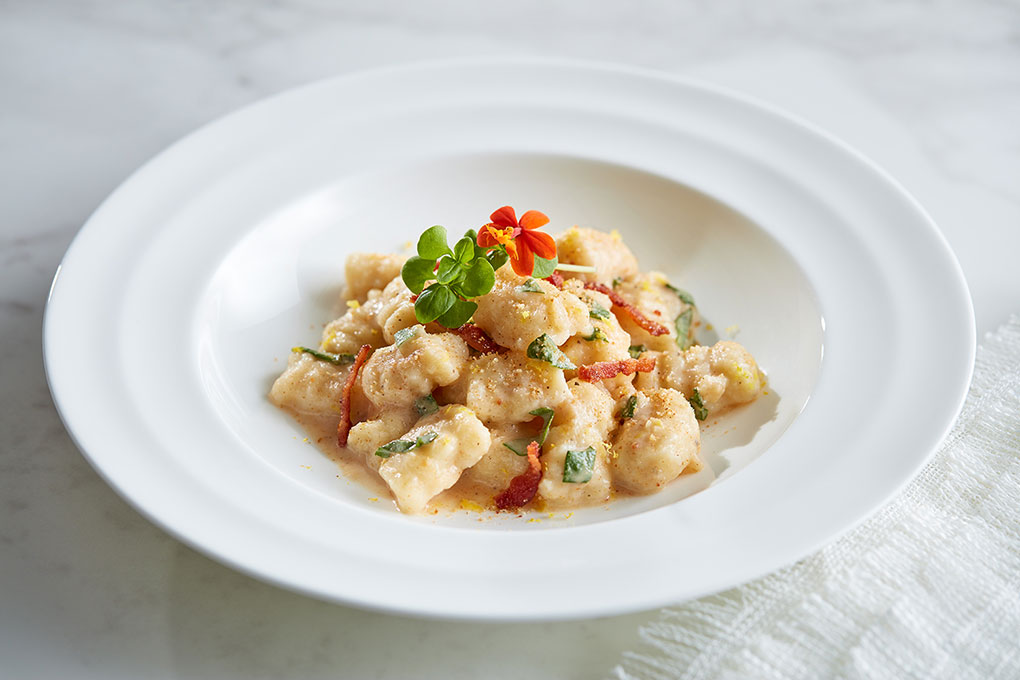 Carlos Garcia // Food Styling: Peg Blackley & Bree Williams
Natoli's take on gnocchi ups the indulgence level of this comforting classic. He relies on the Idaho russet for the base here, noting that its characteristics bring a favorable texture for this recipe. "The russet is a dryer, starchier potato which makes for a lighter, fluffier texture. A potato with a higher water content would call for more flour, thus a more dense result," he says. For his recipe, potatoes are oven-roasted just until tender, and the flesh is scooped out and grated into a mound on the work surface. In a well in the center, egg yolks, cheese, flour, salt and pepper are added, and gently kneaded into a dough. The delicate thumbnail-sized shapes are made and rolled onto fork tines to create gentle grooves for holding sauce. For the sauce, onions are cooked in bacon fat, to which Natoli adds pasta water, butter, cheese, lemon, basil and pepper. "Using the starchy cooking water in conjunction with butter and Romano cheese helps thicken this flavorful sauce," he says. Breadcrumbs are toasted with the crisped bacon and used as a topping, along with lemon zest and a dusting of cheese. "This dish is the hug you need to pull your mind off whatever else is going on in the world," he says.
Project Management: Summit F&B
Photography: Carlos Garcia // Food Styling: Peg Blackley & Bree Williams