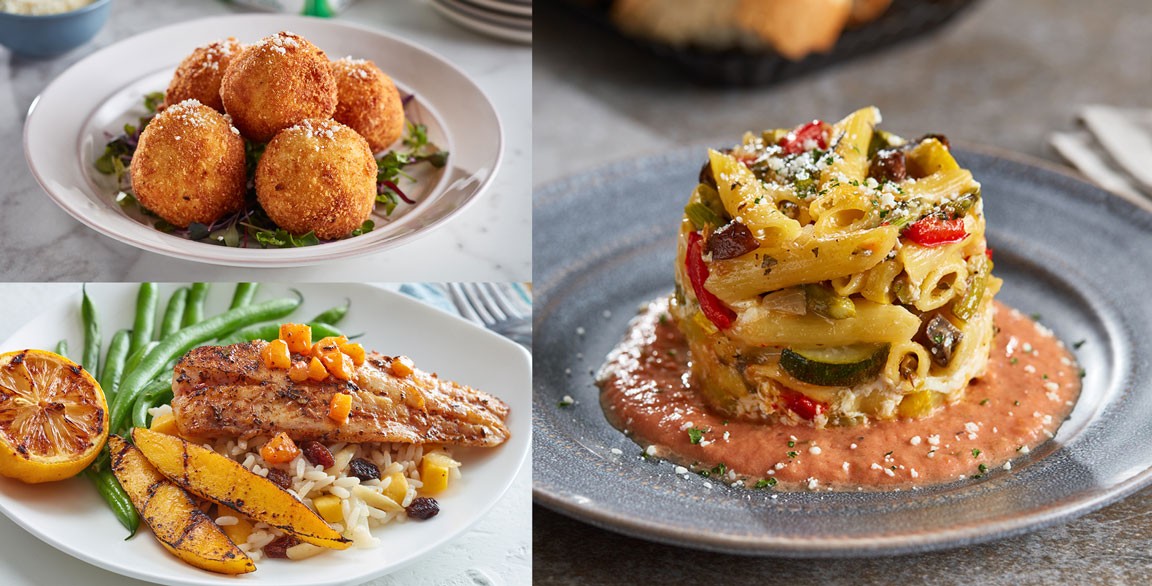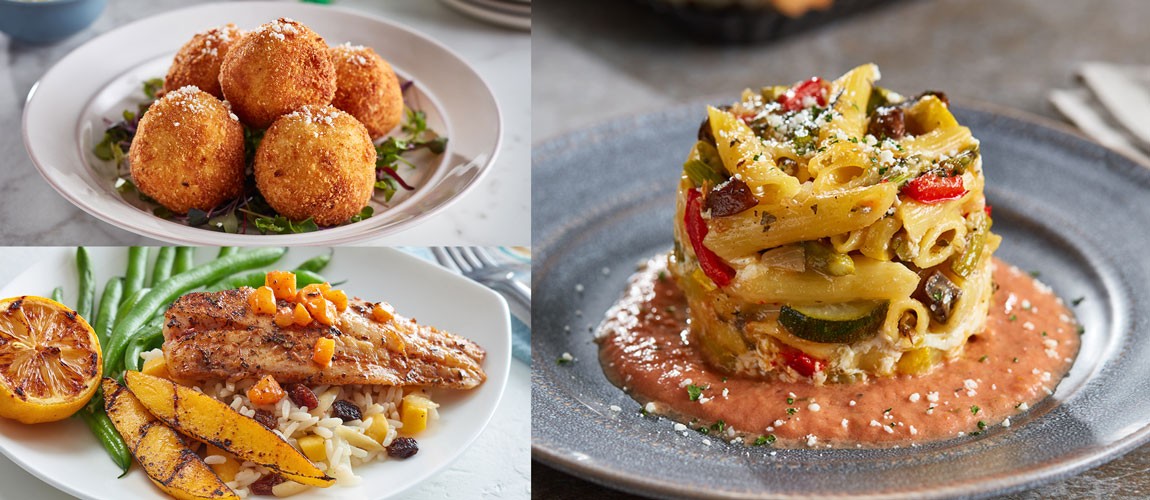 By Flavor & The Menu
June 25, 2020
Kitchen Collaborative is a recipe-development initiative formed by Summit F&B and Flavor & The Menu. To fuel flavor innovation, a group of talented chefs partnered with sponsor brands and commodity boards to create recipes that showcase the passion and potential of our industry.
CHEF SPOTLIGHT: PASCAL BEAUTE
Pascal Beaute likes butter and cream. And he likes cheese. He says it's only natural because he's French. In fact, Beaute is Maître Cuisinier de France (Master Chef of France), recognized as one of the most prestigious titles earned by chefs. He's also the Director of Culinary with Delaware North, a global foodservice and hospitality company headquartered in Buffalo, N.Y. His three recipes reflect that French sensibility, along with a keen sense of the American palate. Beaute's Boursin® Garlic & Fine Herbs Potato Croquettes are crispy, craveable morsels, boasting the trifecta of cream, butter and cheese. His Upcycled Vegetarian "Meatloaf" with Barilla Penne and Sauce Aurora answers the call for plant-forward menu items while promising a comforting flavor experience. His third recipe, Grilled Red Snapper Fillet with Mango-Sriracha Butter and Mango Rice Madras, demonstrates an elegant balance between classic and modern, sweet and hot.
Boursin® Garlic & Fine Herbs Potato Croquettes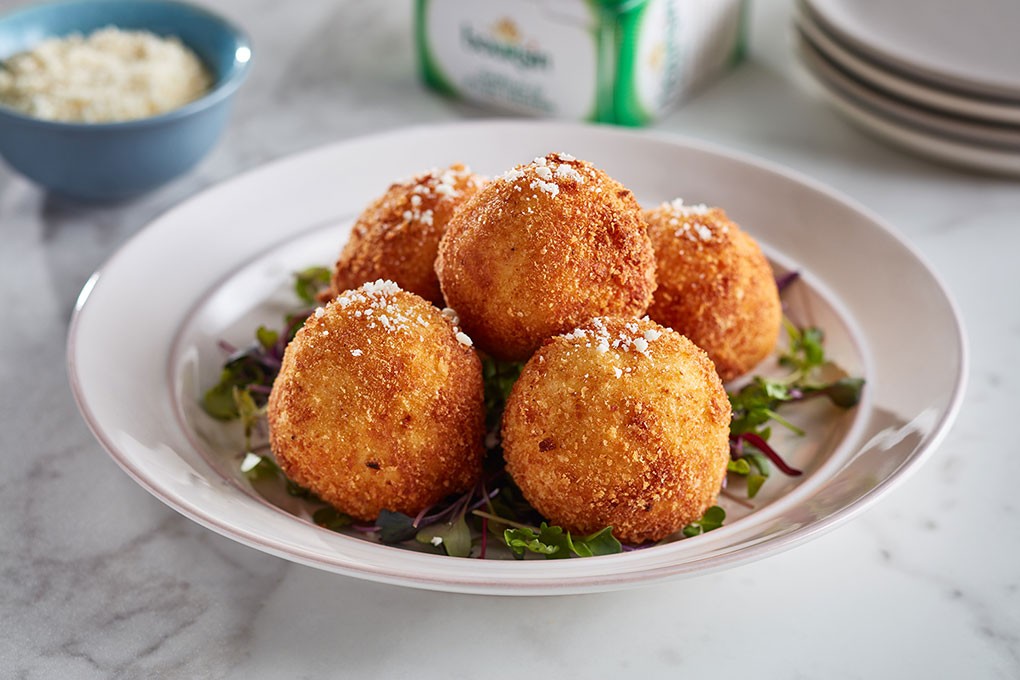 Photography: Carlos Garcia // Food Styling: Peg Blackley & Bree Williams
A perfect crispy, cheesy morsel, these potato croquettes pack in flavor and rich creaminess. Beaute shapes a mixture of mashed potato, Boursin® Garlic & Fine Herbs, butter and cream into balls, then rolls them in flour, egg wash and breadcrumbs. He freezes the croquettes until service, then deep-fries them until golden brown and puffy. "The cheese with garlic and herbs is a great flavor enhancer, and it also gives structure to the mix," he says. Boursin® and potatoes work so well together that he suggests also using the soft cheese to enhance mashed potatoes, simply adding milk to the combination of cheese, mashed potato, cream and butter for a fluffier result.
Upcycled Vegetarian "Meatloaf" with Barilla Penne and Sauce Aurora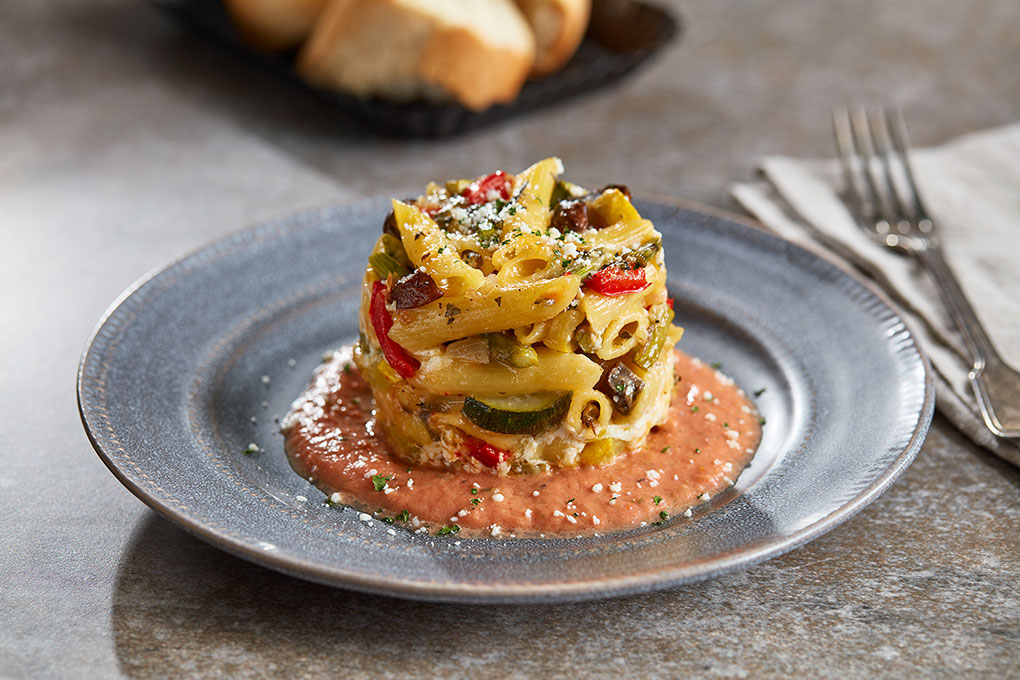 Photography: Carlos Garcia // Food Styling: Peg Blackley & Bree Williams
Call this a vegetarian "meatloaf" or a modern baked pasta dish, the visuals are striking and the message of comfort is loud and clear. It also telegraphs a no-waste effort, utilizing leftover pasta, cheese pieces and vegetable trimmings. "This is a great presentation for a veg-centric comfort food," says Beaute. Like most good things, he starts with butter, sweating onions in it then adding vegetables, suggesting mushroom stems, zucchini ends, squash, pepper and asparagus trim. He folds in the Barilla pasta, mozzarella, cheese pieces—end cuts of Brie, Boursin®, cream cheese or cheddar—garlic and herbs. He packs the mixture into a loaf pan, tops with Parmesan, then bakes and slices it. Beaute pairs the pasta with an aurora sauce, made with Barilla Marinara Sauce and heavy cream. Why the aurora sauce? Beaute offers a reminder: "I like it because I like cream—I'm French."
Grilled Red Snapper Fillet with Mango-Sriracha Butter and Mango Rice Madras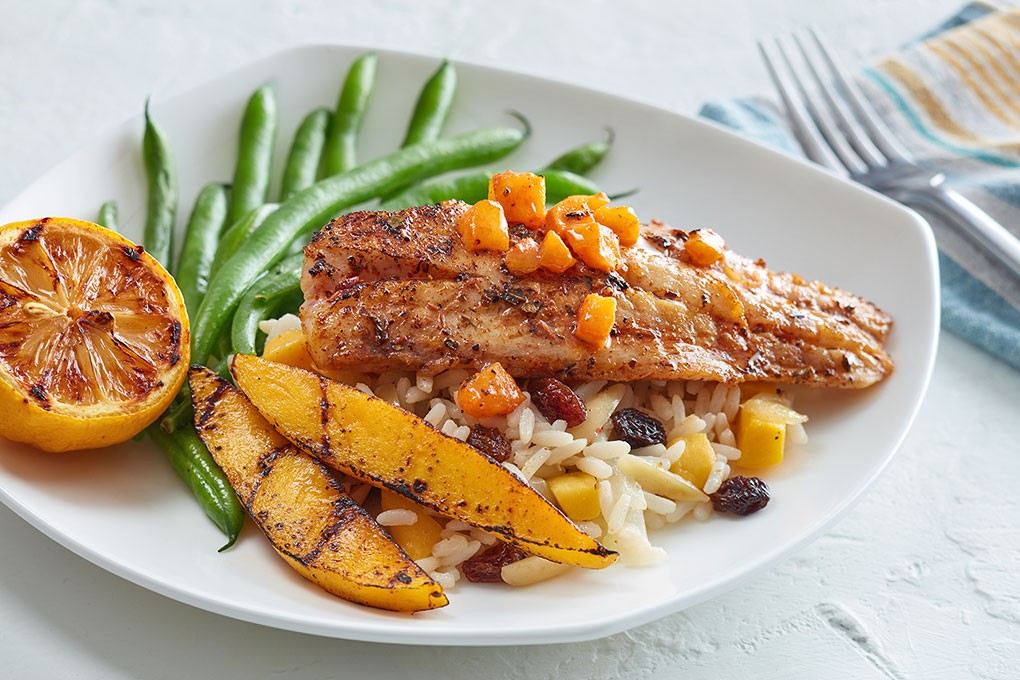 Photography: Carlos Garcia // Food Styling: Peg Blackley & Bree Williams
Beaute demonstrates his elegant approach to the balance between savory heat and sharp heat against tropical, sweetness and the rounding effects of butter—all adding up to a light, summery seafood offering. He quickly marinates red snapper in Cajun blackened seasoning, lemon juice, paprika, olive oil and mango purée, then grills it. Crowning the fish is his Mango-Sriracha Butter, starring ripe mango, butter, Sriracha, cayenne, salt and pepper. "The butter coats your palate nicely, but you need a counterbalance to fight that smoothness," says Beaute. "The tropical, fruity flavor from the mango set against the savory spice of Sriracha and heat of cayenne do that well." He serves the snapper over a bed of Mango Rice Madras, a Caribbean dish inspired by his time working in Martinique. Butter starts this story, too, with onions sautéing in it, then long-grain rice is added and cooked in fish stock, along with raisins, mango and roasted almonds. "The flavored butter here is particularly wonderful," says Beaute. "It would work really nicely on grilled chicken, too."
Project Management: Summit F&B
Photography: Carlos Garcia // Food Styling: Peg Blackley & Bree Williams