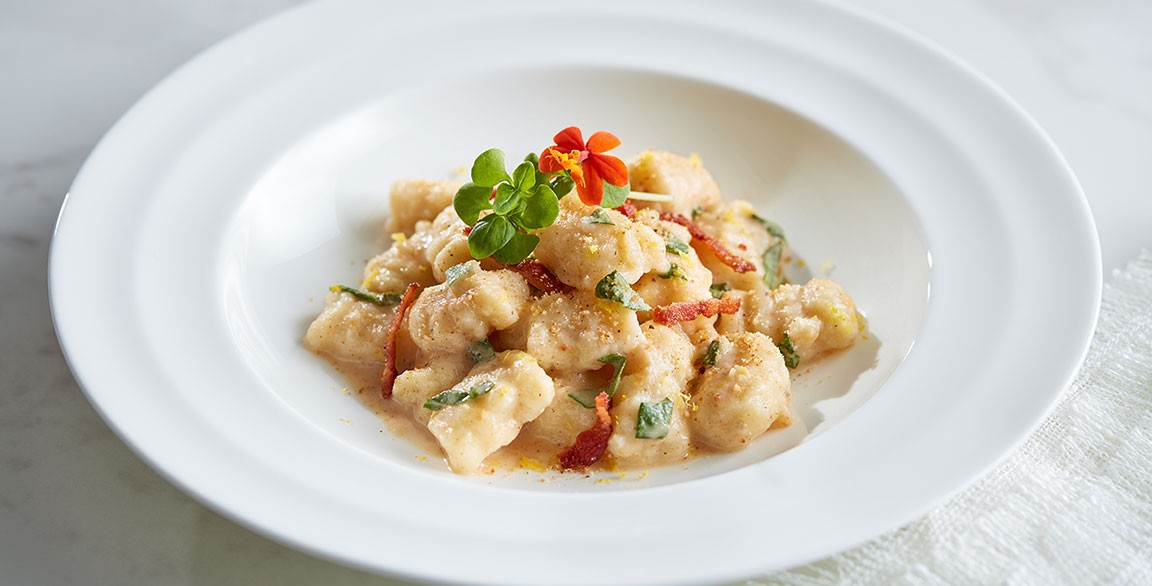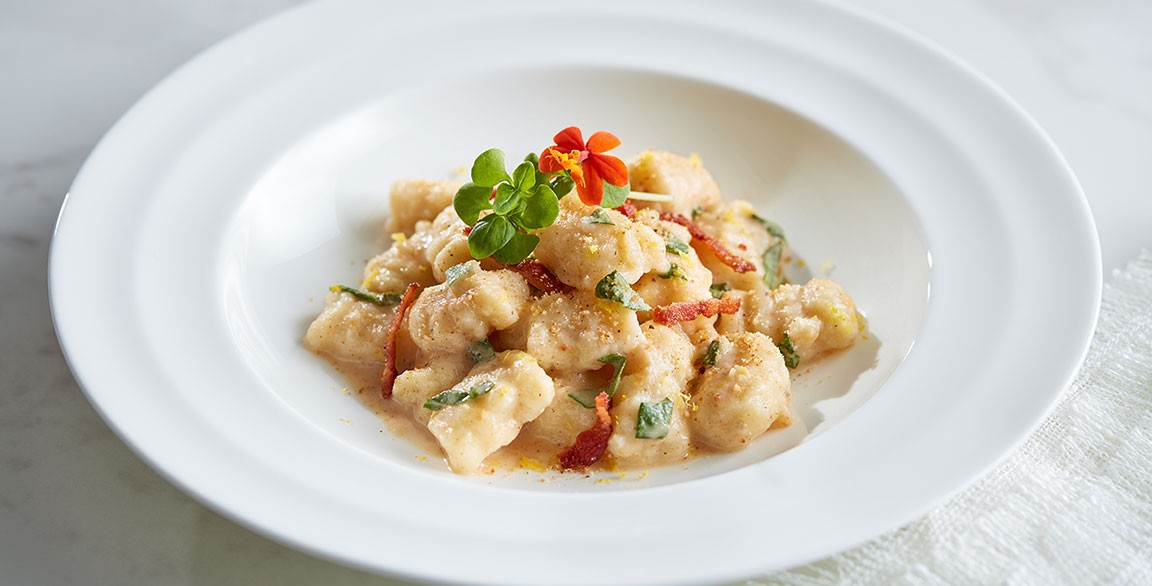 Idaho® Potato Gnocchi
Recipe courtesy of Joe Natoli, Executive Chef, Sawgrass Marriott Golf Resort & Spa
Sponsor: Idaho® Potato Commission
Servings: 24
Ingredients
5 pounds Idaho® russet potatoes
15 egg yolks
1 cup grated Romano cheese, plus more for garnish
2 ½ teaspoons salt
2 ½ teaspoon freshly cracked black pepper
5 cups flour
1 pound bacon, julienned
1 cup chopped white onion
1 pound butter
3 lemons, zested and juiced
3 ounces fresh basil, chopped
½ cup bread crumbs
Directions
Make the gnocchi: In a 350-degree oven, roast the potatoes until tender, about 45 minutes. Let cool to the touch, cut in half, and scoop out of the skins. Discard the skins.
Grate the potato into a mound on a work surface and make a well in the middle.
Add the yolks, half of the cheese, the salt, and half of the pepper to the well. Mix into the potato to incorporate. Add half of the flour, incorporate it gently, and fold the dough over itself. Add more flour, kneading it in until it gives slightly with pressure. Do not overwork.
Cut the dough into lengths, rolling each to the thickness of a pinky finger. Cut pieces the size of a thumbnail and roll them over the back of a fork to create little grooves. This will aid in cooking as well as holding the sauce.
Set the gnocchi aside to dry for 15 minutes.
Make the sauce: Render the bacon until crisp. Drain and set aside.
In the same pan, cook the onion in the bacon fat until translucent. Add 6 cups reserved pasta water, the butter, remaining cheese, the lemon juice, basil, and remaining pepper. Stir over low heat and continuously stir to keep the cheese from sticking to the pan. Let reduce to thicken.
In a separate pan, toss the crisped bacon with the bread crumbs. Toast until browned.
Bring a pot of salted water to a boil.
For each serving: Add 4 ounces gnocchi and cook for 30 seconds after they begin to float. Strain out the gnocchi.
Add sauce to the gnocchi and coat them in the sauce.
Plate the gnocchi and sauce and garnish with bread crumbs, lemon zest, and a dusting of cheese.
Project Management: Summit F&B
Photography: Carlos Garcia // Food Styling: Peg Blackley & Bree Williams