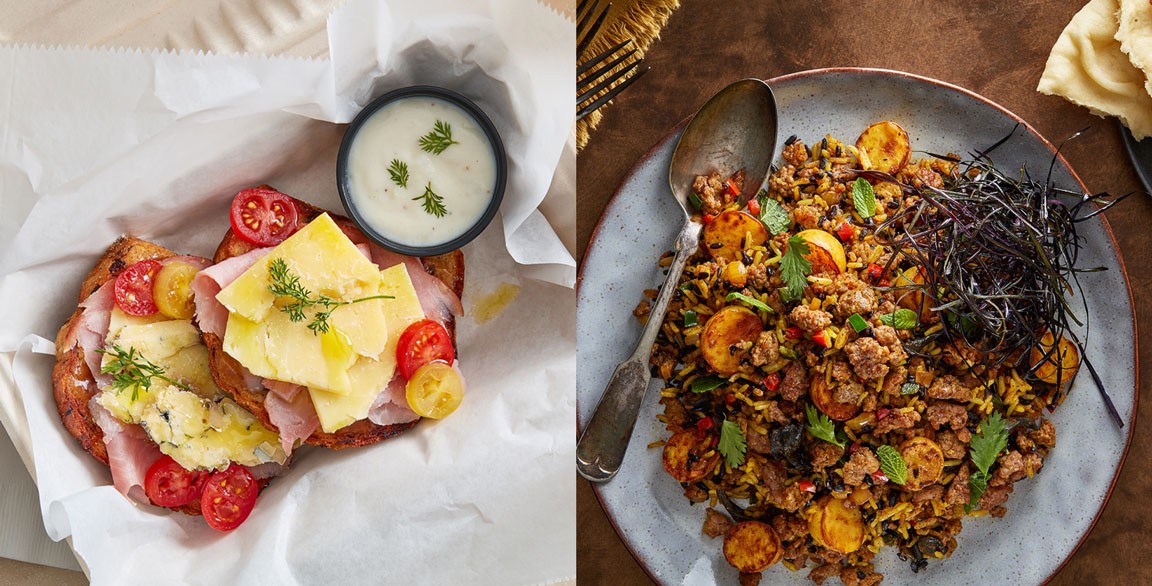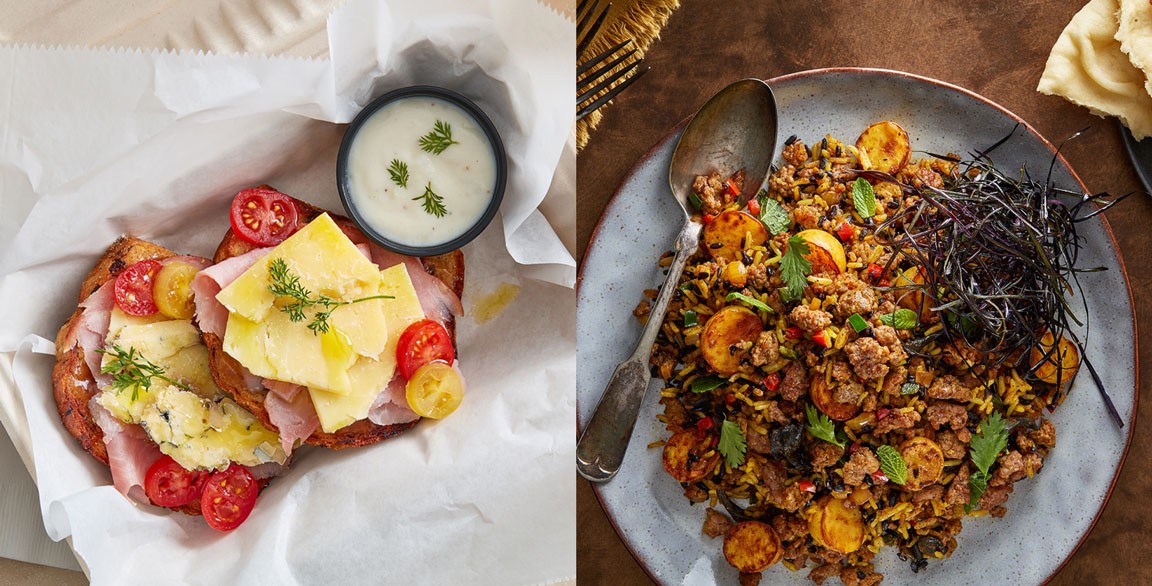 By Flavor & The Menu
June 19, 2020
Kitchen Collaborative is a recipe-development initiative formed by Summit F&B and Flavor & The Menu. To fuel flavor innovation, a group of talented chefs partnered with sponsor brands and commodity boards to create recipes that showcase the passion and potential of our industry.
CHEF SPOTLIGHT: MICHAEL SLAVIN
Clever mash-ups today often bring unexpected flavor combinations into focus, delighting diners with surprising, delicious experiences. In both of his recipes, Michael Slavin, VP of Culinary & Menu Innovation of Houlihan's, Inc., based in Leawood, Kansas, illustrates a mastery of this modern approach. His California Farmstead Tea Sandwiches bring together nostalgic American fare with classic pub food, relying on different cheeses to help weave the narrative together. His Cast Iron Aussie Lamb Dirty Rice mashes Cajun tradition with the redolent flavors of the Indian pantry, and makes it more accessible by switching out the protein.
California Farmstead Tea Sandwiches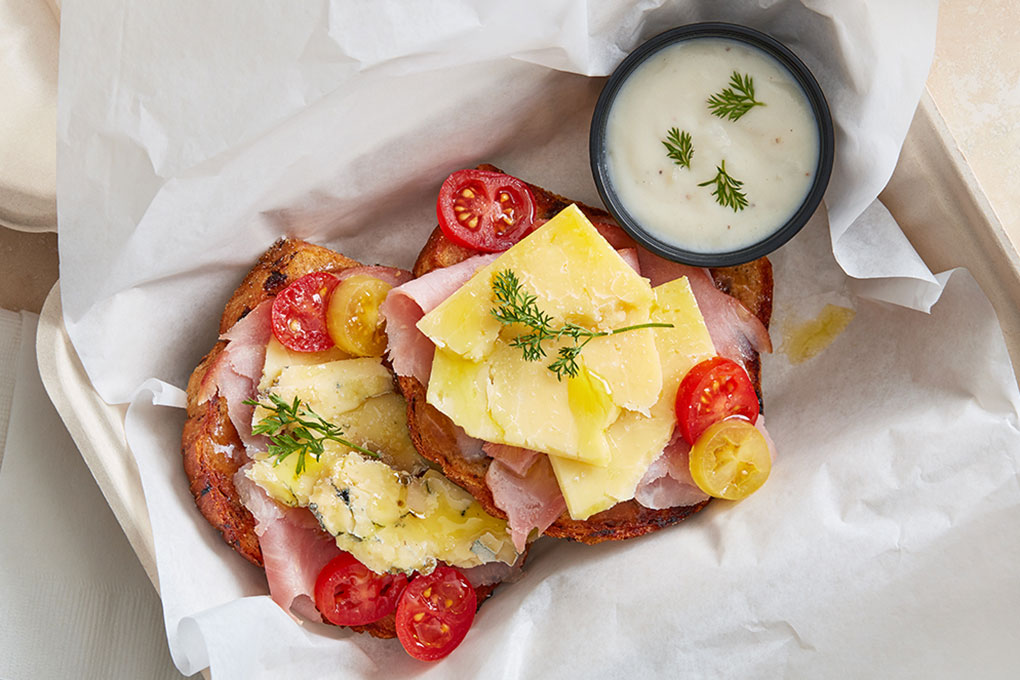 Photography: Carlos Garcia // Food Styling: Peg Blackley & Bree Williams
This open-faced sandwich marries pub tradition with American comfort. "There are two distinct builds on the plate, both delivering big flavor while maintaining harmony between savory and sweet," says Slavin. "I really like the idea of experiencing multiple flavor builds on a single plate for broader intrigue and sophisticated charm." He drizzles demi-glace over buttered and toasted raisin bread, topping it with country ham, California smoked white cheddar cheese, California Stilton-style blue cheese and tomato. He finishes it with chervil, flaky sea salt and olive oil. "It's my nod to toast as a proper pub snack, with Stilton, smoked ham and brown pan gravy," he says. Slavin describes the other component as a twist on nostalgic Americana. His take on the classic Mornay sauce stars California butter, milk and Dry Jack cheese. "I picked that cheese for the nutty sharpness and the umami bump," he says. Either drizzled over top of the sandwich or served on the side, the cheese sauce was Slavin's play on a traditional white gravy, rounding out the theme with the country ham and smoked white cheddar nicely.
Cast Iron Aussie Lamb Dirty Rice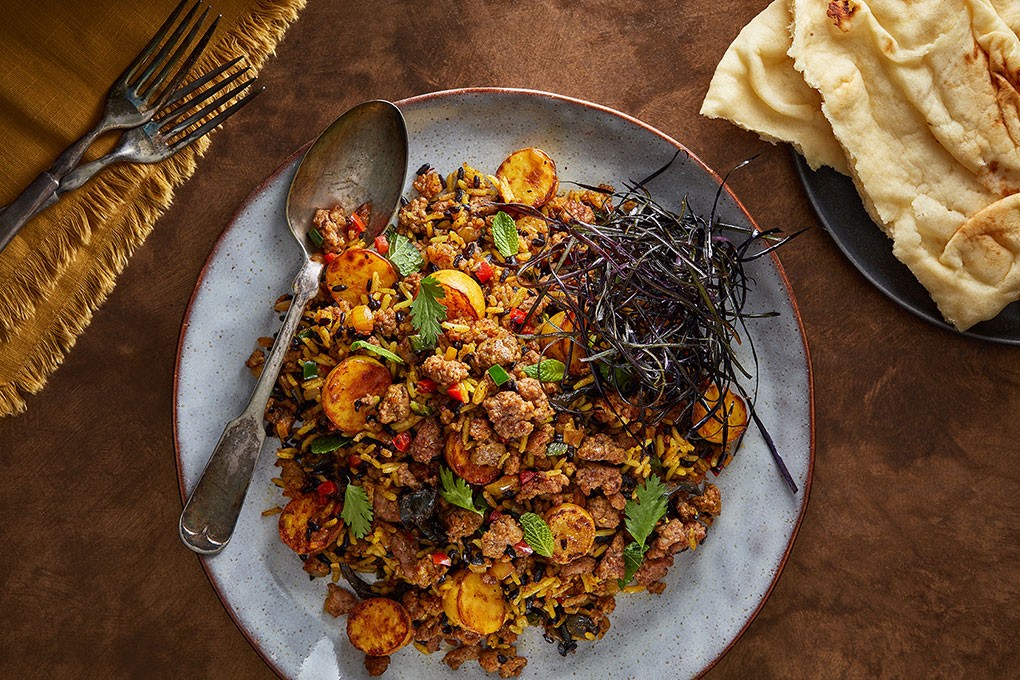 Photography: Carlos Garcia // Food Styling: Peg Blackley & Bree Williams
Slavin's Cast Iron Aussie Lamb Dirty Rice is best described as Indian inspired with a Southern inflection. "I really like respectfully blending nontypical culinary applications with cooking techniques," he says. "In this case, Indian Instant Pot with a spin on Creole dirty rice. Both are grounded in building depth of flavor and rich color using the single pot cooking method." His star protein here is Australian lamb. "Lamb is more approachable and has broader appeal than the traditional chicken liver while still giving the dish the desirable earthy, robust flavor," he says. He first browns ground lamb in a cast-iron skillet, then sautés fragrant, heady, bold ingredients together: ginger, garlic, turmeric, harissa, Kashmiri chile and tikka masala powders, salt and black pepper. "The rendered fat from the ground lamb activates the dried spices nicely when they are toasted in the pan—this is a big driver of the desired final color and flavor," says Slavin. Flavor building continues with the addition of trumpet mushrooms, onion and pepper, and the assertive, familiar flavors of India—cloves, cinnamon, cumin and cardamom. The base of Slavin's dish is a combination of baby Dutch potatoes, jasmine rice and black rice. Fresh mint and cilantro garnish the dish. As a final flourish, he adds eggplant crackling, a dramatic tangle of super crispy eggplant peel.
Project Management: Summit F&B
Photography: Carlos Garcia // Food Styling: Peg Blackley & Bree Williams