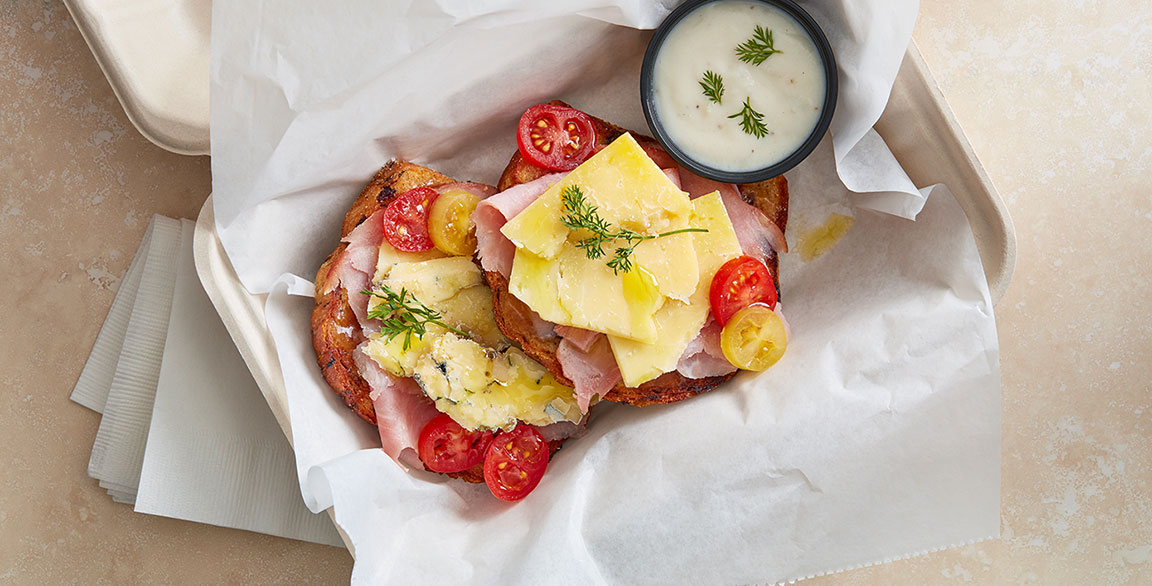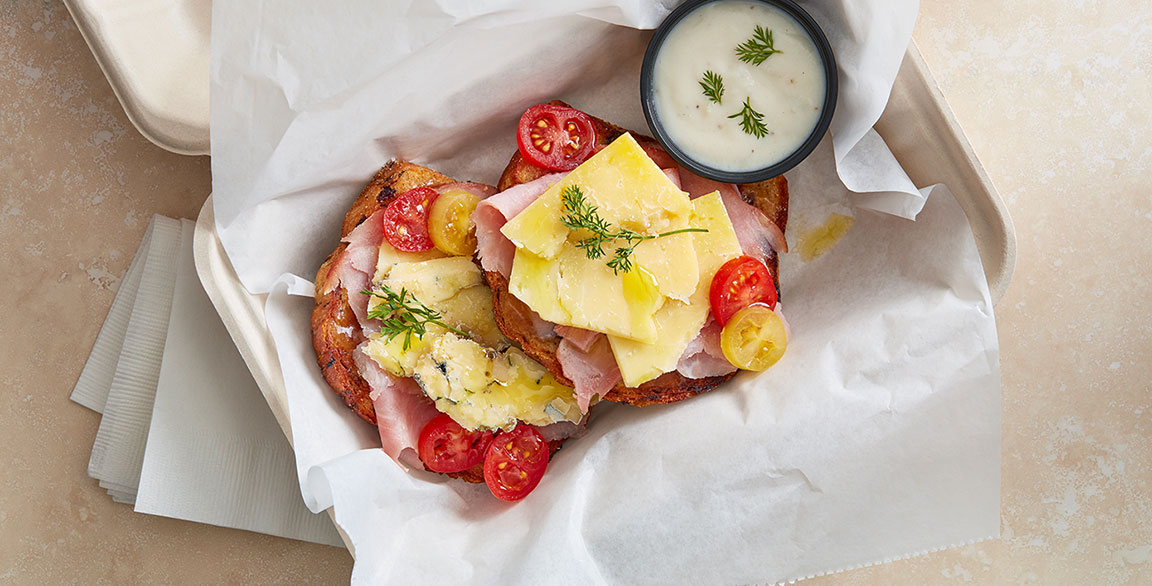 CALIFORNIA FARMSTEAD TEA SANDWICHES
Recipe courtesy of Chef Michael Slavin, VP of Culinary & Menu Innovation, Houlihan's
Sponsor: California Milk Advisory Board
Makes 6 sandwiches
INGREDIENTS:
White Cheese Sauce:
8 tablespoons Real California butter
½ cup minced shallots
4 medium garlic cloves, peeled and minced
1/3 cup plus two tablespoons all-purpose flour
4 cups Real California milk
2 dried bay leaves
1/2 cup grated Real California Dry Jack or Parmesan-style cheese
Kosher salt and freshly ground black pepper, to taste
Grated nutmeg, pinch
Sandwiches:
12 slices artisan raisin bread
2 tablespoons Real California butter
¾ cup demi-glace
6 ounces thinly sliced country ham
6 wedges Real California smoked white cheddar cheese, ½ ounce each
6 slices Real California Stilton-style blue cheese, ½ ounce each
Garnish:
Chervil sprigs, as needed
Tiny tomato slices, as needed
Extra virgin olive oil, as needed
Flaky sea salt, as needed
DIRECTIONS:
To prepare the Cheese Sauce, melt butter in saucepan over medium heat until foaming. Add shallots and garlic; cook stirring frequently until translucent. Add flour, cook stirring constantly until lightly browned, about 4 minutes. Gradually whisk in milk and add bay leaves. Bring mixture to a boil and simmer, whisking frequently, about 10 minutes. Wisk in Dry Jack cheese and discard bay leaves. Season to taste with salt, pepper and nutmeg. Allow gravy to cool then refrigerate overnight in airtight container. Rewarm gently before serving, adding a little water or milk to loosen as necessary.
To assemble each sandwich, toast two slices of bread. Spread each with butter. Drizzle one tablespoon demi-glace over each piece of toast. Top each with one ounce of ham. Top one toast with ½ ounce wedge of smoked white cheddar cheese and the other with ½ ounce crumbled blue cheese. Spoon one tablespoon Cheese Sauce over each toast and garnish as desired with chervil sprigs, tomato slices, olive oil and flaky sea salt.
Project Management: Summit F&B
Photography: Carlos Garcia // Food Styling: Peg Blackley & Bree Williams