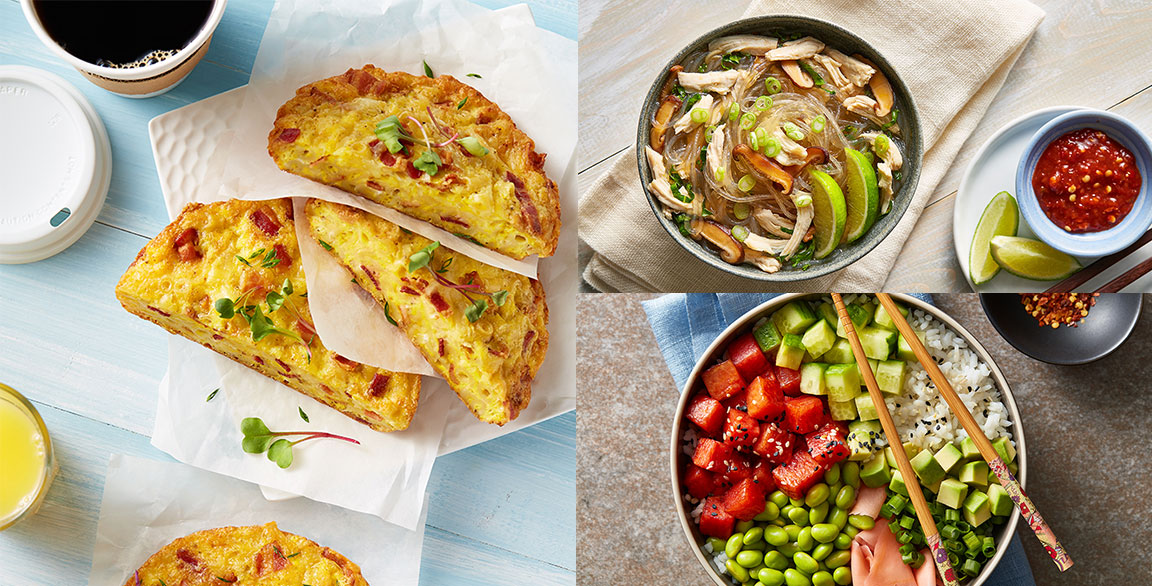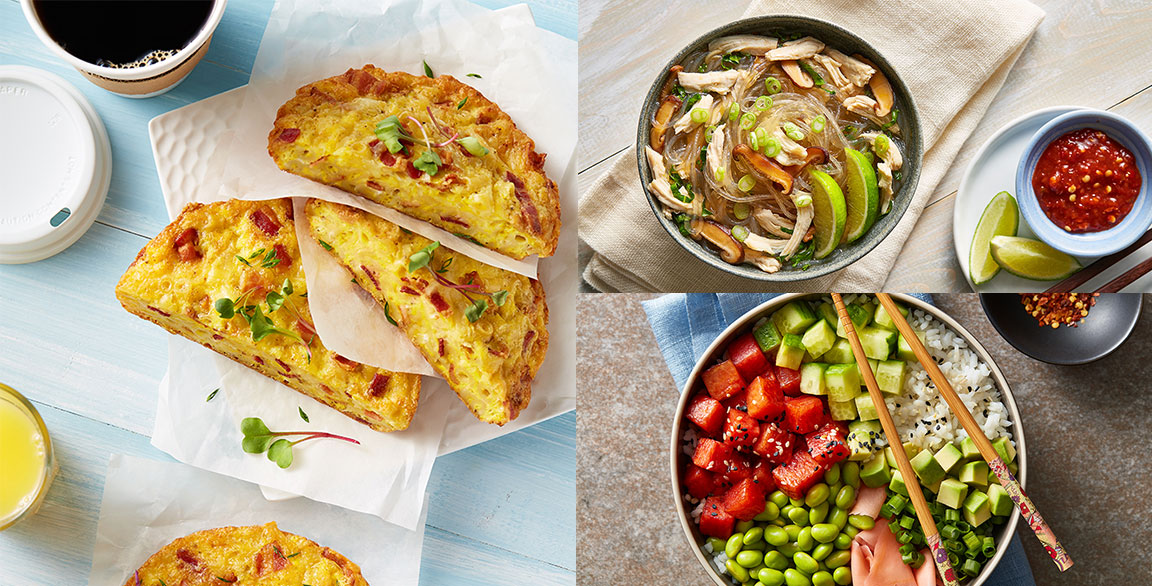 By Flavor & The Menu
August 8, 2021
Kitchen Collaborative is a recipe-development initiative formed by Summit F&B and Flavor & The Menu. To fuel flavor innovation, a group of talented chefs partnered with sponsor brands and commodity boards to create recipes that showcase the passion and potential of our industry.
CHEF SPOTLIGHT: DAVID VIVIANO
David Viviano has lived and cooked in several "destination" locales, from San Francisco and Phoenix to Aspen and Palm Beach County, overseeing the cuisine at a number of premier hotels. His current home base is as Executive Chef of the Fairmont Orchid, Hawaii, and he well understands the elevated dining experiences that guests expect. With thoughtful, creative touches, Viviano turns one traditional Hawaiian dish, Chicken Long Rice, into a trend-forward immunity booster, takes another island stalwart, poke, and delivers a dazzling vegan Watermelon Poke Bowl and combines a mash-up of personal influences (and refrigerator contents) into a craveable Handheld Pasta Frittata.
Tyson Pulled Chicken Long Rice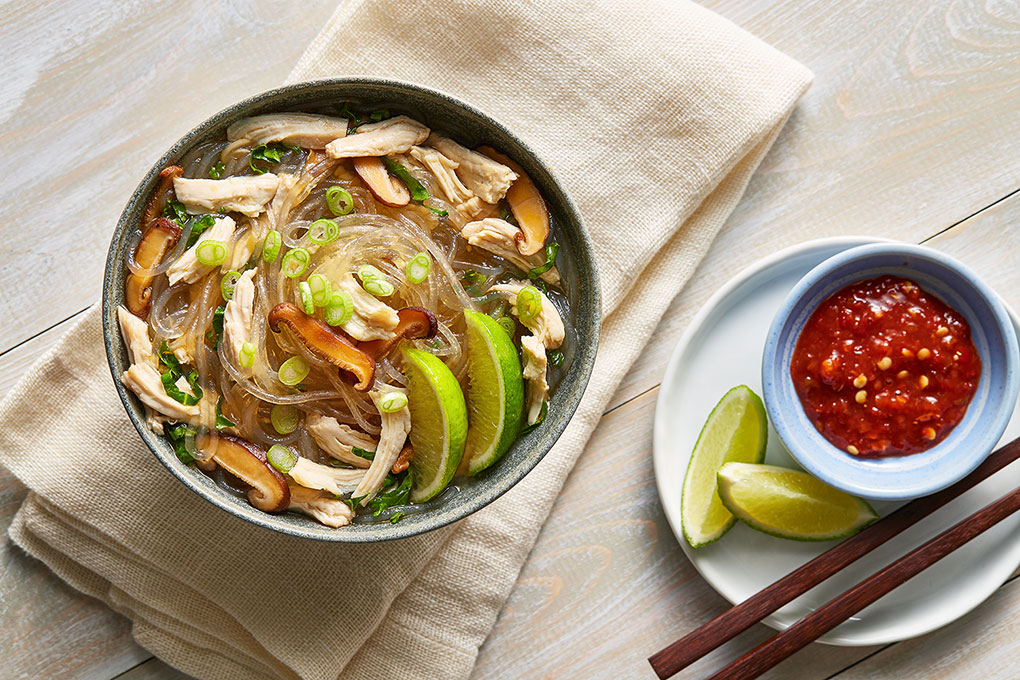 Photo: Carlos Garcia // Food Styling: Peg Blackley & Bree Williams
"Chicken Long Rice is a traditional Chinese dish that has been embraced by Hawaiians—it's their version of chicken noodle soup," explains Viviano, remembering how his Auntie Mila on Maui would prepare it for sick friends, as well as send him home with quarts of the soup to satisfy his pregnant wife's cravings.
"My version is relatively classic," says Viviano, citing the traditional ingredients of ginger, chicken broth, noodles and scallions, along with Tyson fully-cooked, low-sodium diced chicken. In his aim to create a nutritious bowl that provides a sense of wellness, "I also add lemongrass, mushrooms and kale to increase its immunity capabilities," he notes. "Lemongrass is packed with antioxidants and anti-inflammatory benefits. Mushrooms are a good source of vitamins and minerals necessary for defeating foreign bodies. Kale's health benefits are far-reaching—it can help with heart disease, cancer, bone health and digestion. Eat more kale!"
With diners continuing to seek out trending foods that feature immune-boosting properties, Viviano's Pulled Chicken Long Rice is well-suited for mainland menus. But he can't help but focus on its added value on his own menu at the Fairmont Orchid, Hawaii. "The worst experience for a guest is to be sick on vacation. A bowl of Chicken Long Rice is a sure way to get them back on the beach."
Watermelon Poke Bowl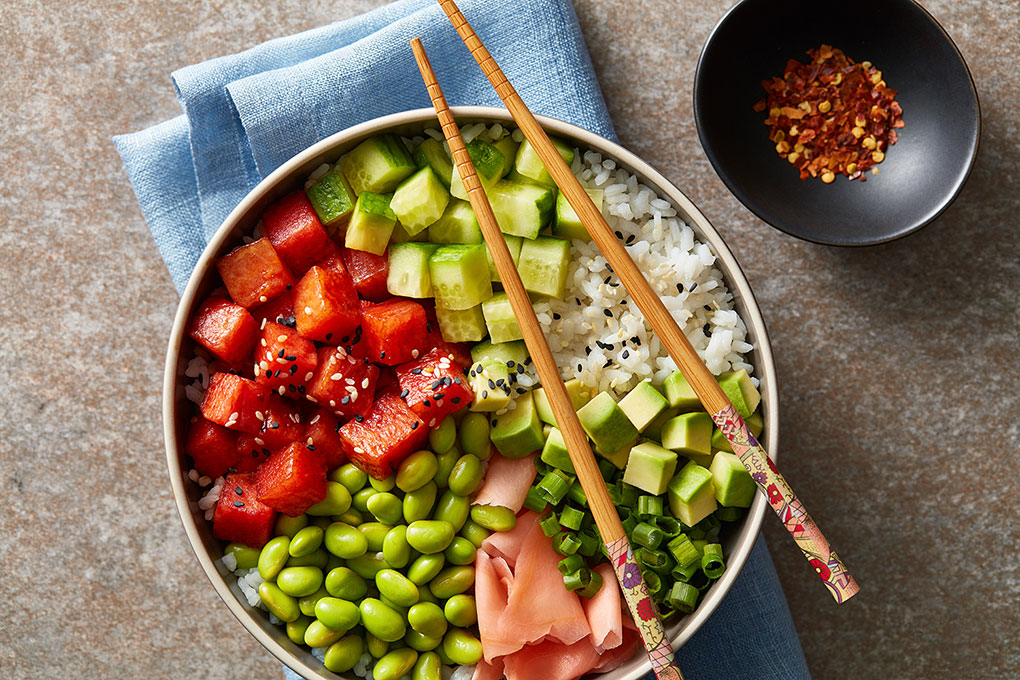 Photo: Carlos Garcia // Food Styling: Peg Blackley & Bree Williams
Viviano's home and work in the Hawaiian Islands also clearly served as inspiration for this vegan take on poke, but the chef is quick to point out its growing popularity throughout the Lower 48, as well. "Poke has evolved from a treasured Hawaiian staple to mainstream dish. Once a treat for island fishermen, poke shops are now popping up everywhere and you can get a taste of Hawaii virtually anywhere on the mainland," says Viviano, crediting part of its allure to its inherent health halo, balancing an abundance of protein, grains and a variety of vegetables.
But the attraction of poke to inventive chefs and adventurous diners alike goes deeper. "It can be embellished to create multiple flavor profiles through a vast array of sauces and marinades, from spicy aioli to sesame shoyu to classic sea salt. The possibilities are endless," he says. "It's an exciting way to eat."
For this vegan Watermelon Poke Bowl, the fruit is coated with a poke sauce of soy, sesame oil, lime juice, grated ginger, sugar and sambal. "Watermelon was a natural choice for this dish because it mimics the color of tuna, of course, but its attributes go far beyond its appearance. The natural sweetness of the watermelon works well with the saltiness of the poke," Viviano explains. "I also adore the crunch of the watermelon, which brings a fun textural component. The addition of the sambal balances the sweetness of the fruit."
Each bowl also includes cooked rice, edamame, cucumber, avocado, pickled ginger and scallions, with a garnish of sesame seeds. "Vegan food is fresh and delicious. Taking an innovative approach—like watermelon poke—can make eating plant-forward a thrilling experience," says Viviano.
Handheld Barilla Pasta Frittata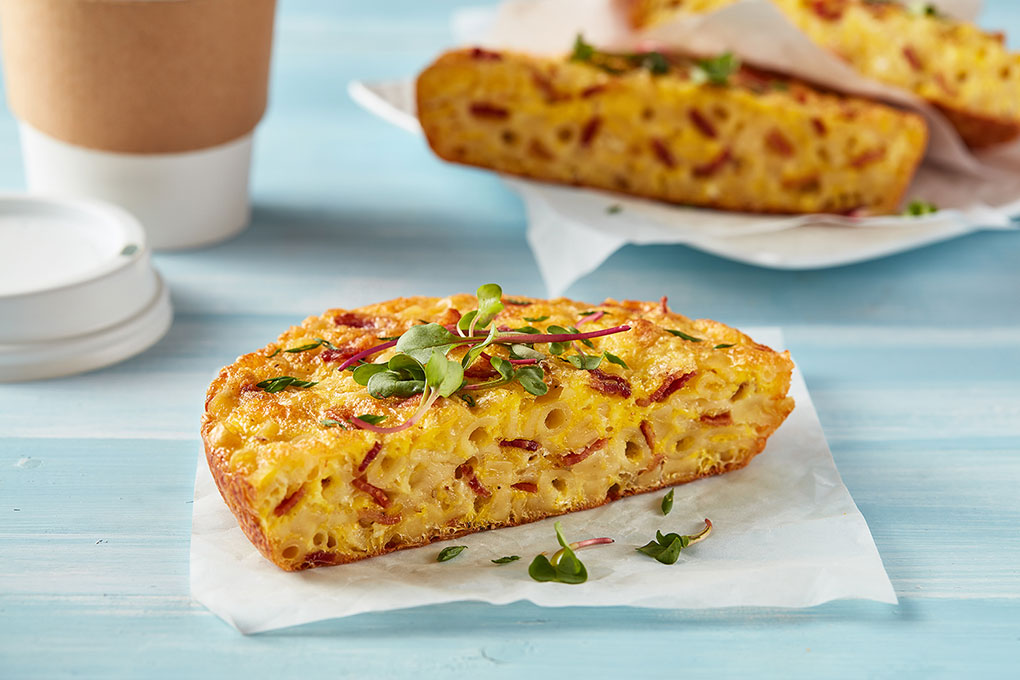 Photo: Carlos Garcia // Food Styling: Peg Blackley & Bree Williams
The Handheld Barilla Pasta Frittata, which Viviano describes as "Naples-inspired, while evoking a quiche served in a French bistro," might be suffering from an identity crisis, but does that matter if the results are delicious? Still, Viviano indulges a request to explain his intriguing European mash-up. "Semolina pasta, like this Barilla Ditalini, is prevalent in Southern Italy, in Naples. I'm Sicilian, so any pasta brings a sense of nostalgia. Then, memories of my travels in France make quiche a special treat—plus it was my wedding day breakfast at Bouchon in Napa! Combining the best of multiple cuisines is an innovative way to look at food," he says. "Incorporating pasta into a decadent quiche makes for a delicious morning, transporting you to both Italy and France."
Perfectly reasonable, but Viviano can't resist confessing one more motive at work: "Actually, it was inspired by using dinner leftovers. We have a running joke in our household that last night's dinner often is incorporated into the next day's breakfast. Any good chef knows to waste nothing."
Whether raiding the refrigerator or relying on pantry samples, the preparation is simple. Viviano cooks the pasta and then combines it with eggs and shredded Gruyère, seasoning with salt and pepper. The pasta mixture is poured into a hot skillet with fried diced bacon and he cooks it on the stovetop until the eggs start to firm up on the bottom, before transferring the pan into the oven to bake for 10-15 minutes. A sprinkling of chives finishes the dish.
"I thought the mouth feel of the tiny pasta bites with eggs would be a fun twist, and I was right!" says Viviano, continuing, "The egg is firm enough to make this handheld easy to snack on at brunch with friends or to grab on the go. In fact, the beauty of this dish is that it will be satisfying at all times of the day—hot or cold. It can be a quick breakfast, packed for lunch or a bite before dinner."
Project Management: Summit F&B
Photography: Carlos Garcia // Food Styling: Peg Blackley & Bree Williams