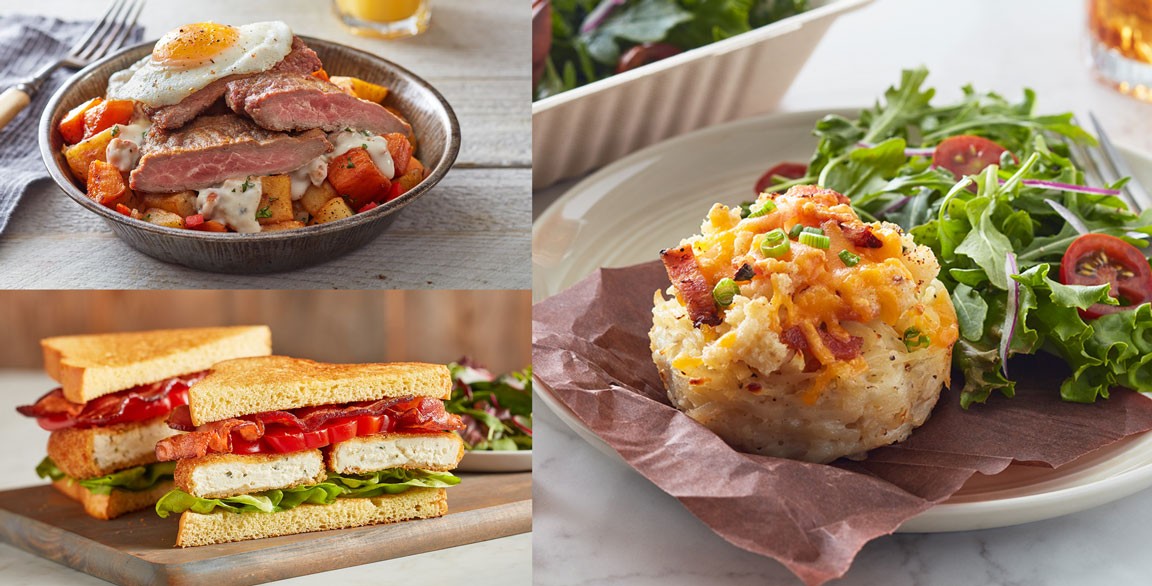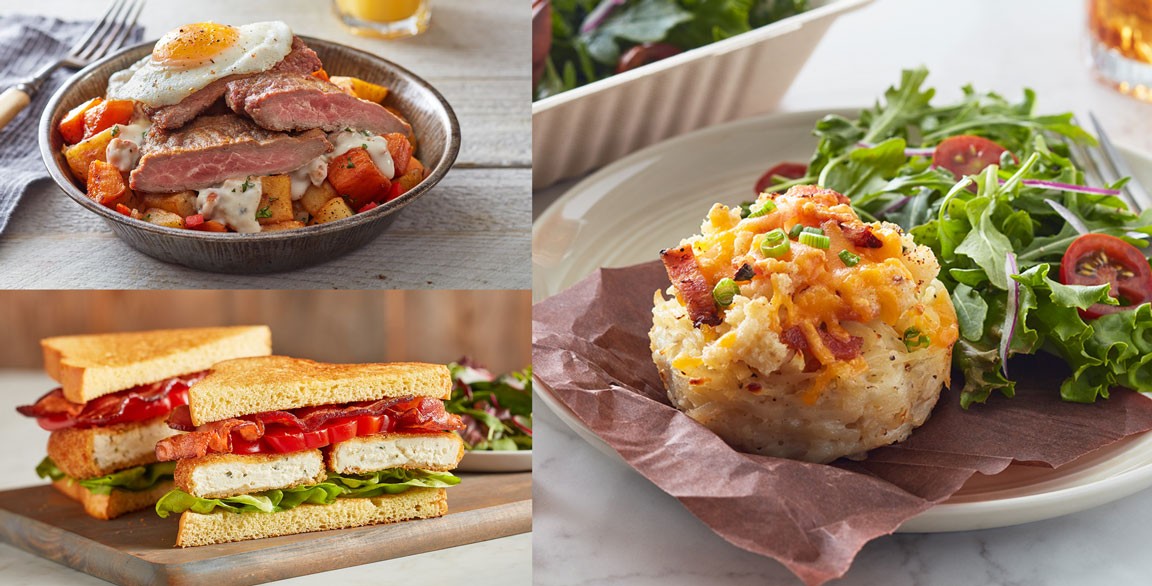 By Flavor & The Menu
July 21, 2020
Kitchen Collaborative is a recipe-development initiative formed by Summit F&B and Flavor & The Menu. To fuel flavor innovation, a group of talented chefs partnered with sponsor brands and commodity boards to create recipes that showcase the passion and potential of our industry.
CHEF SPOTLIGHT: RENATE DEGEORGE
Although these three recipes are distinct, they carry a through line of a satisfying, comforting experience, balancing richness with savory notes, crispy texture and heartiness. They're designed with both ease of execution and takeout appeal in focus.
"Keeping them fairly simple to execute in this 'post-COVID' labor model that many restaurants are now needing to adapt to was upper-most in my mind for these recipes, along with keeping the flavor profiles fairly familiar to ensure that guests would not be intimidated ordering them as a carryout item," says Renate DeGeorge, Divisional Executive Chef of multinational catering group SSP America. "In my experience, when guests order carryout, they are looking for something that may need to please the whole family and be a bit more familiar than for dine-in occasions."
Her recipes balance traditional comfort cues with a modern culinary approach. The Chicken-Fried Aussie Steak Breakfast Bowl delivers on the promise of an indulgent Southern-inspired dish while upgrading the experience with strips of tender grass-fed flank steak. DeGeorge's Loaded Baked Potato Gratin is an elegant take on a loaded potato without losing its promise of cheesy comfort. And her Boursin® BLT on Brioche takes the lunch classic of a BLT to the next level, thanks to the ethereal quality of deep-frying Boursin® and pairing it with meaty strips of bacon.
Chicken-Fried Aussie Steak Breakfast Bowl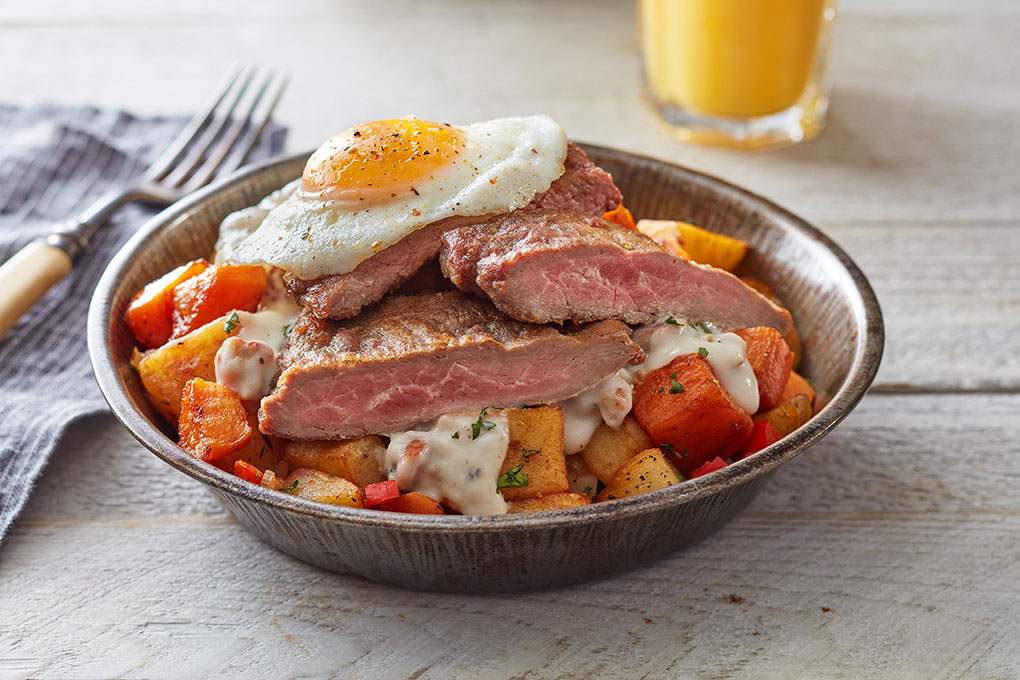 Photo: Carlos Garcia // Food Styling: Peg Blackley & Bree Williams
Bowl builds continue to thrive on menus, with consumers loving the format of layered flavors and textures. Comfort-centric bowls fit particularly well into the breakfast space, which makes DeGeorge's Chicken-Fried Aussie Steak Breakfast Bowl good inspiration.
She starts with a hash of Yukon gold potatoes, sautéed with shallot, Hungarian paprika, thyme and bell pepper, and then crisped right before service. She adds country-fried steak over the hash.
To prepare the flank steak, she cuts grass-fed Aussie flank steak into pieces, pounds it, then rolls it in a batter of flour, salt, pepper, garlic powder, onion powder and hot paprika. The pieces are fried in vegetable oil until golden and crisp. Next, she adds a sausage pan gravy—starring breakfast sausage and black pepper—over the hash and the steak. She crowns the bowl with a fried egg and scatters scallion slices over top.
"As a chef who understands casual dine/fast casual kitchens, the chicken-fried steak is extremely easy to prep and execute, which provides a lower labor/lower waste option than a slow-cooked dish that requires prep ahead," says DeGeorge. The grass-fed flank steak plays well against the other hearty flavors in the bowl. "The Aussie grass-fed beef has that stronger, mineral and 'beefy' flavor profile that holds its own with all the other strong flavors in the dish, and the fact that grass-fed flank is very lean works well with the more unctuous components of this bowl," she says.
Loaded Baked Potato Gratin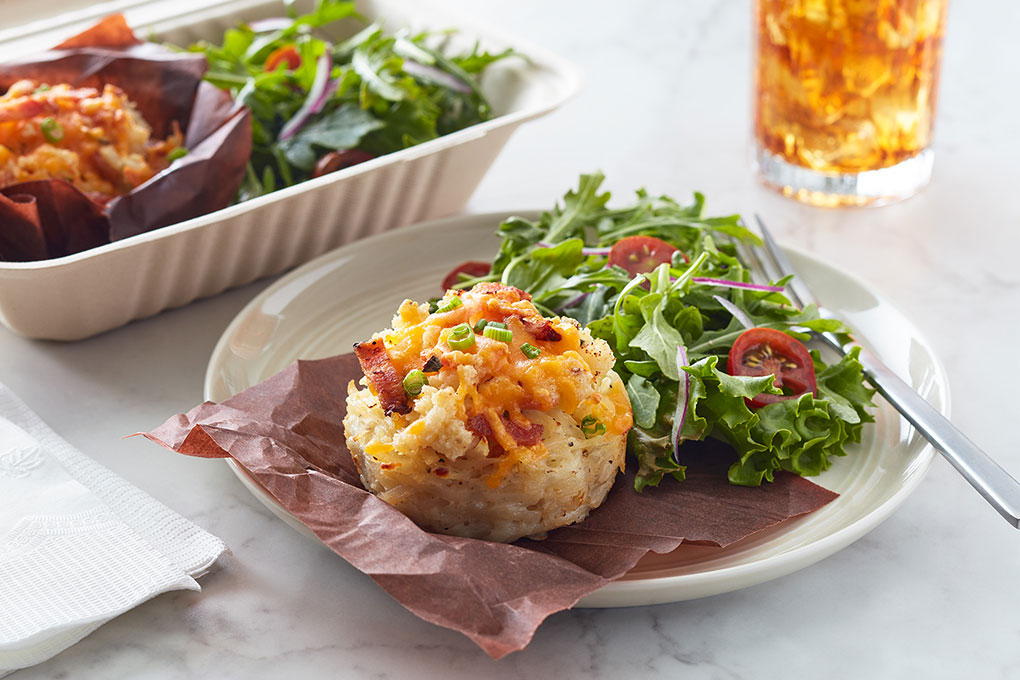 Photo: Carlos Garcia // Food Styling: Peg Blackley & Bree Williams
DeGeorge showcases the nobility of a gratin in this takeout-friendly version of a loaded potato. "Since the carryout demand will stay strong indefinitely, restaurant operators will need innovative ideas that still will create interest and excitement, yet be familiar enough for guests to take the risk of ordering it for carryout/delivery," she says. "I think this recipe really fits that need."
To make the Loaded Baked Potato Gratins, she whisks together flour, salt, pepper and whole milk, then blends in butter and folds in dehydrated potatoes. After portioning out the potato mixture into baking pans, she adds enough boiling water to cover the mixture, then tops the pans with aluminum foil and bakes them until the sauce is bubbling. After chilling, DeGeorge adds a topping of breadcrumbs, bacon, scallions and sour cream and lets the gratins chill. For service, she sprinkles cheddar on top, reheats in the oven, then uncovers them until golden and crispy.
The basic recipe provides a great platform for creative flavor combinations. "Roquefort and chive or truffle and smoked Gouda would be suitable upscale steakhouse versions," she suggests. "For a barbecue restaurant, incorporate the crispy ends of brisket into the dish for a BBQ Brisket & Potato Gratin, or make a Swiss Fondue Gratin with caramelized onions and Gruyère—the options are extensive when it comes to a potato gratin."
Boursin BLT on Brioche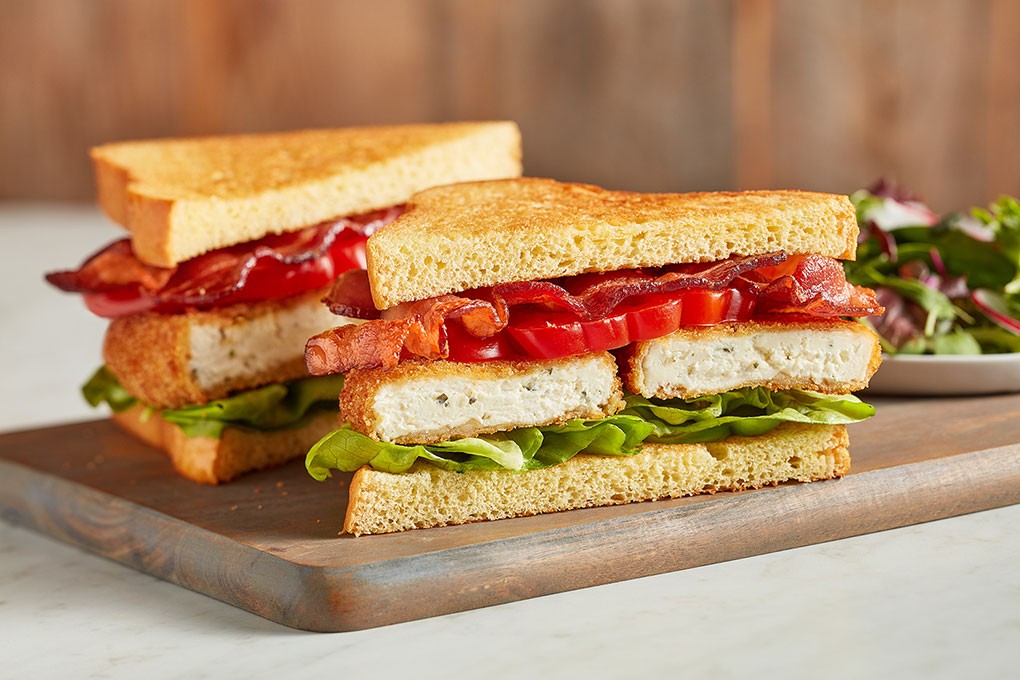 Photo: Carlos Garcia // Food Styling: Peg Blackley & Bree Williams
This Boursin® BLT on Brioche is rich and delicious. DeGeorge envisions it on a steakhouse lunch menu. She starts by cutting rounds of Boursin® Garlic & Fine Herbs, laying them on a sheet pan and freezing them. She coats them in a simple blend of flour, eggs and breadcrumbs, then refrigerates the discs of cheese. For service, she deep-fries the cheese until crispy and browned. DeGeorge griddles two pieces of brioche in butter on both sides.
To build the BLT, she lays Bibb lettuces on top of one of the slices of brioche, then adds the cheese, slabs of heirloom tomato and grilled-until-slightly-charred applewood smoked bacon. She tops the sandwich with the other buttered slice of brioche for a truly decadent, unique experience. "Boursin® works so well because of the rich creaminess, which is a perfect complement to the crunch of the fried panko crust and the chewiness of the bacon," says DeGeorge. "Also, the garlic-herb flavor profile of the Boursin® balances the smoky-saltiness of the thick bacon."
Project Management: Summit F&B
Photography: Carlos Garcia // Food Styling: Peg Blackley & Bree Williams